Did you know that there is a French island in the Indian Ocean, near Madagascar, called "La Réunion" (meaning, "the gathering" in French)?
This island came out of the ocean with the birth of two volcanoes, including one which is still active today.
Why talking about La Réunion?
If I am talking in this blog post about La Réunion, it is because I went to the island a couple of months ago and I want to share with you some of the photographic experience that I did there.
Despite the fact that I still have relatives on another branch of my family tree, I rarely go there.
But strangely enough, I went twice in the last couple of years: the first time was in January 2016, after 18 years without setting foot on that rock, I stayed there for 3 days for work, and the second time was this year, last October, where I stayed for a 2 week vacation, with my family.
This island has also a special place for me as a toy photographer, because January 2016 was the first time I took my toys with me in my luggage for a trip abroad. At that time, I only carried my camera and a small box with less than 10 minifigures. Now, you may have seen my usual backpack for when I travel, I have several boxes, including some with only accessories.
Revisiting locations
So, since I was going back to that far away place and since I took some LEGO pictures there, I wanted to try something new for me and revisit some of the places I went (a 3 day work trip does not allow for many photo location) to take new pictures at the exact same spots.
You could think that since this was my plan, I would have all my pictures set in advance. But I am very lazy (or should I say busy – no… I am lazy) and that's the exact opposite. I went to those places with no particular idea in mind and was hoping for some inspiration on the spot.
So let's see the result.
First stop
The first location I went was a place called "La plaine des sables" (The sand lowlands). There is a fantastic viewpoint at the top of a huge cliff which shows a Martian landscape but if you look where you set your foot, you can notice some interesting greenery in the middle of volcanic rocks.
Last year, I was telling the story of Green, the spaceman from Peter Reid's LEGO ideas set. He was exploring the world alone.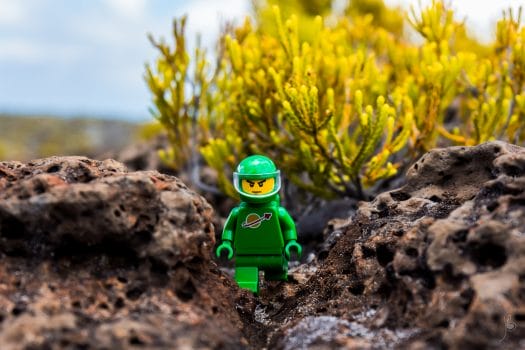 This year, I was pretty close to the same subject. Once again, space was my inspiration. Not the same spaceman, but a spaceman anyway, excited by his coffee. (I still wonder how he could drink from this cup in his spacesuit, though).
The volcano
The second location was not that far away from the first one and is pretty iconic if you visit "La Réunion". As I told there is still an active volcano. So, if you have the opportunity, go the this ledge to enjoy the view.
However, the weather is very changing. So, it can be totally covered by cloud, then 5 minutes after, the sun will show up for a couple of minutes and the  clouds will be back again.
That's what happened to us this year. We hiked to the top of the crater. We did it in the clouds on our way up but on our way back, the sun started coming out (and we sunburned…).
So, once again, last year, I continued the story of Green.
And this year, once again, I used my spaceman as the main character. But in my new story, he met a friend.
I also did another picture involving a new character, inspired by the Fabuland work of my good friend Stefan.
I love lilypads
Finally, the last location where I had to take a new picture was a public garden called "Le jardin de l'Etat". Last year, I found a pond with lilypads. There, I took one of my favorite picture showing a stormtrooper paddle boarding. I have this picture hung behind my desk at work (next to my panda love picture and my wall of friends).
So, this time I was still hoping to find lilypads. However, the pond from last year was not available since there was some work done in the garden, but I found another one next to it and I shot this picture.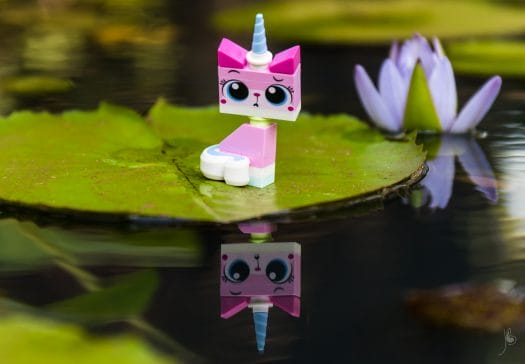 I also took one with Master Wu, because I found this environment and flower very peaceful and perfect for that character.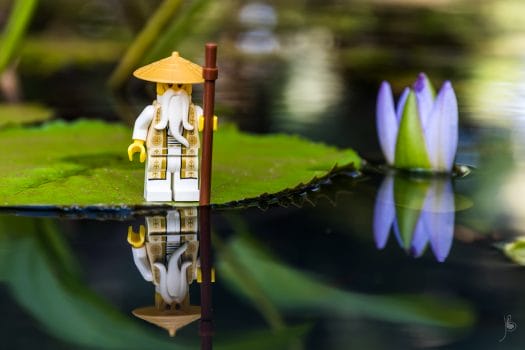 Conclusion
Did my work improve between those two trips? Are my pictures better than what they were a couple of years ago?
It's difficult to say. At least, I am proud of this new work in the same way as I was with the past one.
The three pictures from last year were all part of the exhibitions I did in Europe and I think I will use some of the new ones for this year's display.
Finally, let me share with you some pictures from this trip taken in new location that I hope to revisit, someday.
Did you try to get back to the same location to take pictures? How did it turn out?
Don't hesitate to share your experience in the comment.
Julien / Ballou34
Aeronautics engineer by day, toy photographer by night.
Exploring the world with his plastic figures.