12 hours…!
I have just spent 12 hours in a metal can to fly across the globe.
It's Thursday afternoon and I have landed at Paris Charles de Gaulle airport after a long trip back from Kobe, Japan. I was there during 2 days, for work.
My job demands me to travel a lot (in France and internationally). And, at the same time, I like my job and I like to travel, so when I am not at the office, I am happy.
I have been to the US, to several countries in Europe and to more "exotic" places such as Brazil, Australia, Taiwan, Laos, Tanzania, Indonesia, Kazakhstan and now, Japan.
[clickToTweet tweet=""Of all the books in the world, the best stories are found between the pages of a passport.'" quote=""Of all the books in the world, the best stories are found between the pages of a passport.' – Anonymous"]
When I go to those countries, it's to work, not for holidays, so tourism is not really a priority and I do not really have too much time either. But personally, I hate spending that much time in an airplane and spend my free time in a hotel room.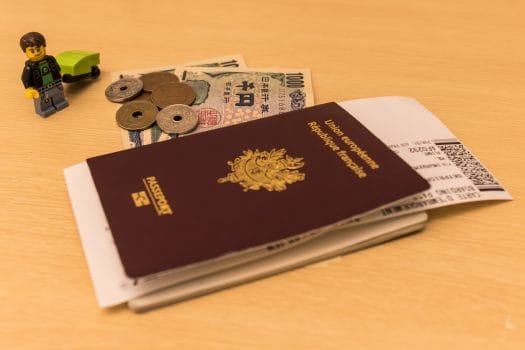 Every journey is exciting, either domestic or international. You get to places you would never have gone otherwise, especially when it's for work. You are driven by the mission (which can take place anywhere on the globe in my case).
Traveling is fun because you set yourself outside of your comfort zone and you get to discover new people, new cultures, new food, new landscapes,… You discover new horizons, new worlds and you grow from if.
[clickToTweet tweet=""Travel is the only thing you buy that makes you richer.'" quote=""Travel is the only thing you buy that makes you richer.' – Anonymous"]
To be honest, it is not always easy depending on the country. Some cultures are so far away from ours that you need to adapt quickly. But in the end, it's always a nice rewarding break from your routine.
It has now been two years since I started doing toy photography. And you know what? Now, I don't leave the house without my camera and some Lego minifigures in the backpack. Whether it's for a vacation or for a work travel. I don't want to pass an opportunity.
That's why when I prepare for a trip, I spend more time selecting the minifigures that will accompany me than making my suitcase. It became such a routine to pack my work gear and clothes…
So which minifigs did I bring for a trip to Japan?
Knowing what the destination is, I always spend some time finding out what type of landscapes/scenery I could find. That way I can start thinking of scenes ideas and what minifigs to select. I never know if I will have time to take pictures and where I could take them, so I go with an open mind and some approximative ideas.
In Japan, at this time of year, it is the season of cherry blossoms, so immediately I thought of bringing the kimono girl. I could see her with some cherry flowers in the background. I was also bringing some ninjas and Sensei Wu from the Ninjago series. They are perfect in a Japanese environment. And as long as I had some space in my luggage, I added boxes of mixed minifigures because you never know what ideas would come. Why not shooting some Star Wars…
I like to be organized, so, to store my minifigures, I use clear plastic boxes. That way in a glance I can see what I have at hand. I even have dedicated a box to the Star Wars universe and one to the caped crusader, Batman. The others are more mixed but still "organized" in a way.
I do the same with accessories. I keep the smaller ones in two smaller plastic boxes and the other in a bigger box or loose in my backpack.
Add to that some lights and reflectors and I am ready to go.
I know. I am always carrying way too much but I like to be prepared, especially when traveling.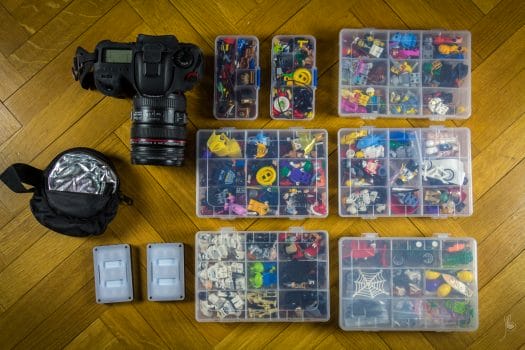 As I told you, I am one of those guys that hate to go across the globe without spending at least a couple hours wandering around my hotel. As soon as I drop my luggage, I go outside and enjoy the place (as long as I don't have to work first). I am pretty good with directions but it is safer to ask for a map at the hotel or copy one of the surroundings on your phone to find your way around. It became easier since we can have internet data on our phones but it was a bit trickier in Japan. My service provider did not allow me to get internet there. So no Google to help me…
One difficulty you can face while traveling, especially far away, is that you can suffer from jet lag. You know, that moment your body tells you "I don't want to sleep anymore." while you are still tired…
One morning in Kobe, I woke up at 4 am. So what did I do? I embraced it: I spent some time on my computer and then decided to leave the hotel room to enjoy the sunrise in the harbor. It was such a beautiful moment. Thank you, jet lag.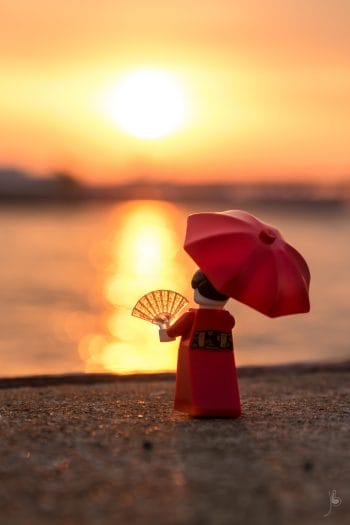 One thing that I noticed since I am doing toy photography abroad, is that I feel more comfortable lying down on the ground in other countries. Is it because of the pressure of time flying by and me knowing that I won't be able to come back to that place? Is it because people will find me crazy but who cares, I am a tourist? I don't know. I noticed the same thing in France to be honest when I am leaving Paris. Strangely, I am more comfortable outside of my comfort zone…
And wherever you go, people often notice us on the ground taking pictures of plastic figures. In Kobe harbor, as I was taking pictures early in the morning, I crossed some people running and noticed an old man doing Tai-Chi exercises. I stopped close by to take a picture of Lego. While taking the picture, I heard his footsteps behind me. So carefully, I turned around. He talked to me in Japanese and I answered in English. None of us could understand the other one. So with hand gestures, I asked him if he wanted to see the picture and showed him my camera. He smiled. Once again he talked in Japanese and patted me on the back in smiles. At that moment, we had a connection thanks to photography. It's always fun to discuss with locals without understanding each other. I love those moments.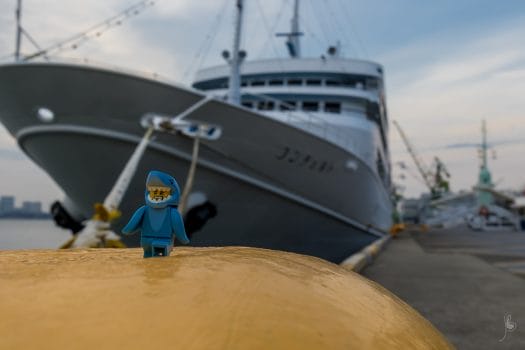 On the other hand, doing toy photography while traveling for work is not always easy. As I told you, the priority is always given to the work so I do often travel and not have time for pictures or even enjoying the location that much. It's frustrating but it's the job.
Moreover, you are not always alone. Most of my colleagues know about my hobby (I do have toys and Lego pictures in my office) and they appreciate it but it's not easy to ask them to stop every twenty meters for 5 to 10 minutes to take pictures. So not wanting to bother them too much with that, I rush my pictures and don't have time to try different setups, scenes, options,… Sometimes I get really nice ones but often they are more "good enough"…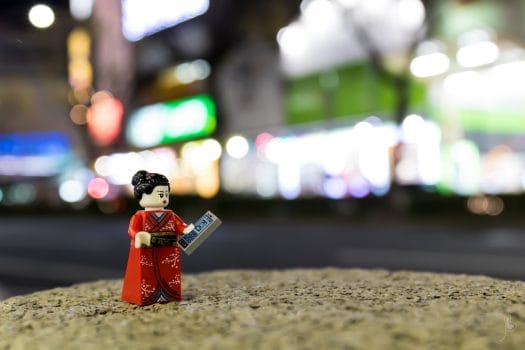 As for Japan itself, for me, it was the first time there. I really enjoyed it. The culture is totally different from what I am used to and it's refreshing. People are kind and when you need help, you don't have to ask. People will naturally come to you when you seem lost. 
It was not easy to communicate with people as they do not all speak English, but I guess it's the same for a foreigner coming to France.
The food was great. Sushi and sashimi are really tasty, compared to what we have in France, and we had to try the Kobe beef. A bit pricy but worth it. The meat was really tender and well cooked. It was succulent.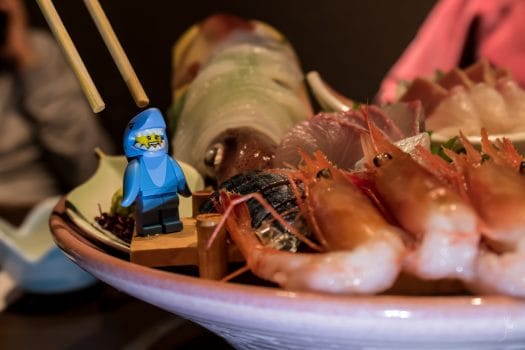 Finally, the only sad part of the trip was only to see urban environment (but in 2 days, it was complicated). Everything is vertical. Even the roads are on several floors. We tried to look for the "old town" but everything is modern and filled with shopping malls. The only traditional buildings we could find were the temples and the Castle in Osaka, which was beautiful.
I loved Japan. This is definitely one of those countries I will have to go back to visit but as a tourist this time. There is so much I want to discover, now. This little taste was awesome. And I hope it shows in my pictures.
[clickToTweet tweet="'Wherever you go, go with all your heart.' – Confucius" quote="'Wherever you go, go with all your heart.' – Confucius"]
Arigatō gozaimasu Japan
Julien-san / Ballou34
Aeronautics engineer by day, toy photographer by night.
Exploring the world with his plastic figures.