In this blog post, I want to continue to talk about the lessons I learned from my summer project. This blog post is also largely inspired by my recent reading of Todd Hido's  "On Landscapes, Interiors, and the Nude".
After my summer road trip, I had to take some distance from taking pictures.  Then, for the past four months, I've been taking photos at the same spot, with a very limited number of figures.
This is what I call "gathering assets". (This term is borrowed from a few recent podcasts from Brooks Jensen.)
So what does it mean?
Gathering assets
I often hear about the benefits of getting out of our comfort zone. While it's definitely helpful when beginning photography, the more I grow as a photographer, the more I find it counter-productive. People often recommend trying to learn something new to fight boredom or the lack of inspiration. I've done the opposite.
It's becoming common that I have trouble finding inspiration. I rarely have any new photo ideas. Almost everytime I go out with my toys and my camera, I select a couple of figures to use. There's not much planned for the photo. It's simply about posing them somewhere, put my camera in front and press the shutter as long as the outdoor environment inspires me.
At the beginning, I was a bit worried, but now I'm comfortable with it. I don't feel I need (or even want) new ideas. Although it feels like I'm making the same photos, they end up being different. After all, a human being is not a machine that can easily make exact copies.
Quantity and quality
I'm a big advocate of "quantity over quality". When I go out to gather assets that means I will take a lot of photos of the same subject. I avoid thinking too much. I just let my instinct guide me and keep on pressing the shutter. A short 20-minute photo session can easily end up with a few hundreds of photos on my memory card.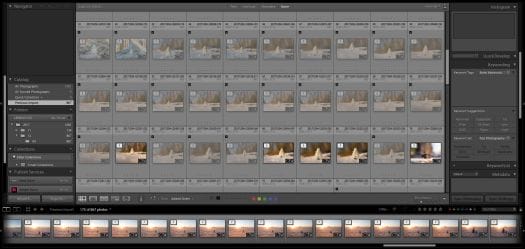 I felt really reassured to know that I'm not the only one:
See, respond, click. And the more you click, probably the better. Much of what happens in a picture is subconscious at the time I make it. I'm really seeing what's there later, when the picture is done. (Todd Hido)
Less is more
During 2017, I've taken more toy photos than ever before. Despite this tendency, "less is more" is becoming my new motto. It's not about taking fewer photos, but rather at focusing on those that matter. Out of a few hundred photos that I take on a single photo session, I will often keep at most a few dozens good photos, and even less will find their way out of my hard drive.
Less is more is realizing that I don 't necessarily need to show all these (good or not) assets I gather. As Todd Hido says: "Just because I take a picture doesn't mean that somebody has to see it". Or in simpler words: "all killer, no filler".
Taking things slow
"Less is more" is also about taking things slow.
Not running after big numbers, taking some distance from the social media frenzy. Avoiding to put any kind of pressure on producing or posting photos online.
I find that it's usually good to let some time pass before taking any final decision. After a few months, a photo I found awesome can look pretty average. I'm often excited about the last photos I've taken, but keeping them to myself for a few weeks or months is good. It makes me take some distance from them, it makes me see them in a different way.
One of the great pleasures of making photographs is being surprised by the results. (Todd Hido)
Towards 2018
The year is not over yet, but I already know what will be my main goal for 2018. I want to further explore a "less is more" philosophy by focusing on what matters. But maybe I should leave this for the next blog post…
Sharing the Adventures in The North of my Plastic Friends.