The book project
Back at the beginning of the Summer, Boris challenged us with making a book to show to our friends during our Scottish Adventures. More than four months later, I still haven't really reported about it. I gave some hints about its content in my last blog post but that's nearly all. Now that the amount of daily daylight is getting real short here in the North, it's about time I reflect on it. (Moreover, this month's word is "book", and October's month was "printing".)
Constraints
I think a creative project needs constraints. Even if the project has been (partially) assigned by someone else, adding constraints to the initial objectives helps to progress. Some can be minor technical constraints. For example, I decided to only make landscapes oriented photos, and if possible use the same aspect ratio (either 16:9, 1.85:1 or 2.39:1).
At the end of the winter, I decided to focus on a limited number of characters. It quickly became obvious that my book would be about the story of one of those characters. However, when I came back from the Arctic and started to organize the candidate photos, it became clear I couldn't even put together 25 (good enough) photos to form a coherent story. This was far from the ~40 photos I initially had in mind. That is why instead I made a book that would act as a sketch of three different ones.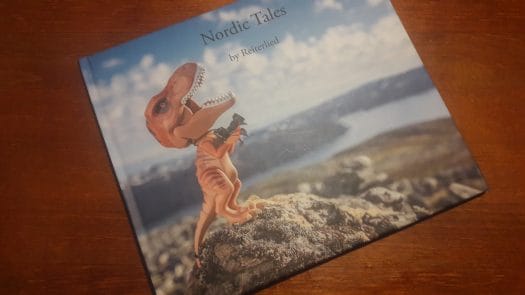 Tale of T-Rap
The first part of the book tells the (beginning) of the story of my favorite dinosaur. It's mostly based on a single photo session, taken at Nordkapp under the midnight sun. It also features a cameo appearance of my two favorite aliens. My initial plan was to tell the story of how they met by relying on a silly (or should I say crappy) pun.
However, the story is incomplete. There were a few photos that were so terrible that I didn't even include them in the book. There were also many photos that weren't good enough. I hope to eventually complete the series of photos when the time will be right.
Maybe next summer?
Tale of Dragons
On to the second chapter of my book. I talked before about how I fell in love with the LEGO Elves Dragons. My initial idea for the book was to organize my stock of Dragon photos and come up with a story. But it turned out the story wasn't there. I still included some of my favorite photos so I could show them in Edinburgh before writing a review for the blog.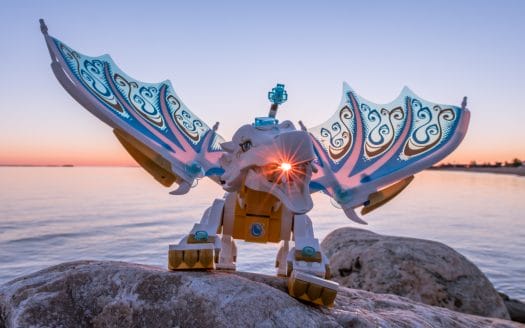 Will I ever manage to come up with a story centered around those dragons?
I don't know. They got their chapter, and I've got some plans to make them appear in other storylines.
Tale of Aria
The third and last part of the book is the closest to a coherent story.
Since my first trip to Norway, I've kept on taking pictures of Aria the Butterfly Girl on a regular basis. Since my CMF Series 17 review, I've wanted to continue the story I started.
In the end, it is the last chapter of the book I'm the happiest with. Indeed, putting together many images taken at different times and locations surprisingly resulted in something that's telling a better story.
Another kind of book
Lately, reflections on my own journey both as a photographer and a bookmaker (as in maker of books) led me to read "On Landscapes, Interiors, and the Nude" by Todd Hido. This book mostly contains reflections on Todd Hido's evolution as a photographer.
I'm not sure if I have learned anything completely new, but Todd Hido's stories often end up being valuable lessons about the process of creating photos.
Many stories resonated with me.
They helped me put words on both what I've gone through in the past year and the challenges I faced while trying to make my own book.
So what lessons did I learn from both making my own book and reading Todd Hido's book?
The importance of printing
First I learned about the importance of printing when building a photo series. But not because I'm producing a physical book…
If you have already printed pictures, as a series or not, you probably know that prints can look different than what they look like on a screen. However this is not what I learned here (and a completely different blog post). It is the matching process of images in a series. When you try to match photos together, no matter whether the intent is to print them or not, printing them out actually helps. It's what Todd Hido calls "to make a paper movie".
Making my own Paper Movie.
Putting images together on a computer screen to form a story is hard. Although I don't write with a pen very often and don't mind reading books on a screen rather on paper, laying out organizing images in a coherent order is something I didn't manage to do correctly on a screen. It's only when I received my book, that I realized some of the photos weren't in the right order. Manipulating the physical object in hand made me look differently at my own photos despite having seen them dozens of times on a screen.
Next time I know that once I have a rough idea of the photos that have a chance to make it in a series, I will make some small prints of each individual photo. I will use them to build a dummy book and see how the photos work together in the physical world. I will be making my own paper movie.
PS: I've learned a few other lessons from Todd Hido's book, but this will be the subject of another blog post.
Sharing the Adventures in The North of my Plastic Friends.