As soon as the winter started to reach its end, I began to think I should focus on a project during the summer. When Boris announced his plan of making us work on a summer project, not only I already had a few ideas, but I had already started to work on some of them.
Up to now, I've been quiet about these summer project ideas. I wanted to take the time to let my ideas mature before releasing anything publicly. The only persons who have seen the result of my summer photography are the old and new friends I met last month in Edinburgh.
But I think it's about time to give a glimpse of what I've been doing for the past four months through a review of 3 LEGO Elves sets. Set 41172 The Water Dragon Adventure, 41175 Fire Dragon's Lava Cave and 41179 Queen Dragon's Rescue. (Moreover, last month's word was LEGO after all!)
The LEGO Elves Dragons
As with my previous and first set review, I don't intend to make a full review of the sets. If you're looking for such review, I'd recommend you to look at one from either The Brothers Bricks or Brickset. If like me you prefer a video, be sure to check out JANGBRiCKS on Youtube.
Instead, I want to tell (and show) what inspired me in these figures as a toy photographer.
I've always been attracted by the fantasy style of the LEGO Elves theme. I've never invested money into it because they come with minidolls instead of classic minifigs. In May, coming back home from a trip to San Francisco and Stockholm, a little girl was playing on the plane with the Water Dragon. Although I had watched long before reviews on Youtube from JANGBRiCKS, this little girl made me realize how great those Dragons were.
The Elves Dragons have qualities possessed by none of the other dragons LEGO made before. This includes the classic and more modern Castle dragons, the many Ninjago dragons and the great Smaug.
Like the Ninjago dragons, the Elves Dragons are mostly brick built. This makes them easy to customize. They also use specialized head molds with prints which gives them lots of expressiveness. (There's a couple of stickers for the body, and while not necessary, I think they add some nice details.) Finally, the use of Mixels ball joints offers excellent posability.
The Fire Dragon
A few days after I came back home from my trip to San Francisco and Stockholm, the Fire Dragon was the first one I acquired. It is medium sized and comes with a beautiful orange tone that works beautifully on a beach at sunset.
The Fire Dragon traveled with me for the firsts weeks of June. One of my best times with this dragon was when I spent my first outdoor summer "night" in Rokua National Park. The weather wasn't as good as expected, and still pretty cold for June. In Rokua there is plenty of white reindeer lichen because of the lack of reindeer there. Coupled with the vibrant red of the dragon, it created some of the most unexpected photos I ever took.
The Dragon Queen
She is the big one. Indeed she has a unique head mold to cope with her size. The wings are also different. Instead of the somewhat rigid plastic wings, they use a more flexible and transparent plastic. That makes them more fragile but also look better and more realistic. Here the wings are not on attached with a technic pin but a big ball joint, allowing to pose them more freely and easily. On the other hand, the legs do not use a ball joint and cannot be moved as freely as the other dragons.
The Water Dragon
The water dragon was actually the last I acquired. Nevertheless, it's my favorite. It's smaller than the two others but uses the same head than the Fire Dragon. The disproportion between the head and the body creates some comical (and very cute) look. (And you might already have noticed how fond I am of creatures with a small body and a disproportioned head ;-))
Besides, the legs of the Water Dragons have the best freedom of movement. The wings also use a single technic pin, instead of two like the Fire Dragon does. It gives more posability to the wings. Combined with the expressiveness and the big head I just find it irresistible.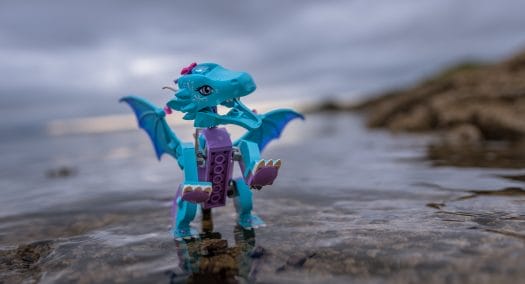 The minifigs minidolls
As I've said I'm not a fan of minidolls, and for various reasons. One of them is the apparent lack of posability. The figures either stand up or sit down (in a slightly unnatural way), and can't walk. Posing the arms usually also look weird and unnatural to me.
Another reason is the use of the natural skin tones instead of the traditional yellow skin of minifigs. Many of the Elves minidolls have cool hairpieces. Although they are compatible with regular minifig heads, the flesh skin tones doesn't look good on yellow skin minifigs.
Nevertheless, even though I wish they would be regular minifigs, I find most minidolls in the LEGO Elves theme particularly interesting. I haven't really used them yet for photography and it's only in Scotland I took my first photo of a minidoll.
The set
Although I find the LEGO Elves sets generally appealing for their buildings, I haven't used any in photos yet. As an outdoor photographer, I'm mainly interested in using characters (and in this case dragons) in outdoor environments. That said I'm looking forward to eventually use some Elves houses as they would fit perfectly in the Nordic landscape.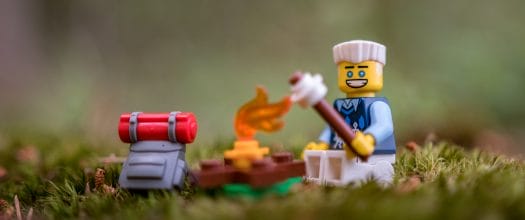 Photographing the Dragons
Like it's usually the case with the ABS goodness from LEGO, the Dragons are highly reflective. But because they're also quite large, I find it more difficult to cope with reflections of sunlight in the middle of the day than with ordinary minifigs. On the other hand, as soon as the light gets softer it's a real pleasure. In the end, I took the majority of my favorite photos during cloudy days, or around sunset/sunrise.
The very saturated colors found throughout the LEGO Elves theme are another challenge. Color can sometimes be an issue. Here I decided to use it to my advantage. By focusing only on photos with one subject (i.e., a single dragon), the intense saturation of the plastic creates a sharp contrast next to less saturated outdoor environments. This works well in gray urban environments (like Edinburgh), but also in the more colorful Nordic landscapes.
LEGO Elves Dragons, my new favorite toys?
This spring I fell in love with Aria and T-Rap. This summer, it was the Elves Dragons. I'm completely hooked and wish I could complete my collection. I've recently acquired the Healing Dragon from set 41187. It's very similar to the Water Dragon but with shorter legs. I still haven't had much time to photograph this new Dragon. However, from a first photo session, I can say the posability isn't as good as with the Water Dragon.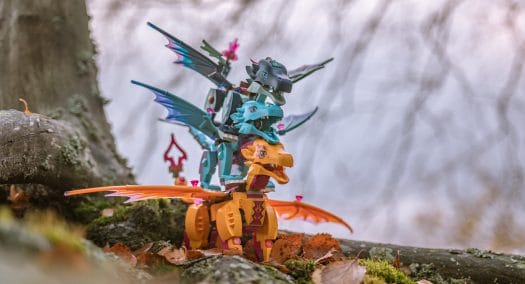 I've also been looking to get my hands on both the Wind and Earth Dragons from sets 41178 and 41176. To my surprise, these sets were retired rather quickly. In particular, I'd really like to find the Wind dragon which was available for less than six months. Its price has now reached incredibly high levels on the second-hand market.
Finally, I'm still not sure whether or not I will get the "Evil" Dragon from set 41183. The color scheme does not convince me. Moreover, the dragon looks neither evil nor as cute as the other Dragons. But playing with it myself could change my mind…
Writing this review made me realize that the LEGO Elves theme isn't the most popular in the toy photography community. I've seen many great photos with minidolls on Instagram, but none specifically related to the LEGO Elves theme. Browsing a bit through a few hashtags on Instagram, I didn't find many pictures that would really qualify as creative toy photography.
Back to the summer project
The Elves Dragons were only one of the three ideas I explored during the summer. Now I've got a good amount of Dragon photos I'm satisfied with and I know they will become part of my favorite toys to photograph, alongside Yoda and Ackbar, T-Rap, Aria, Woody or The Ice Queen.
But I wonder what comes next. How to go beyond just a series of cute but random dragon photos? How to find a theme besides epic dragon cuteness? I guess this will be the topic of a future blog post…
Sharing the Adventures in The North of my Plastic Friends.