Could the last month's word be the best of the year? Maybe Boris still has a few good surprises left… Anyway I've been excited as soon as I learned it would be "travel". Travel is what have motivated me most for the past few years. I started taking photos while traveling, and before focusing on toys, I was mostly interested in travel photography. Today I would most likely describe myself as a travel toy photographer: the feeling of travel and adventure has become what I strive to share visually with my photos.
When Boris announced the new word, I felt lucky I just had decided to go on a road trip to Northern Norway during the 4-days weekend we had in Finland for Easter. Although I currently live 600 km away from the Norwegian border, this is not that far away considering that the closest other "real" city is located 300 km to the South.
The goal(s)
Travel is always an opportunity for reflection. In this case personal reflections, but also reflections about photography. Still asking myself the same questions.
Where do I come from?
Where am I?
Why am I here?
How did I come here?
Where am I going?
Where do I want to go?
What can I do now to arrive there?
What photos to take in Norway? There would be plenty of opportunity for photography in one of the most beautiful places in the world. Since I moved to Northern Finland four months ago, I took a lot more toy photos than I ever did before… It was to be expected with the surrounding epic nature and light. I tried to enjoy the long winter by experimenting, playing around with different toys in the snow. But I also have the feeling I spread myself too much. It was time to re-evaluate where I was going. I had this desire to going back on focusing on photos that truly feel mine. So I asked myself this new question:
What is (photographically) me?
There are many photos I take just for the fun, but then there are photos that feel like something that "is me". I listed (on digital sticky notes) the different photo series about specific characters/themes I use the most. Those I can identify myself in. The first project of this trip was to focus on them. The second one was to focus on my Collectible Minifigures Series 17 review.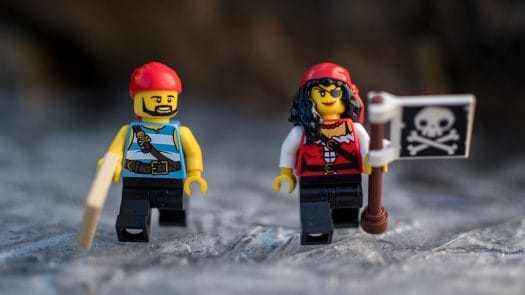 Planning
I usually don't make a lot of planning when I travel. I like to improvise so I can freely explore the location and the environment. Most of the time I have a couple of destinations that act as (flexible) goals for the day and then simply enjoy reaching them.  Travel doesn't necessarily mean to me reaching a destination, but also enjoying going there. This strategy can sometimes fails and you end up in areas with literally nothing interesting to see. Or at least not interesting enough to spend a precious day far away from home… But most of the time I go back home with memories I wouldn't have got otherwise.
This time the master plan was simple.
Leave home on Friday morning, drive to Kiruna in Swedish Lapland, spend a night there.
Drive to Norway, spend a night there, preferably in the Lofoten Islands.
Go back to Kiruna, spend a night there (again).
Go back home on Monday.

The trip… It's a map!
It could have been an option to skip the stop in Swedish Lapland. This would have given me the opportunity to spend two full days and three nights in Norway. Maybe I could have even reached the village of Å at the far end of the European E10 road. It's a place I've been dreaming visiting since I was a teenager and read Edgar Allan Poe's "A Descent into the Maelström" short story. But taking it more slowly allowed me to also enjoy the trip to Norway.
Because I didn't have much time, I knew there wouldn't be any extensive exploration. I wish I would have had time to hike in the mountains, but it wasn't an option. With no extensive walking, I was able to bring whatever I wanted with me. No worries about carrying too much toys. No worries about bringing too much gear. And not worries about not using them in the end. I also filled my car with enough food so I didn't have to bother about looking for affordable restaurants in a sparsely populated (and expensive) area during a holiday weekend. Everything was planned so I could use the little amount of free time to enjoy the location and take photos.
In the end I didn't really bring much more toys than during the last toy photography meetup in London.
The result
I fulfilled my goal of focusing on a limited number of figures. Like I did when I moved from Belgium to Finland, I tried to document the trip using Master Yoda and Admiral Ackbar. They went to Ikea. Crossed the Arctic Circle. Visited the town of Kiruna. Saw landscapes looking exactly like the ones on Hoth. Enjoyed the beauty of the fjords. Traveled around the island of Hinnøya. Reached the first island of the Lofoten archipelago in time for sunset. Went to frozen beaches. Ate reindeer meet in a Lavvu, a traditional Sami tent. Visited a hotel made of ice. Went back home exhausted after having traveled more than 1800 km.
But I also took a few photos without Master Yoda and Admiral Ackbar. I had two Collectible Minifigures Series 16 to review. Then there are a few photos from my other ongoing photo series, such as the one with my two little pirates traveling around the world. And I also distracted myself with a few figures I never photographed before.
Nessie
No I didn't encounter the Loch Ness Monster in the fjords. Nessie is the name we gave to the online random quote generator part of the travel challenge.
For more fun I decided to not use a specific category, but allow myself a few chances in case I would have a quote too hard, or too simple. In particular I wanted to avoid the quotes from Star Wars. They would be too easy with plenty of Star Wars minifigs in my bag, and would have a high chance of not leading to anything interesting. I also imposed myself to only use Master Yoda and Admiral Ackbar.
Saturday morning I asked Nessie for a quote. Because I didn't understand the first one I got, about Poland and soviet organization, I asked a second one and kept it.
The world is coming to an end — save your buffers
To simplify the concept I focused on the first part of the quote. I spent the whole day wondering what photo I could possibly take. How to make it look like the end of the world? And then I reached the first island of the Lofoten archipelago and found a nice beach where there was some chances that the sun wouldn't be hidden behind a big mountain for sunset.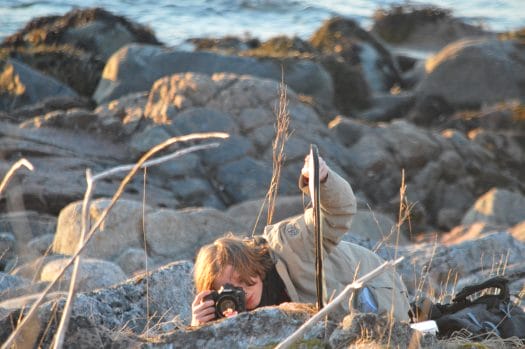 Once the sun was low enough I knew what I had to do to get my photo…
The End?
I'm not sure what awaits in the coming months on this little journey. But using the magical landscapes of Norway as a backdrop is not over for me. This trip was too short and my plans are set for the summer: back to Northern Norway! So stay tuned for the second part of this Adventure, later this year…
PS: In the meantime you can follow the Adventures of Master Yoda and Admiral Ackbar on the Road to the Lofoten Islands on social media with the hashtag #ToTheLofotenAndBackAgain.
PPS: I actually improvised a second trip to Norway less two weeks after this one. Stay tuned for a follow up blog post on this second totally unplanned trip!
Sharing the Adventures in The North of my Plastic Friends.