The first month of the year.
January was a month of reflections.
A month of exploring why we are doing what we do.
Where we want to go and get some guidance and directions.
We don't want to go the heavy road of human introspection and become all philosophical on you.
Just simple reflection.
Reflect on the past to look at the future.
Come up with a plan.
A creative roadmap.
Words.
We came up with twelve words. A theme of words we will be exploring here on Stuck In Plastic through twenty seventeen. One word per month that hopefully leads us to a sentence by the end of December and a positive reflection in the beginning of January 2018 on our journey.  But that is still far ahead.
So back to the plan, the roadmap, the journey with our twelve words.
The Roadmap of creative goals.
It is a creative journey that will take us to explore some uncharted territory. Help us to grow in our own individual creative sound. A journey that we will be sharing with you here. Stefan and I will be taking the lead with at least a weekly update, while Vesa and Mike will chip in when they feel the time is right. We also asked a few of our long time friends here on Stuck In Plastic to join us in this journey and yes, they will share their own story, experience, and great photography work with you as well here on our blog.
Of course, all of you can join in our little journey.  For one or for all the words and share your experiences here with us.
However, there is no pressure.
No need to make a commitment.
No need to be public or vocal about it.
Remember we are going acoustic here.
Simply jamming together between friends.
[clickToTweet tweet="Reflections. The first word in a new series on Stuck In Plastic. #StuckInPlastic #Reflections " quote="Twelve words and the first is Reflections"]
We spent some time on why we do it.  What do we want to achieve.
And we wrote that down on a simple post it or sticky note.
Both for SiP and as an individual.
Simple creative goals and objectives.
I then took our sticky notes (my personal and the SiP ones), and safely tucked them away in a book that is dear to me. We will be revisiting these sticky notes in December, and see if we managed to achieve some or all of the collective and individual creative objectives we have set out.
Only time will tell …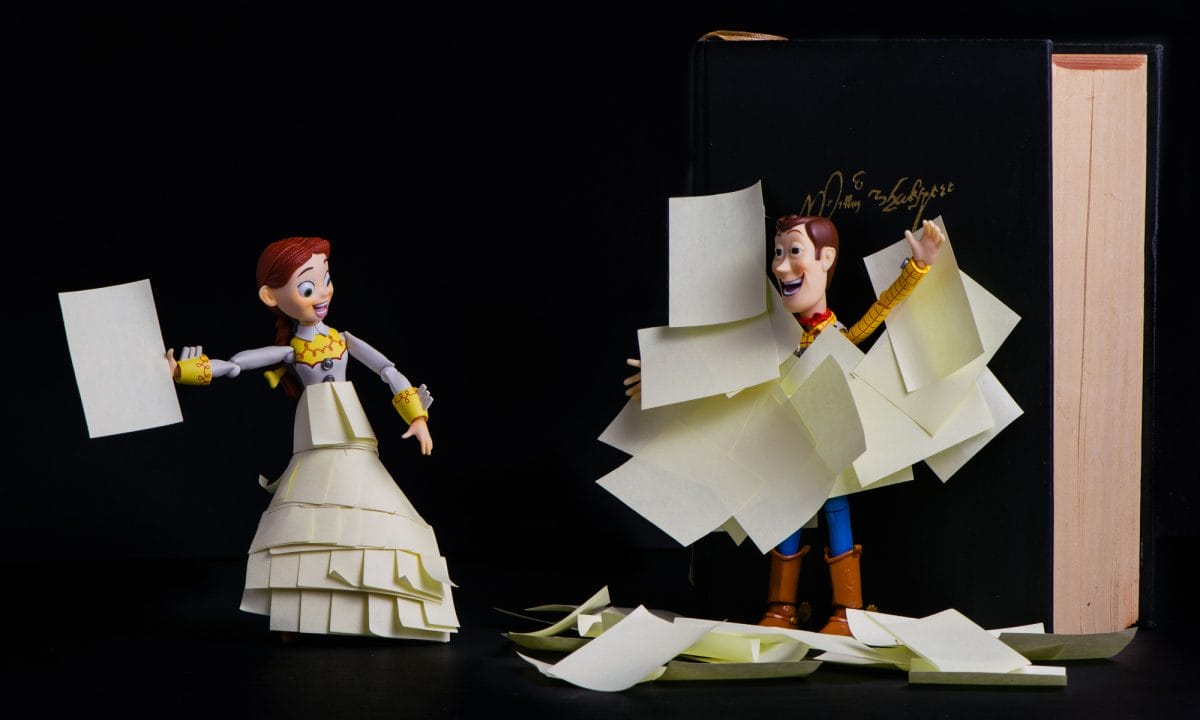 Some Guidelines.
Do you want to follow along on our journey?
Here are a few simple guidelines that may help you with writing your own sticky notes.
First, do not hide the sticky notes in a book that is often used by yourself or others in the family.
So, take one of those books where your secret is safe.
Don't stick them on the fridge for you to be reminded of them every day. Safely stick them away like a secret treasure.
Try to make your objectives aka sticky notes smart. Smart is one of those big Inc. and personal development mnemonic acronyms that helps you in giving criteria for objective setting and can easily be applied to our sticky notes as well. Objectives should be Specific, Motivating, Achievable, Relevant and Time Bound. Ouch. A mouthful. Let me give some examples.
Specific. Be a better photographer is not really something you will be able to measure easily, although I am sure we will all achieve it one way or the other. Master Strobes, Publish a Book, Join a Toy Safari, Nail Focus Stacking, Visit LEGO, Take My First Toy Photo are all much more specific objectives.
Motivating. The objectives should motivate you. Makes you want to achieve them. Walk that extra mile. And once you achieved it, you should feel a sense of accomplishment. Be proud of yourself. Not the whole world, but you as a creative individual, as it will help you on your next objective. I still remember fondly my first real live exhibition here with SiP in Seattle and this was extremely motivating for me.
Achievable and yet be a stretch. If we set objectives we know for sure we cannot meet and deep down have no intent of trying to achieve them, they can easily start bogging you down. Get negative energy into your creative process. It is better to take small steps in the beginning, and not just aim for Mars (but I am sure Elon will disagree with me here).
Relevant. It helps if it involves photography and plastic if you want to share the story here on Stuck In Plastic, but I am sure our twelve words could easily apply to any creative process, from cooking to music and back.
Time Bound. Well for this one we should be able to achieve them this year. It is always good idea to have the different objectives with a different deadline. Have objective one achieved by the summer (in the northern hemisphere at least), and objective two and three a little bit later. Don't create objectives too far out for this little word journey, so you can measure success.
Finally, no more than three to five objectives so you have a focus.
Now, reflections, objectives, and focus may mean something completely different in photography. Reflection of light is a key tool in our toolbox of telling stories with light (a definition of photography) and objectives is just another word for that piece of kit we call glass or lenses in our photog jargon. Mike wrote a beautiful post on this kind of objectives last year and soft focus is something we all have used (accidentally) before.
As you can see the words we will be using here are not limited to a specific task but a mere guidance to take us (and you) on a journey of plastic exploration.
Freely wondering where the word is taking us.
Very individual, yet a collective experience throughout twenty seventeen.
Boris