Today is the last day of the year, the day we close 2015 and turn our page into a new beginning. A day of reflection of what happened since that other day a good 366 days ago, when we turned the page on 2014 and took a deep dive into 2015. And what a dive it was. 326 posts published, 25K visitors with 67K page views and 1K comments across the whole year, a most epic year and not just in numbers …
Our number one post in total individual hits this year was all about fair play and the use of commercial, licensed and copyrighted material (read LEGO, Disney and Star Wars) in our creative work when LEGO decided  to step into the footsteps of George Lucas and actively pursue the takedown of some of the creative work of LEGOphotographers on RedBubble. The discussion is far from over and will for sure continue in 2016, but we kicked the year of with a great discussion on the more legal aspects of our creative endeavours and you liked it (or so our stats say, special thanks to reddit).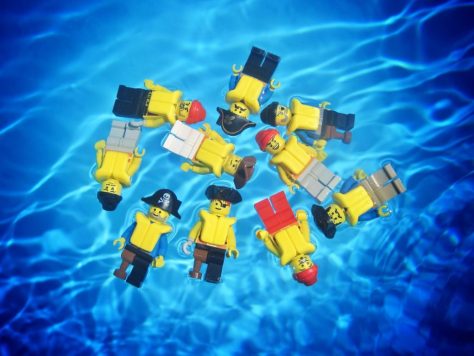 Our number two post in absolute numbers, is all about a fantastic magazine that was born in 2015. A magazine we really like here on Stuck In Plastic. An epic magazine full of Bricks and Culture alike. Bricks Culture is a most fantastic magazine and we are really looking forward to see what these great folks will bring us in 2016. If you don't follow them on Facebook yet, we can warmly recommend them. That is if you are using Facebook.
Our number three post is most probably my absolute number one. The official press release of the very first fine art exhibition "In LEGO, we connect" in the Bryan Ohno Gallery in Seattle earlier this year reflects back on a very precious, a very unique, in short an epic experience both personally and for our creative collective.
Not only did I met Shelly in person for the very first time after running our collective together  for more than a year from afar (the physical distance between the two of us is on an average day 7585 kilometers or 4713 miles), I also met Vesa for the first time (you can read all about his naked experience in Seattle here) and extended my circle of friends deep into the west coast.  Wiiman, Cindy, Leila and Jim are just four fantastic people amongst quite a few others I had the chance to connect with and spent some great moments with. Moments I will carry with me far beyond 2015. On a sidenote, seeing our work hanging on the walls of the gallery printed up larger than life (and getting all that positive feedback) was also pretty epic to say the least.
Post number four is from the fourth member of Stuck In Plastic who joined our little creative collective earlier this year and falls right in our sweet spot of daily dose of postings. Looking beyond the photographic techniques of how to correctly expose your image or reveal the inner workings of high shutter speeds and  strobe lights to catch the baking powder snow flakes in mid air. A post that goes beyond technique and explores the why we are taking pictures. Mike you got me inspired and I can't wait to see where our creative discussions in 2016 will take us.
The fifth post in total individual views in 2015 came from one of our more renowned guest authors (and we have quite a few of those great folks here on SiP as well) and was part of the creative series "the one" where we explored that one image that took us to the next level. Chris, thank you for joining us here on Stuck In Plastic and we hope to explore some more plastic with you and our other fantastic guest authors in 2016.
Canada (the homeland of Chris) ranks fourth in our geo chart during 2015 with Sweden being number three, UK being second and US taking the lead.  Finland only comes in at number eight after Germany, France and Australia. Luckily we are not talking about ice hockey here. So back to Sweden.  A most beautiful country in the Northern Hemisphere and the backdrop for two other epic events here on Stuck In Plastic in 2015.
The very first one is what some of you may remember as the #baltictoysafari. A very unique (real life) event where toy photographers and plastic lovers  from all around the world joined in for an epic three days of toy photography in my garden the Stockholm Archipelago. An event of great imagery and friendships alike. Thank you Shelly, Stefan, Ian, David, Kristina, Susanne, Sten, David, Christoffer, Stefan, Måns, Ulla, Birk, Kalle and Wiveka for sharing these wonderful moments with me. These memories will last a lifetime.
The second epic event is actually directly linked to the first and if you read Shelly posts on friendship above, you know what I am talking about. Kristina, a Swedish mom playing with toys, joined our toy safari in Vaxholm taking a big leap of faith and became the fifth member of Stuck In Plastic, joined us for the second fine art exhibition in Seattle earlier in December this year, visited Shelly hometown for the second grand opening and worked on a master plan to get our photographic and artistic skills in 2016 to unknown levels.
Oh. And there was more, much more in 2015. 326 posts of plastic awesomeness is too much to cover in one post, hence I used some of the metrics available to select the top five individual posts and look back on this fantastic year, one epic day after the other but off-course there was much more. A most intimate photobook exchange across new and old friends alike (ranked 13), violence in toy photography (ranked 15), women in toy photography (ranked 45), our ongoing discussions on metrics (ranked 91) with our main landing page ranking absolute on the very first spot with six times more hits as our number one individual post. Every day is an epic day.
For me 2015 was a most creative year of firmly taking my work beyond the digital walls of social media, meeting new friends across the globe in real live. Full of epic memories not just beautifully crafted on Instagram, but real memories deep inside me. 2015 will have a serious influence on my creative journey in 2016 but more on that later.
For now, I would like to thank all of you, old and new friends alike, longtime readers and first time passerby for being part of our creative collective of taking plastic places.
May I wish you and your loved ones on behalf of the full Stuck In Plastic Crew an epic ending of 2015 and an even better start of a very creative 2016.
We see you next year !
Me2 aka Boris