Our Fair Play post from yesterday, highlighting the fact that The Awesome LEGO Systems A/S had sent their legal teams to Red Bubble with a set of claimed IP infringements on regular LEGO pieces created quite some reactions here, on IG, on bricked forums and reddit alike. Reactions covering the full spectrum ranging from great sympathy and annoyance with LEGO over the more neutral business as usual to the defenders of the right to protect ones IP. One recurring observation coming back was that sharing was not an issue, and that the problem was only with selling the art or as someone called it purchasable goods.
If you look back at yesterdays post we believe that it is not just about someone selling merchandise, and that the discussion goes much deeper on who owns the rights and that LEGO seems to be making a shift in their IP protecting policies here.
LEGO is only after those who sell their pictures.
While Red Bubble core business is indeed the sales of art and craft, they follow a similar user community model as Flickr and DeviantArt and actually Red Bubble does not force you to sell your work. You can perfectly share your work without the option of making postcards or poster prints available for purchase. And this happened to quite a few people on Red Bubble when Lucasfilm went after all the Star Wars fan art and sent notices to sellers and sharers alike, not making any difference between those who just shared their fan art (derivative works) and those who tried to sell it.
Red Bubble user Byron explains it pretty clear in his beginners guide to copyright and dmca :
" … It is a misconception that it is ok to upload derivative works without permission – so long as you don't offer them for sale. The real issue is with the act of publishing the derivative works … and in this day and age "publishing = uploading to a website"
And Helen mentions exactly that, her work was taken down while it was just being shared, and not up for sale.
So this really brings us to the bone of the meat.
Is original classic LEGO copyrighted as a whole and using any brick or figure is violating the copyright of Big Inc. and anything we dream or imagine and build with LEGO is actually owned by LEGO Systems A/S and is to be considered derivative fan art of the brick company ?
Is a classic LEGO brick or mini-figure equally protected by the copyright laws dream makers like Marvel, Disney and Lucasfilms  enforce when they take down fan art of Spiderman or Darth as they vigorously protect their creative IP (and they do, they are in the first place dream makers, while LEGO was up to now a toy maker) ?
Can one imagine and make a unique piece of "art" (and then photograph it) of some classic LEGO bricks, studs or minifigures that is not subject to be considered derivative fan art of LEGO Systems A/S ?
So when Mark created his own LEGO fantasy character Goovy with a few LEGO pieces as an homage to Ash Williams (a series never licensed by LEGO as most probably to violent) and put this on Red Bubble after a retweet by the original actor did he then truly violate the copyrights of the LEGO Systems A/S ?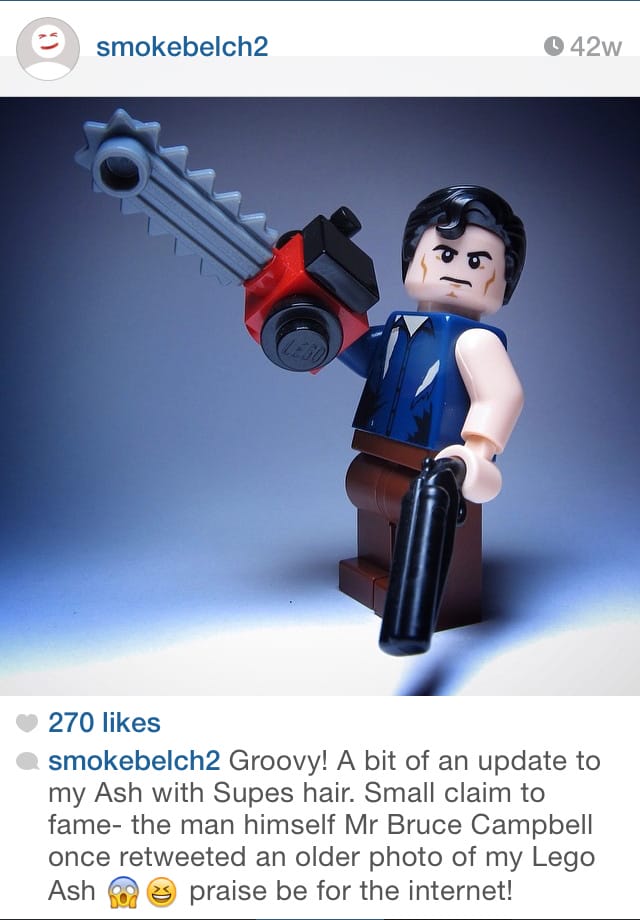 Is every mini me or alter ego actually owned by LEGO because this iconic piece of toys (the mini-figure) is trademarked and copyright protected and any derivative work is owned by LEGO. If you follow the letter of the claims that is what LEGO lawyers are enforcing here when they invoke the IP infringement letter against Mark at RB.
And here is another victim of yesterdays take down.
A bunch of pirates in a pool.
A photo taken by the fantastic storyteller bricksailboat called the Party Pool.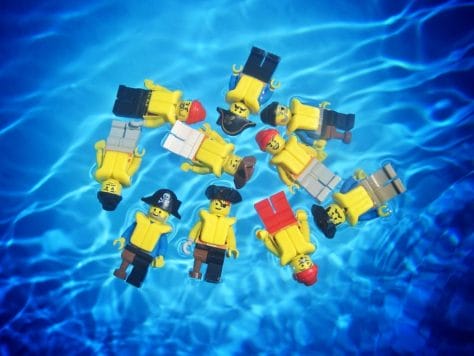 I can only see a creative mind taking a cool pirate picture that wants me to join the pool party and I would happily buy this postcard on RB to invite my friends over for a party in the weekend.
So, this whole take down is hopefully just a storm in a glass of water and will not go any further as the few cases we saw (and they should not ruin the fun, Big Companies may have a bad hairday as well) but we should not shy away from the discussion and push back to our beloved childhood toy manufacturer that we do want to continue to play with the toys and soup cans alike, and use them in our creative work and maybe even sell some of it on the way.
Me2