My family and I were lucky enough to get a Go Brick Me set sent to us from the good folks here at SiP to make a review. Not one of those signed boxes you can win in the contest but still a cool box shipped by the LEGO store here in the US.
My kids and I  have been looking forward to building some custom Brickheadz but hadn't had the opportunity to get this set until now.
I have built a couple Brickheadz in the past, like the Batman and Joker Brickheadz from the Lego Batman Movie as well the Rey and Kylo Star Wars Brickheadz. I will say that when the Brickheadz line first launched, I wasn't too excited or interested, mainly because I have so many other Lego sets I want to buy! However, once I bought my first one and started to build I quickly fell in love.
So I was especially excited to try building some more custom figures.
The unwrapping
My kids were so excited to open the set! The box is really well designed and fun, so I can't blame them.
Here they are fighting over who gets to open what bag!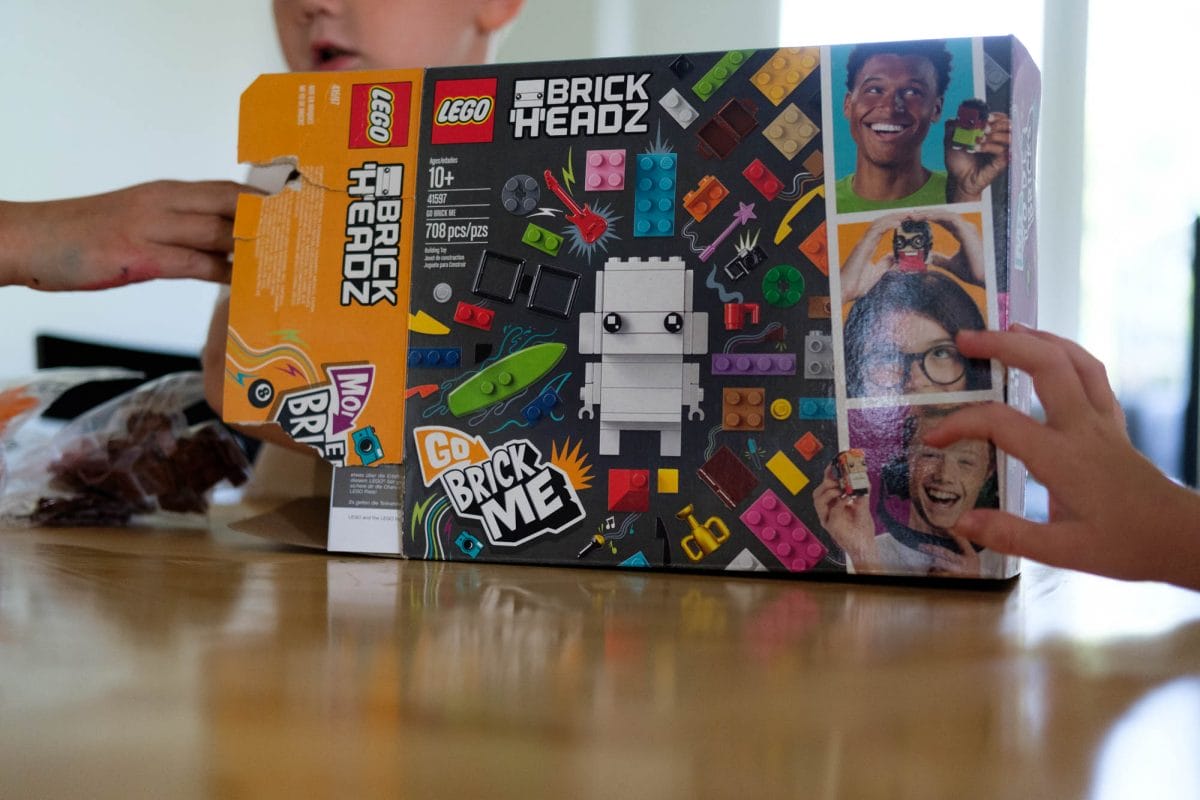 And here is the manual that shares the same art as the box.
It was much thicker than I expected, but we'll get into that in a minute.
The Build
The instructions started off by having you build the plain white Brickheadz on the box cover.
It's clear that they have you do this so you can learn how the build works and what actually makes Brickheadz a  Brickheadz.
Plus, this guy is adorable. I was tempted to just stop here and keep the plain white one!
The Combinations
Once you are done building the plain white one, you then are given options for different body designs. Most of which are shirts and pants, but my girls were thrilled that it also taught you had to build a dress! All in all, they give you 6 different bodies that you can build, with instructions for each.
After the body, there is a page where you can choose from 12 head/hair designs! This explains why the manual is so thick. It's not just teaching you how to build Brickheadz, it's actually giving you detailed instructions for 12 different heads and 6 different bodies.
That's a ton of possible combinations!!
It's also extremely helpful for little kids who aren't quite as experienced builders.  My 4-year-old was able to choose this combination and build it (nearly) by himself.
The Inspiration.
The most fun part for me though was that it gave you a lot of ideas that you could take and then customize.
Here are the creations that we came up with.
Me and my family
We had a ton of fun with this set and really enjoyed building some different Brickheadz. The set includes enough pieces to make two full Brickheadz with accessories. After building it, we ended up having so much fun we bought a second set to build two more!
I'd recommend this set to anyone, and once you pick one up you can enter the Brickheadz creative contest currently running here on Stuck In Plastic where 5  four lucky winners will be chosen!
Almost a month left to get your challenge in.
Here is mine.
In low key.
Kenton.