2021 marks the fifth year since the LEGO Brickheadz theme began. During that time, these buildable collectibles have been released as a wide range of lovable characters ranging from heroes from your favorite hit movie franchise through to household pets and models celebrating occasions from around the world, including a bride and groom, Mr. and Mrs. Claus, and Chinese New Year Pandas. So, when the call came for volunteers to review some new as yet unseen Brickheadz, I stepped up for a challenge, because not only had I never built a Brickhead before, let alone photographed one, but also the theme of the set could be literally anything.
A day of celebration
If you are reading this, then I guess you are pretty excited when some new LEGO comes through the mail, but receiving an unseen set from The LEGO Group is definitely an added thrill. It was also the moment of truth, I would find out what the theme would be, and I was definitely surprised to find La Catrina when I opened the package!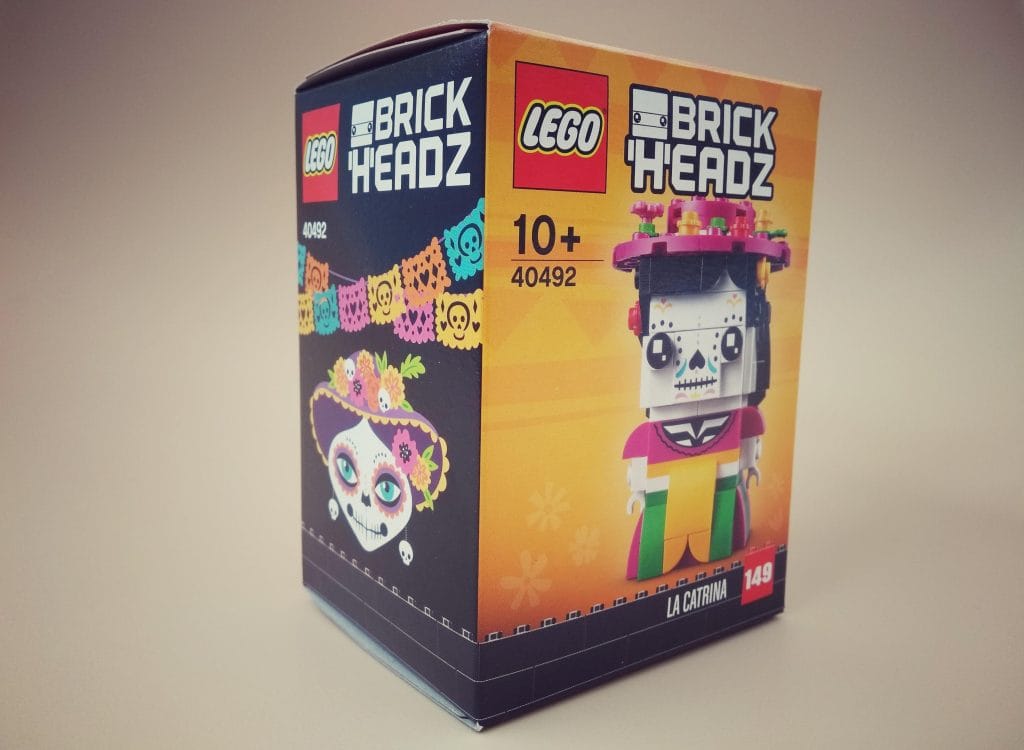 La Catrina (La Calavera Catrina) is an icon of the Mexican Dia de Muertos, or Day of the Dead, which is not a day of mourning, but rather a celebration of life, a holiday where family and friends gather to pray for and remember friends and family members who have passed. The original image of this character comes from a 1910 – 1913 zinc etching by José Guadalupe Posada, and subsequently became popular and got its name through a mural completed in 1947 by artist Diego Rivera, so that La Catrina has now become an icon of this Mexican holiday. More recently, the Day of the Dead has been depicted in the wonderful animated movies The Book of Life and Coco which is where children and let's face it quite a few adults will recognize the sugar skull design that you can see in the box art.
Building a skeleton
Parts and colours
Unlike @sophiefigs who reviewed the LEGO Minions Brickheadz earlier this year, I had never built one of these models before, so I took my time to enjoy the unboxing and building including the range of elements and colors, as this model has a pleasing mixture of green, yellow, purple, mauve and pink parts. This bold color scheme also lends this model to photography as I found out later, but was definitely not the only thing that really pleased me about this set.
Custom prints
Some of my Lego building friends will know that I am not a fan of stickers, maybe it's because I like to build MOCs and stickers impact on the re-usability of bricks, but more likely because I am getting older and they are fiddly to apply; there is nothing worse than a #stickerfail. No such problems here though, I am assuming that as Brickheadz are designed to be display pieces they use printed parts, in this case, some delightful printing for the sugar skull and bodice.
Sideways building
If you follow my Lego Space photography on Instagram, you will know that I sideways build a lot, although, as I often build with really old bricks when SNOT bricks did not exist, I generally cheat and build the whole model sideways! However, it was really fun to work with this set that was deliberately designed for sideways buildings with lots of SNOT bricks to create a nice smooth exterior.
Practical storage
Finally, if you are like most LEGO enthusiasts and find yourself short of display space (like always) or you simply want to keep La Catrina safe until Halloween, then you can store her in the box without having to dismantle her.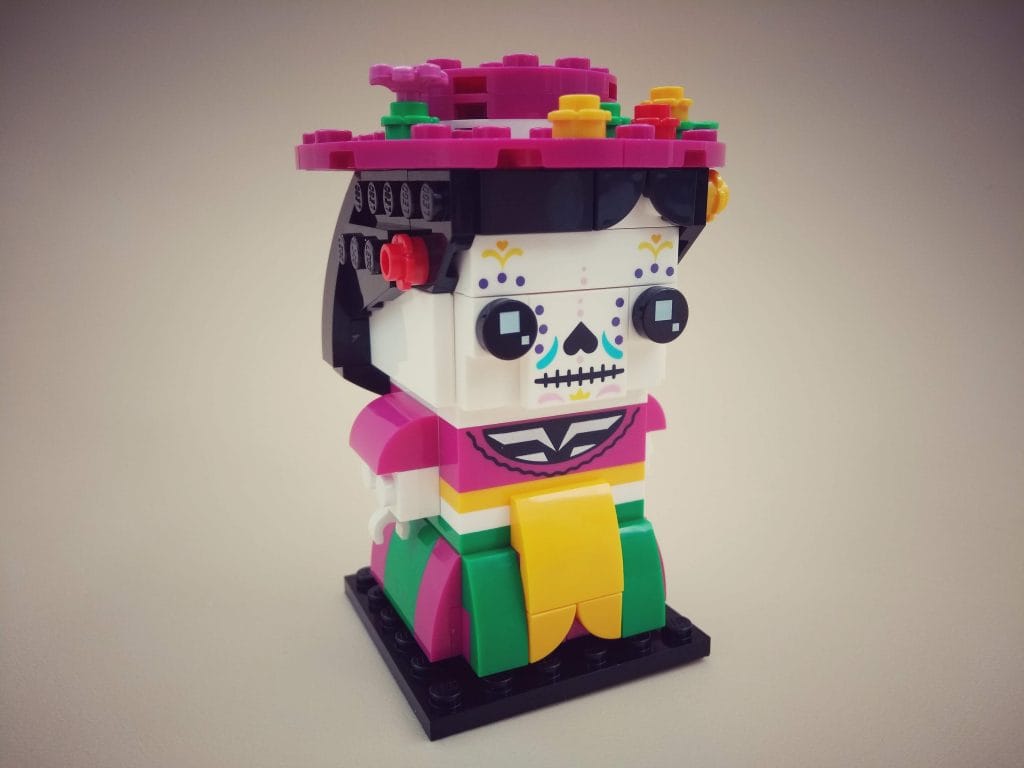 Now that she was finished, it was time to take La Catrina out for a top secret photoshoot.
Dusk of the Dead
So under cover of semi-darkness, I headed out for an outdoor shoot. However, apart from the odd Spanish-style roof here or there, I have to say my local area is not renown for its Mexican-style architecture, so I had to think on my feet. Fortunately, some creative youths have enjoyed appointing a local pumping station with spray paint, so I was able to take a leaf out of @pulup's book and make use of some appropriate skull-like graffiti for a location.
I was also concerned that because of the change of scale, photographing a Brickhead would be different from photographing a minifigure, however, I was pleasantly surprised that I could use similar techniques and that in some cases it was a little easier.
Get low to make them grow
Whilst Brickheadz are bigger than minifigures, if you are shooting outdoors against certain backdrops, they still benefit from being shot from as low as possible to make them appear larger than life, so that is exactly the same as photographing a minifigure, and ideal for all you mobile phone shooters out there.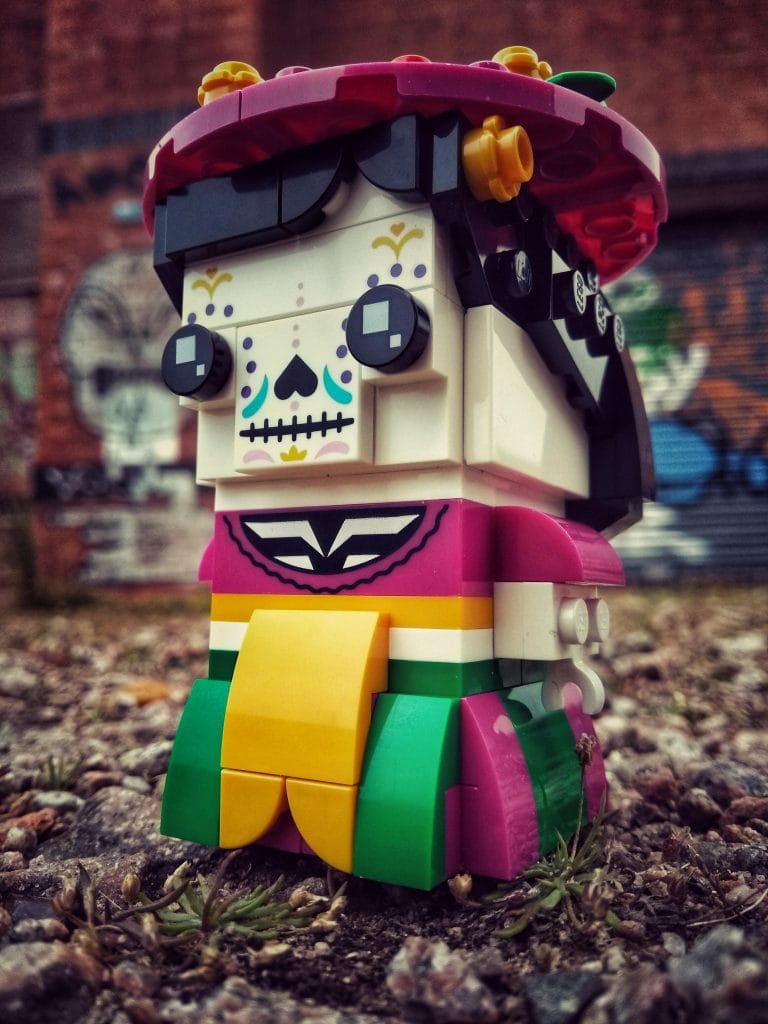 Easier to focus
La Catrina benefits from some big slabs of color and those lovely printed pieces for the sugar skull coupled with the trademark Brickheadz eyes, which meant ensuring the subject was in focus was a breeze, something that can be definitely a lot more difficult with minifigures, particularly where they have a very pale color scheme or less distinct marking, so if you are a beginner at Toy Photography I would suggest Brickheadz are potentially a great subject to get started with.
Brick-built figures look great
Finally, for me there is also just something about entirely brick-built figures that just works, having made brick-built figures previously to photograph with minifigures, this has reminded me to explore this topic again, either with some more Brickheadz or maybe I will get around to putting together some Miniland scale models as a new challenge.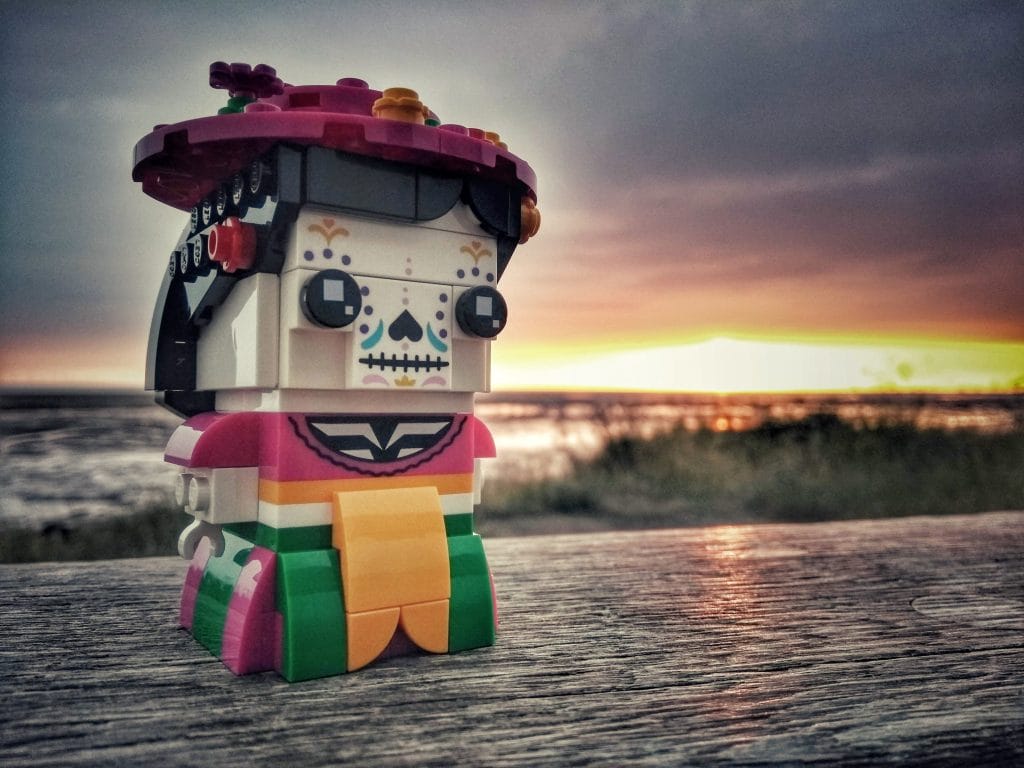 Putting it all together
Firstly, I have to thank LEGO and SiP for giving me the opportunity to take up this challenge and review this Brickheadz set; La Catrina is definitely far removed from what I normally build and shoot and it has been a really fun, educational, and enjoyable project, so a big thank you.
La Catrina is a really enchanting model to add to the range of Brickheadz that celebrate occasions from around the world, and an elegant companion set to the Brickheadz Frankenstein that is currently available, so if you are looking for some charming display pieces for this year's Halloween season, you are well set.
Finally, when I opened the package, what also took me aback was that this was Brickheadz set 149; so I am starting to kick myself that I have overlooked this theme for so long; not only are they a fun build with cool elements that can lend themselves to other builds, they are attractive display pieces and pop in front of the lens, so definitely lots to love for builders, collectors and photographers alike, if you have not dipped your toe into this theme yet.
Now that's something else to celebrate.
Ian.
Lego enthusiast, incidental photographer, repatriated Liverpudlian and Data and Analytics Implementation Consultant. When I am not collecting data, I am photographing LEGO spacemen.