During summer, LEGO gave Stuck in Plastic the chance to review some of the new Brickheadz sets and create some photoshoots for their SoMe channels. That was all we knew. And I was hesitant to take on the challenge as I haven't had any experience with Brickheadz. But I decided to take the opportunity to build and shoot something different! After a quick chat with Jennifer, she felt the same and we both took on this fun challenge. Jennifer and I met virtually during the Stuck in Plastic Spring Workshop and shortly afterward, we were both asked to become Close Friends over at SiP so it felt right to take on this challenge together (carefully calculated by Boris, we are sure of it :D )
And let's face it, who wouldn't be excited about receiving parcels from LEGO!
Before long, a delivery from Billund had arrived on our doorsteps containing 3 of the Brickheadz Pets sets.
40480 Ginger Tabby (133) & Kitten (134)
40481 Cockatiel (135) & Chick (136)
40482 Hamster (137) & Baby Hamster (138)
After we had both built all 3 sets, we met virtually to discuss our thoughts on the sets and get creative with which images we wanted to take.
The Cats
Claudia – First up, was the kitty cats. The first few pages I found to be a little challenging as there is an alternating color pattern of orange and yellow pieces, however, the color difference is clearly marked within the instruction book for anyone that is unsure. Once my eyes adjusted to it, I flew through the build. Jennifer, what did you think of the Cats?
Jennifer – The colors are fantastic and the cats are adorable. The scarf on the ginger tabby is very cute. It reminds me of the cat from "A Street Cat Called Bob". It is a nice little detail that makes the cat special. The colors of that scarf (Ginger Tabby) and collar (Kitten) in combination with orange and yellow complement each other very nicely. The legs of the ginger tabby are movable and the tails can also be moved which are nice little features. Everybody who has cats will love them!
Claudia – My cat Rita was also interested in the sets whilst I was trying to take some photographs!!
The Hamsters
Jennifer – There isn't much to say about these… they are adorable!! The mix of colors of tan and medium nougat is a perfect pairing to give these little fellas some personality along with those little chubby cheeks from stashing food (I think they have been munching on some DOTS!!) The designers have been very clever in achieving the round shape of these two whilst still being totally recognizable as part of the Brickheadz collection. By far my favorite set of the 3, however not the easiest to photograph (what do hamsters even do on a daily basis?!?) Claudia – any other thoughts on the Hamsters?
Claudia – The hamsters are incredible and super fun to build. Taking photos, however, really pushed my confidence and creativity! I am used to taking photos of Minifigures in which you can move their arms and legs, change their expressions, etc., but with a Brickhead there is limited, if non-existent, but it was a great chance to test my limits.
The Birds
Claudia – And last but not least, the Cockatiel and Chick. All the much I loved the cats and hamsters sets, I was most intrigued about building the birds. I was interested to see how the more rounded shapes were going to be made up of LEGO bricks. Jennifer, what did you think of this final set?
Jennifer – Well what isn't to love about these two! These are a cute and enjoyable little build and well designed. Out of the 3 sets, apart from the eyes, this set is the only one to contain other printed tiles (the orange spots are printed on both birds). The selection of colours are amazing and these little guys (or gals) have tons of personality.
Conclusions
Jennifer – When we sat together virtually to discuss the sets, we found that we both agreed on all of the same points and loved them all equally. As mentioned earlier, taking pictures of Brickheadz was new to both of us and it was not an easy task. The angular shape of the animals doesn't make positioning and taking photos easy. After a while and a few tries, it worked out wonderfully and was great fun. I am pleased that I was able to master this task together with Claudia.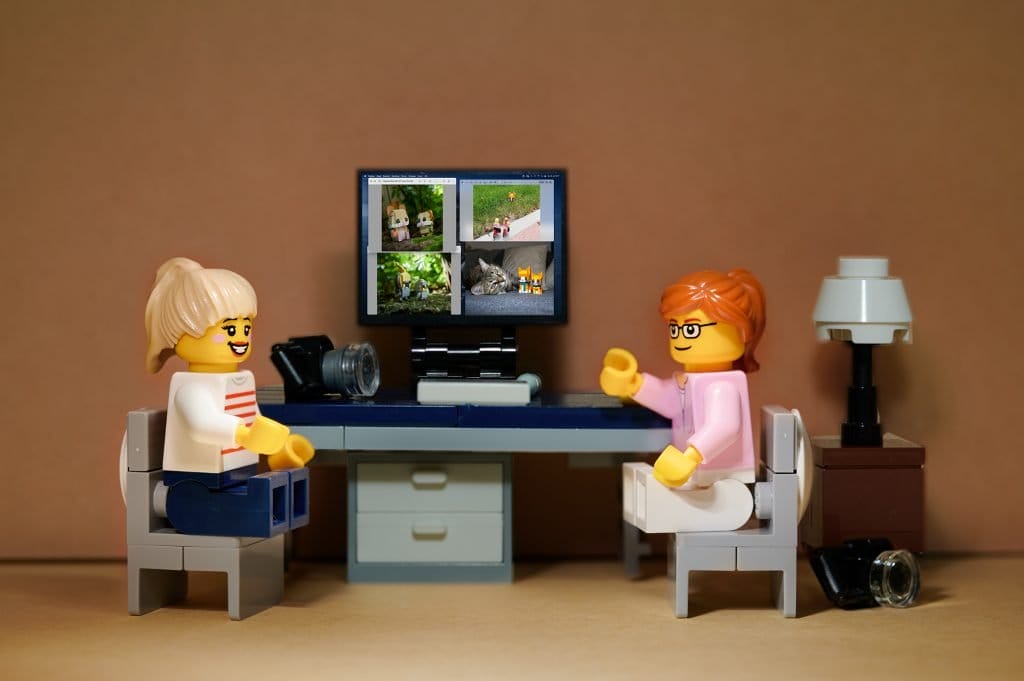 Claudia – Overall, I think these sets are the perfect gift for any LEGO lover whether they are animal lovers or not. I learned different building techniques during these builds that I have not come across in other sets that I own and are perfect for someone who likes, strike that… love LEGO (let's face it, who doesn't LOVE LEGO?!?!) but doesn´t have space for much larger sets.
We are both very happy we accepted this little challenge.
And we hope you have enjoyed our little adventure into the world of Brickheadz Pets!
Claudia & Jennifer
Co Authors :