I Promessi Legosi
"La Divina Commedia", in English The Divine Comedy, is a narrative poem written by Dante Alighieri. Dante is one of the fathers of the Italian language. It is widely considered to be the preeminent work in Italian literature and is well known outside Italian frontiers.
Hi, I am Fabio, and I started to think about LEGO and literature about two years ago when I decided to recreate another Italian masterpiece.
I Promessi Sposi or The Betrothed.  A historical novel by Alessandro Manzoni, which has been called the most famous and widely read book in Italian language.
So "I Promessi Legosi" was born. About 20 Brickheadz were displayed in real historical places, and told the events of Renzo and Lucia, the main characters of the book, who endure tyranny, war, famine, and plague to be together.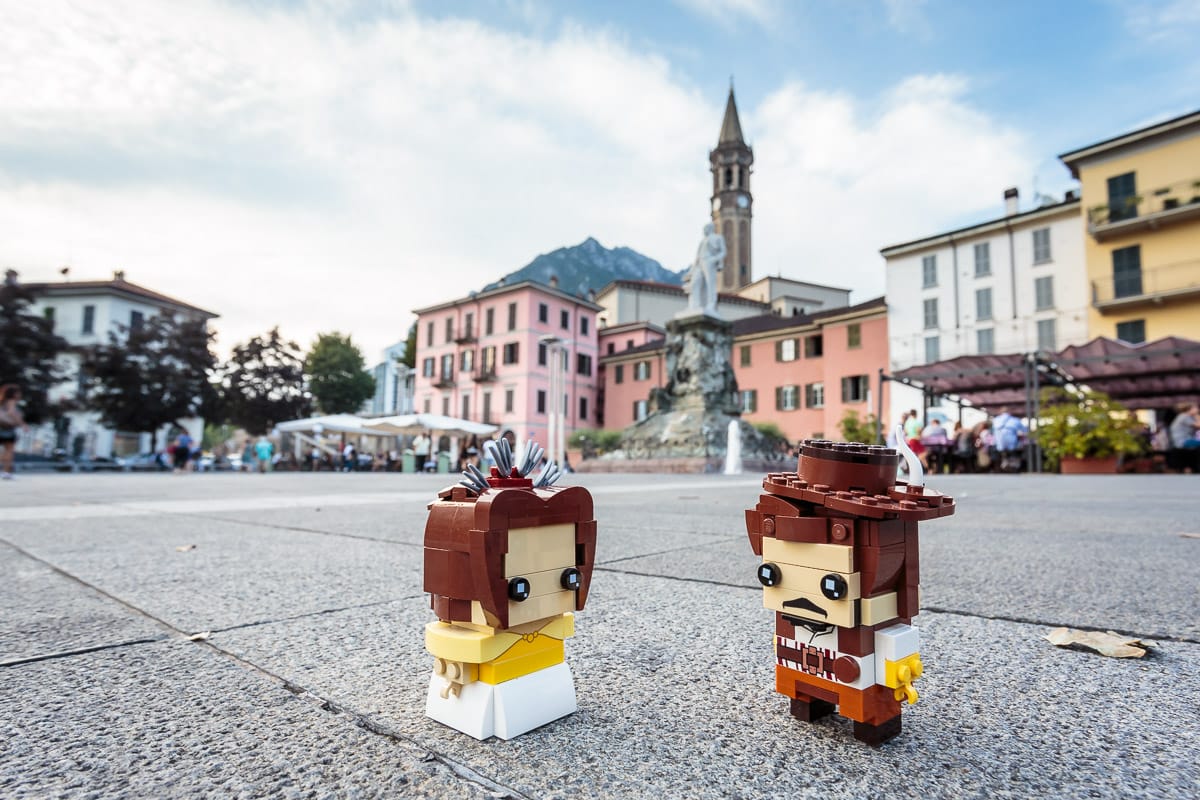 La Divina Commedia
This year I have chosen a more challenging Idea. Depicting Divina Commedia, with its imaginative vision of the afterlife.
No real places this time. Written in the first person, the poem tells of Dante's journey through the three realms of the dead. A journey lasting from the night before Good Friday to the Wednesday after Easter in the spring of 1300. The Roman poet Virgil guides him through Hell and Purgatory.  Beatrice, Dante's ideal woman, guides him through Heaven.
Lost in a dark wood (understood as sin), assailed by beasts (a lion, a leopard, and a she-wolf) he cannot evade, and unable to find the "straight way". Dante is at last rescued by Virgil, and the two of them begin their journey to the underworld.
The journey into the Underworld

Hell is depicted as nine concentric circles of torment located within the Earth; it is the "realm of those who have rejected spiritual values by yielding to bestial appetites or violence, or by perverting their human intellect to fraud or malice against their fellow men"
Each sin's punishment in Inferno is a contrapasso, from the Latin contra and patior, which mean "suffer the opposite": for example sorcerers, astrologers, and false prophets have their heads twisted around on their bodies backward, so that they "found it necessary to walk backward, because they could not see ahead of them."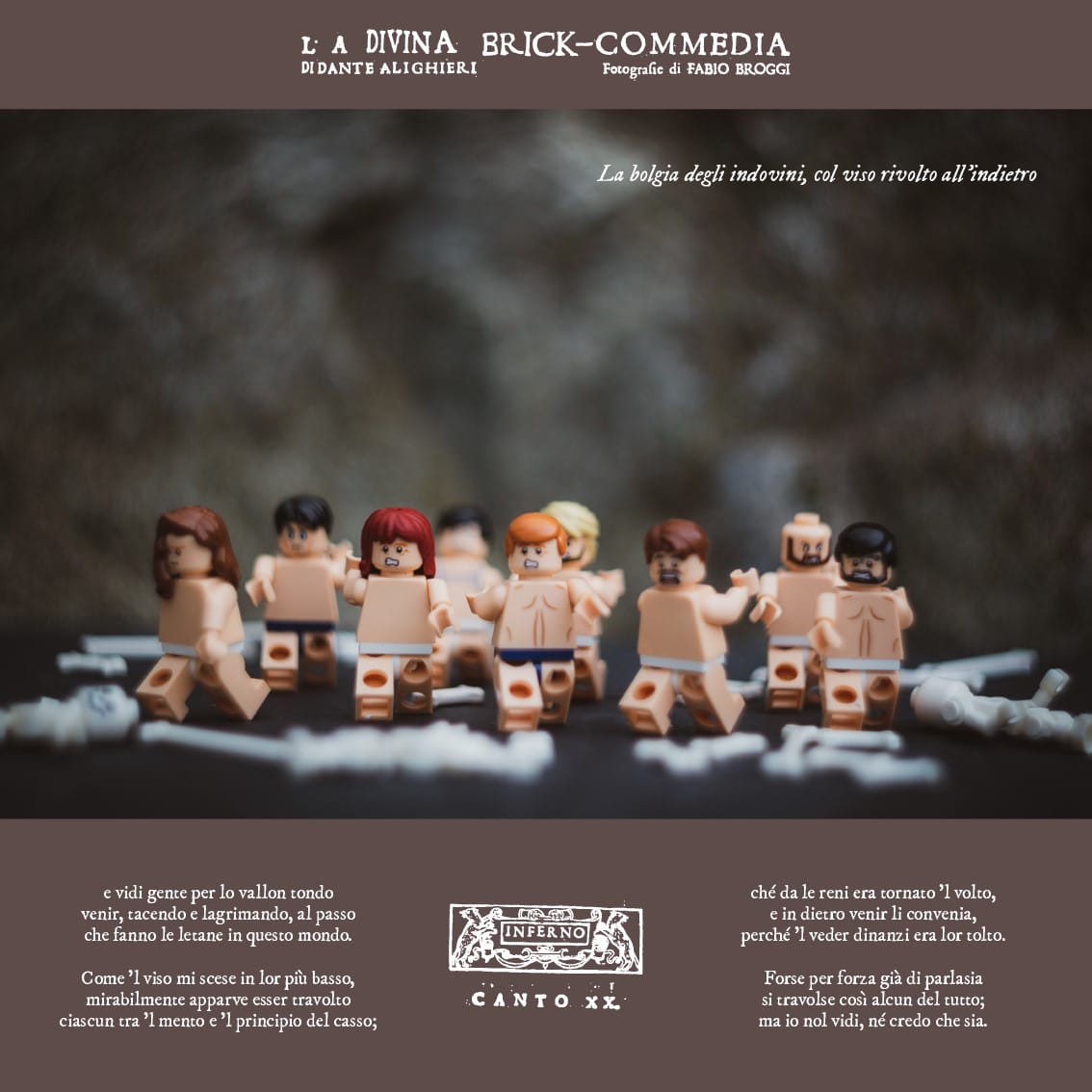 I made about 50 panels describing dante's journey through the hell. This time I mixed Brickheadz characters and minifigs as sinners.
I took inspiration from the book itself and from paintings depicting characters before I started to create the Brickheadz. I also tried to imagine frightening scenarios where to put all of them.
The second circle of Hell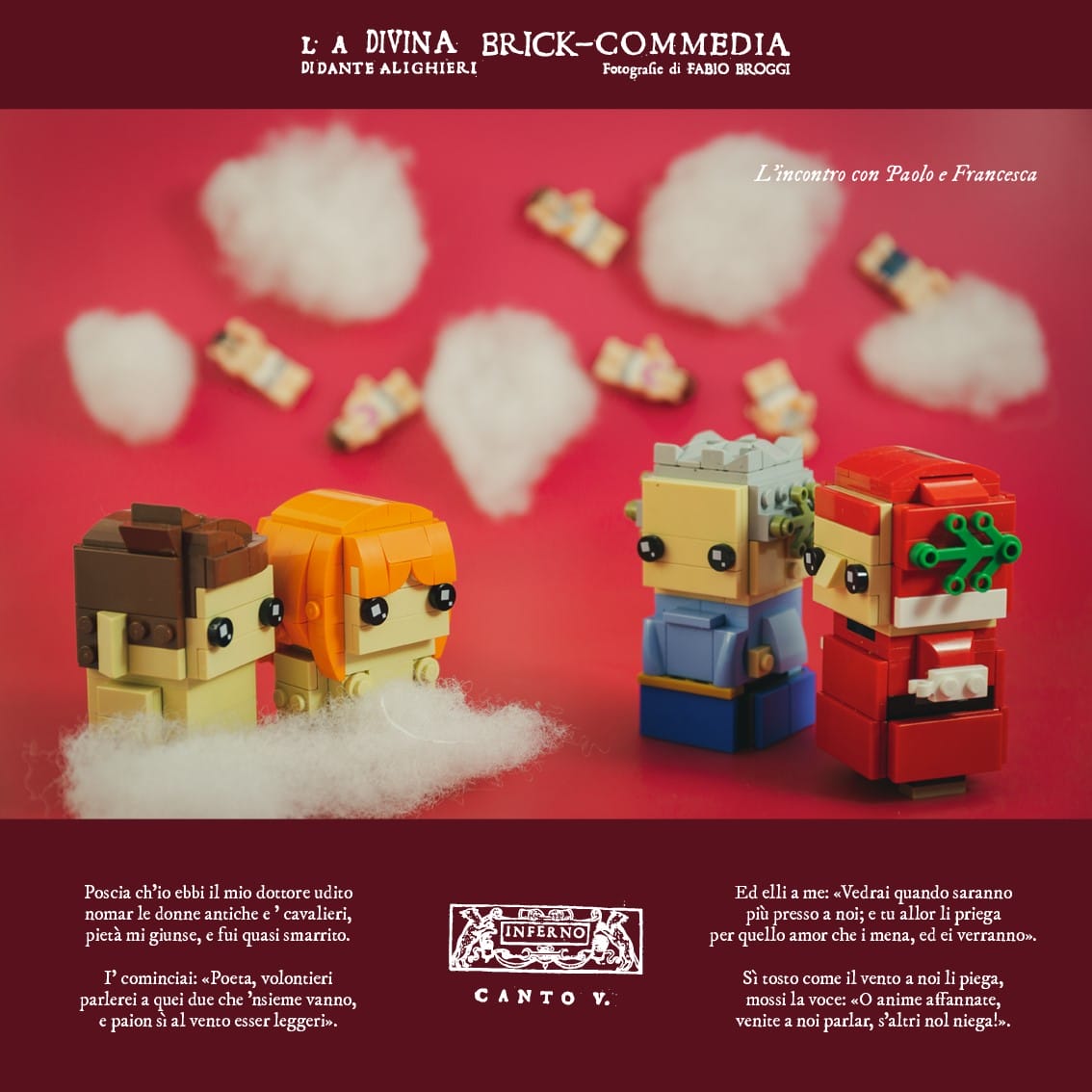 In the second circle of Hell, for example, are those overcome by lust. These "carnal malefactors" are condemned for allowing their appetites to sway their reason. These souls are buffeted back and forth by the terrible winds of a violent storm, without rest. This symbolizes the power of lust to blow needlessly and aimlessly: "as the lovers drifted into self-indulgence and were carried sway by their passions, so now they drift for ever. The bright, voluptuous sin is now seen as it is – a howling darkness of helpless discomfort."
Dante comes across Francesca da Rimini, who married Giovanni Malatesta for political purposes but fell in love with his younger brother Paolo; the two began to carry on an adulterous story. Giovanni surprised them together in Francesca's bedroom and violently stabbed them both to death. Francesca explains:
"Love, which in gentlest hearts will soonest bloom
seized my lover with passion for that sweet body
from which I was torn unshriven to my doom.
Love, which permits no loved one not to love,
took me so strongly with delight in him
that we are one in Hell, as we were above.
Love led us to one death. In the depths of Hell
Caïna waits for him who took our lives."

This was the piteous tale they stopped to tell.
Francesca further reports that she and Paolo yielded to their love when reading the story of the adultery between Lancelot and Guinevere in the Old French romance. Dante – overcome by pity and anguish – describes his swoon:
"I fainted, as if I had met my death.
And then I fell as a dead body falls"

Meeting Lucifero
After many encounters, Dante finally arrives in the very center of Hell, where the devil known also as Lucifero is condemned for committing the ultimate sin.
Lucifero is a giant, terrifying beast trapped waist-deep in the ice, fixed and suffering. He has three faces, each a different color: one red (the middle), one a pale yellow (the right), and one black (the left)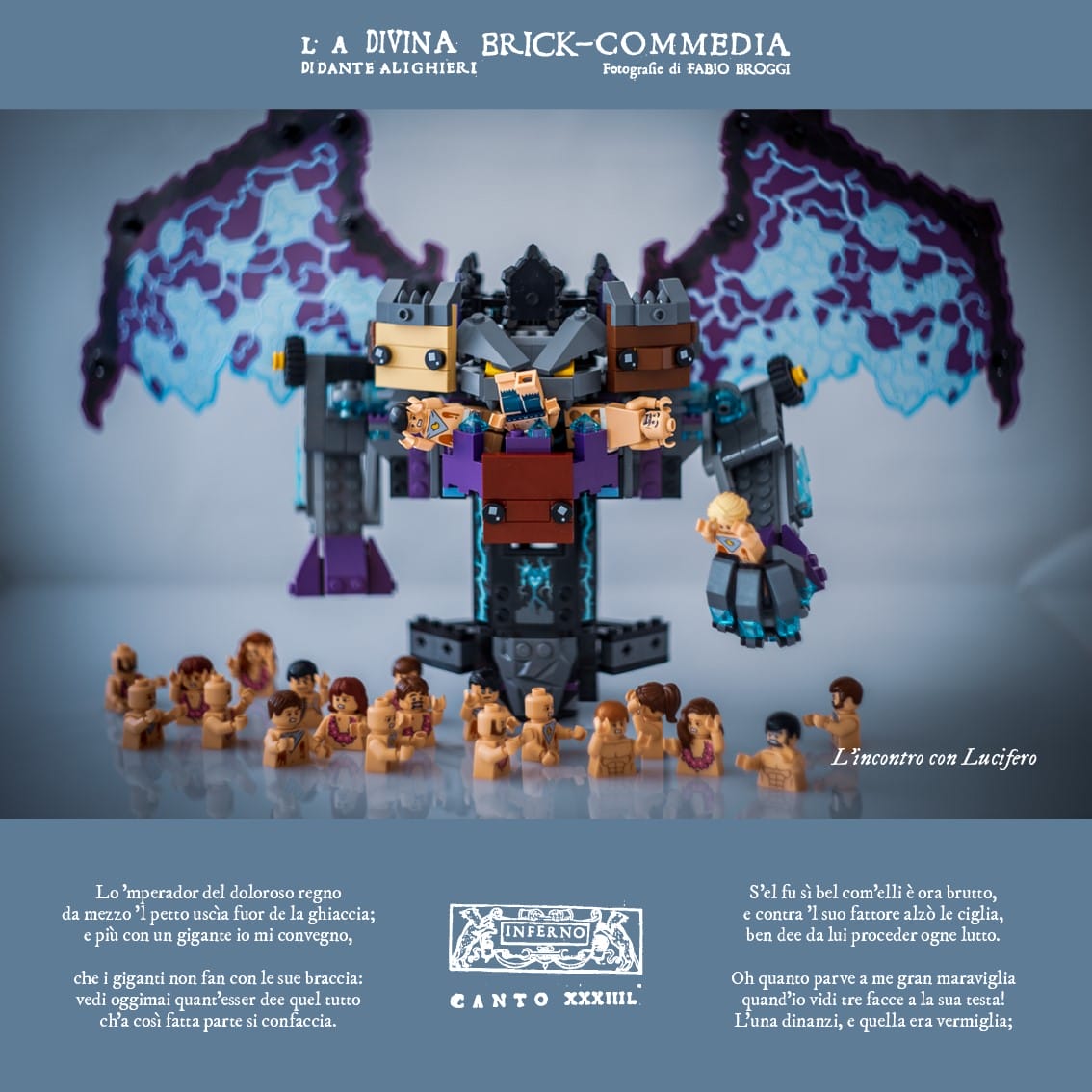 The Escape
Virgil and Dante begin their escape from Hell by clambering down Satan's ragged fur, feet-first. The poets finally emerge a little before dawn on the morning of Easter Sunday (April 10, 1300 A.D.) beneath a sky studded with stars.

I enjoyed a lot making this series of pictures and I happily tagged them to the Stuck In Plastic creative Brickheadz challenge when I discovered it. For me, the whole experience of La Divina Brick Comedia was a different way to tell a great story.
Another one of the endless possibilities brought to us by our beloved bricks.
Fabio.
Footnote by the SiP Crew.
We want to thank Fabio again for sharing this wonderful story and images with us. Our Brickheadz creative contest, where you can win (just like Fabio) a signed box by Marcos Bessa (the LEGO designer), still runs until the end of August. Be creative. Tell your story. Or that of Dante. You choose, and like Fabio says, the possibilities are endless. For a chance to win just tag your pics on Instagram with #SiPgoesBrickheadz