DEVELOPING STORY. As we mentioned earlier in our breaking story our Ninjago models went awol. The first models have made it to France and Finland.  We got some sightings in the UK, and now our Belgium correspondent Jo Van Holder has this brand new developing story for us.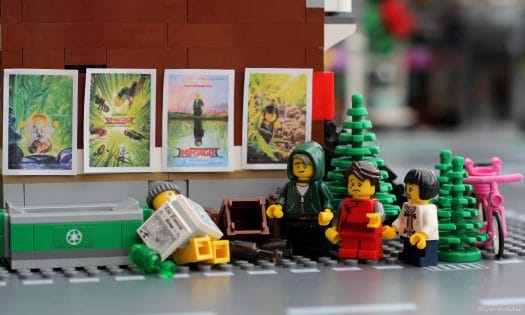 Lloyd and his friends were just walking into town when they saw an old homeless guy.
Can't we help him, Lloyd?
Yeah, we should!
You guys cycle back home, grab a shirt and trousers from me and bring back the shaver.
I'll go and find him some food!

Right guys, off you go, meet you back here in half an hour.
Lloyd mumbles to himself: I'll quickly need to change now…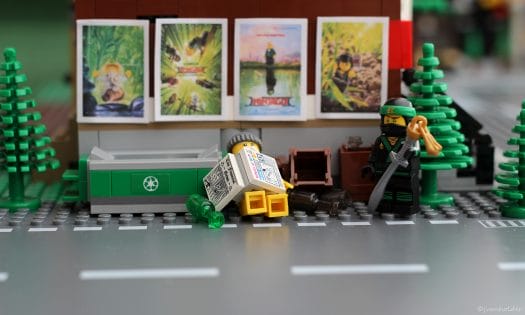 As soon as his friends were out of sight, he changed into Ninja Lloyd.
Don't be afraid, old man, we'll help you out!
I'll be right back with some food!
Lloyd found the bank that stores all the rice of the town…time to take action!

Let me in!
It's time this rice goes back to the people who work for it!
After opening the vault…the rice comes rolling out
Lloyd reaches out to the other clients in the bank and we hear him saying:
I'll quickly prepare this to take with me…can you folks help the other people out and divide it so everyone gets some?
I'm on my way again…enjoy the rice people!

Llyod quickly changed again and got back to the old man, just at the same time his friends arrived…
Here you go my friends, some fresh rice!
Eat this now it's still hot.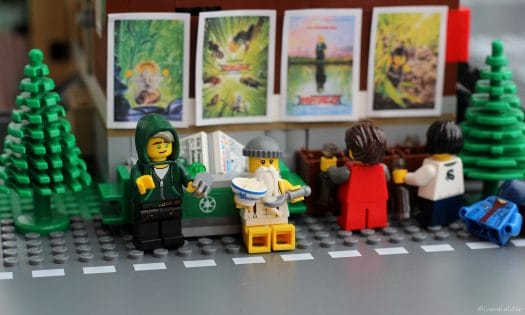 Look, Lloyd, we found a shirt and trousers, the shaver and I even brought one of my caps for him as well.
We'll clean up the bottles and rubbish now while he eats his rice.

Ready for that shave?
Here are the clothes and cap!
You look like a new man!
Ready for a fresh start!
Thank you all so much…you will be rewarded for this good deed…
But wait…was that Master Wu?
Or was it just a lookalike?!?
Editors Note. This amazing Ninjago story was created by Jo as part of the SiP Crowd Review of the new Ninjago Series. If you are not yet following Jo and her awesome IG feed than now is a good time to do so, as I am sure Ninja Lloyd and Mister Wu will invite his awesome storyline anytime soon.