Our good friends at the LEGO Group called upon all masters, young and old, of Spinjitzu to celebrate 10 years of LEGO® NINJAGO® with the launch of the awesome Ninjago City Gardens, some exciting collaborations, and a nostalgic look back at some of the theme's key milestones.
We got to shoot some epic imagery for this.
And we are giving away an exclusive toy photography NINJAGO prints.
But first some history
In 2011, the LEGO NINJAGO journey started and changed the lives of children and AFOLs all over the world. Today, we celebrate the ten years of this epic range of Ninjas that continue to inspire children of all ages and build epic scenes while developing their ninja skills (and some of us their photography skills).
Many of us have explored NINJAGO over the years. Master Wu and the ninja Kai, Lloyd, Zane, Nya, Jay, and Cole have taught some of us how to catch their skills in action on the digital canvas. Or eat cornflakes .
Some of us may not agree with Master Wu when he states "There comes a time when we all must grow up. When that time comes, it's important not to forget the lessons of our childhood. Because our childhood is the greatest training ground one will ever have." But we all do enjoy some Ninja wisdom.
Go visit the LEGO anniversary website…
Maëlick and I had the great pleasure to shoot the Gardens over Xmas. Now, some of our work is featured on the anniversary website of 10 years Ninjago over at LEGO. We are super stoked to be part of this anniversary party and want to wish the full Ninjago team another 10 years ahead of them.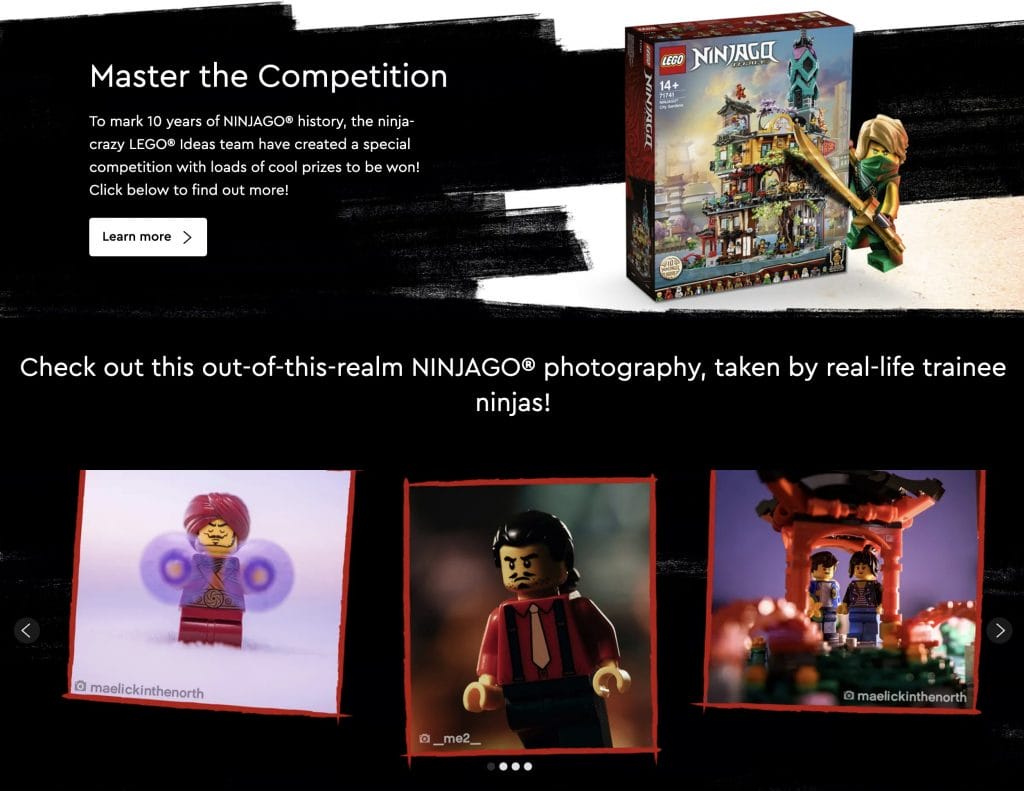 You can see all the images on the LEGO site first!
In order to celebrate the 10th anniversary we will be getting 11 new LEGACY Ninjago sets on the shelves throughout 2021. February 1st sees the launch of the exclusive three-level LEGO NINJAGO City Gardens set.
A true tribute to a decade of NINJAGO and a massive fun build. Trust us. We loved it.
The set showcases some of the main moments of the TV series, giving fans of all ages the opportunity to relive the show through a building experience and toy photographers a headache to shoot.
On www.LEGO.com/ninjago10anniversary there will be anniversary content telling the story of LEGO NINJAGO through the years and showcasing amazing fan-created content including fan art, awesome builds, and indeed some awesome toy photography.
The LEGO House will also mark the occasion by hosting an in-depth exhibition celebrating ten years of NINJAGO fandom.
How super NINJAGO is all of this?
And in order to celebrate this even more, we are giving an exclusive Ninjago toy photography print away to one true Ninjago fan.
Just leave a comment here or on any of our SoMe channels.
Tell us to whom you want to give this exclusive print (it could be yourself) and why.
Our innocent Master Wu will announce the lucky Ninja on February 7th.
BTS Coming
And don't worry, we will have a post a little bit later about the behind the scenes and the challenges such a big set may give you to shoot both in and outside. But first … NINJAGO!
PPS. The Fine Print.
We included some official LEGO referral links for the very first time, which means that in the unlikely event you are reading it here first, click on the link, and happen to buy the Gardens the SiP crew will get a tiny kickback. Which we will use to keep this site completly add free and continue to bring awesome toy photography. Wanna buy the Gardens directly and support us right away then click here, just being honest.