Back To The Future
If we had a DeLorean parked outside (the one with a Flux Capacitor, of course), we would take you all on a little physical time traveling. Unfortunately, there's no time machine in our garden, so we can just offer the link to the original series of 2015. The series was called Feature Friday. The main idea was looking at the (toy)photographers behind their lenses.
And now it is time for a new season of Feature Friday. A special season filled with all the great toy photographers who joined in our little project for 2018, #SiPgoes52. The idea is to meet these fine folks for a (virtual) cup of coffee and get to know them a little better.
The first guest in this new season of Feature Friday has been the fan-zone photographer at this year's LEGO World event in Copenhagen and lives in Odense, Denmark.
Welcome Sacha
Sacha studied chemistry, so she for sure knows all the ingredients when taking pics of our most favorite plastic toys. Aside from that, Sacha is a passionate tap dancer and loves to listen to the music played by Postmodern Jukebox.
(Admittedly we had never heard of them before. Shame on us! Their versions of "Black Hole Sun" and "Creep" are fantastic! If you haven't already, go and check them! Now!)
First attempts
When being asked for her first toy photos, Sacha recalls having taken some around 2008 with a Canon compact camera. Those weren't LEGO pics, but of Stacy dolls (Barbie's little sister); little scenes about chemistry ("I'm a chemist!") and intended to illustrate an advent calendar on her earlier blog.
On and on and on …
It took her yet another four years until Sacha picked up a DSLR (a Canon 600 with either an 18-55mm kit lens or a Tamron 18-200mm) and started shooting toys again when she joined Instagram in 2012.
Being from Denmark, LEGO was an obvious choice to photograph. But what mainly fascinates her to this day are the details. A  minifigure is equally a welcome object to her as a flower or a bee, she says; looking at details feels a bit like diving into another dimension. Still, the fascination for minifigures must be much bigger, as Sacha is in her third LEGO365 year (which means that she takes/posts one pic of LEGO for at least 365 days in a row).
As if that's not enough, she also joined the #SiPgoes52 challenge. What attracted her most was the "rule" of having one given word every week to focus on and work with. She may have missed some of them so far but already plans on catching up to cover all 52 that are scheduled for this year.
In order to have them all with her on the go, Sacha saved the plan of #SiPgoes52 on her phone. Well done!
Hi's and lo's
Her favorite image from the list so far was NOSTALGIA. The result turned out to be just the way she had imagined it beforehand. The colors were so fresh and vivid that it reminded her of her best birthday ever.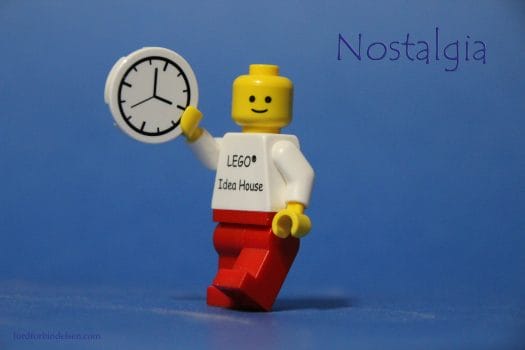 The least favorite pic came with CREATIVITY where the colors felt too off for her taste, which may have been caused by "the unfortunate artificial lighting".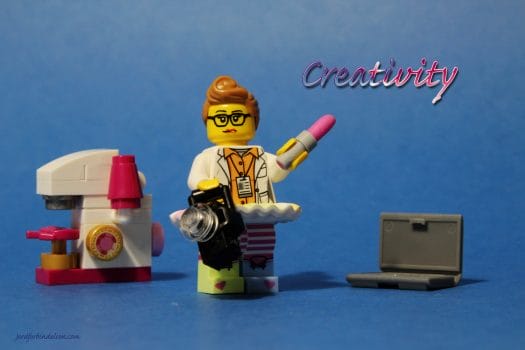 The good and bad in TRUST
Her favorite word that has yet to be visualized is Trust. According to Sacha, it can be seen both positively AND negatively. We're definitely looking forward to the end of week 45 when a Sacha-interpretation of TRUST will be up on her Instagram account and we may ask her for a special guest post.
Most other words are feeling either well OR badly charged for her. Sacha told us she never thought about it consciously before. Now she is aware that no matter how bright or sinister a word appears to be, she always tries to bring out the good in it; even if it's just to make it seem lighter.
The #SiPgoes52 challenge is one that she'd warmly recommend to every toy photographer as it's a good way to experience your own creativity. And she also thinks that it can be a very helpful exercise for those who have lost their muse (haven't we all, at some time, been to this inconvenient point where we felt the fire had gone for good?).
Thank you, Sacha
If you want to learn more about Sacha you can visit her own blog (written in Danish) on Jordforbindelsen.com , on her Instagram account (in English) or personally during the Skaerbaek Fan Weekend later this year in September which Sacha will join.
Some last words?
Thank you for having been our guest, Sacha.
SiP: Is there anything else we should have asked?
Sacha: Of course, the magical question. You should've asked: what is your least favorite word in this challenge? My answer would be: SPIRITUALITY. That word feels so personal.
SiP: We're still hoping to see your version of it when the time is right.
Until then, happy bricking and shooting!
Stuck In Plastic.
The creative collective of toy photographers.