If you like airplanes (and I am not talking about this really funny movie), you may know that every two years the Paris Air Show is organized at the Le Bourget Airport, just outside Paris,  It's one of the biggest events of its kind. It's basically a trade exhibition for the aerospace and defense industries with a public airshow.  Like every edition there is a lot of money at stake during those 7 days, with aircraft manufacturers announcing new products and airlines buying airplanes,.. And guess what.  The 2017 edition of the Paris Air Show took place a couple of weeks ago.
You could ask , why would we talk about that in a toy photography blog?
Well, if you know me, you know that I am an "avgeek".
I am an aviation nerd.
I can recognize an A320 from an A321.
I know on which plane a Trent 700 or a Trent 1000 is installed. I don't have a pilot license but I trained to fly single engine piston airplanes (I have 45 hours in command on a Tobago TB-10) and I flew Airbus A320, ATR 72 and Airbus Helicopters H135 in full flight simulators.
And between all of that, I work as an engineer in aeronautics.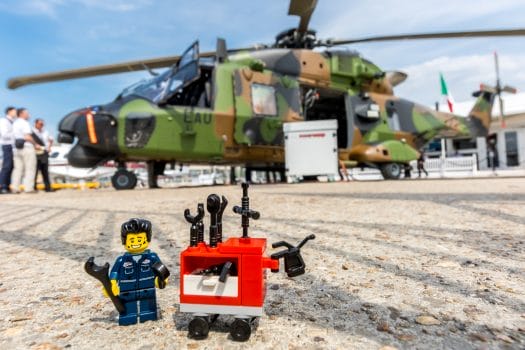 Coincidentally, I work at Le Bourget Airport just across the street from the exhibition center where the Paris Air Show takes place. And like every edition, I have a week pass which allows me to go there even after hours.
And for the first time, this year, I decided to bring toy photography to the runway. Two years ago, at the last edition, I was not confident enough to bring LEGO with me. This year was different. Additionally, my company organized an in-house photo contest with the winning prize being to have his picture(s) displayed in the break room. Three of my pictures won the previous contest two years ago (nine in total are currently displayed) and this time I was dedicated to having LEGO pictures on our walls (not only in my own office).
So, I brought with me several aviation related lego minifigures. I had some ideas beforehand but some pictures came to me on the spot.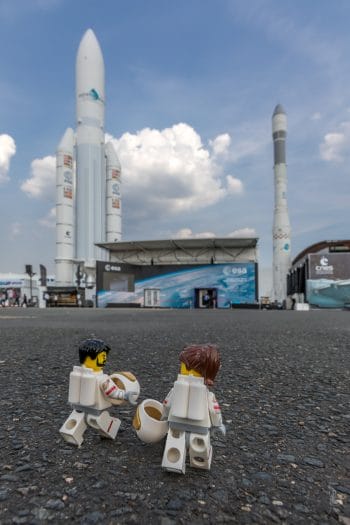 I can tell you that people were quite surprised to see me on the ground.
Like always, some of them stopped to discuss.
And others just passed in front of me not even noticing that I was on the ground.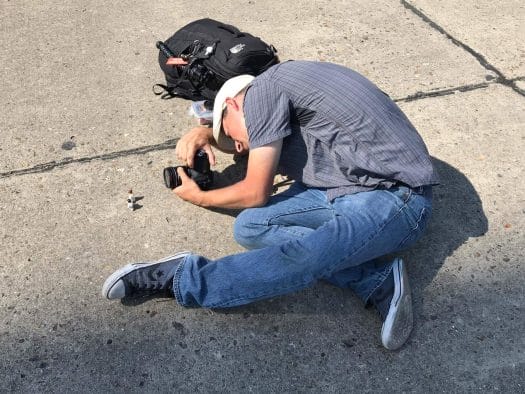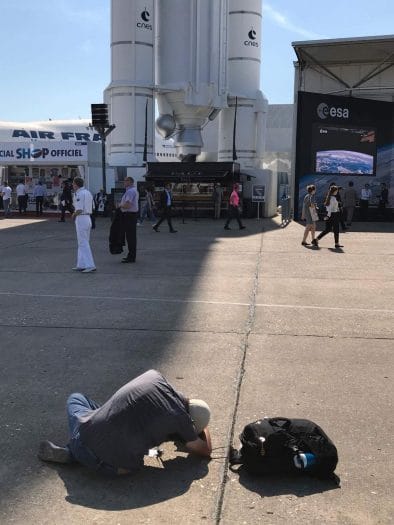 Moreover, toy photography opened me some doors.
People enjoy our pastime. If you look for @Salondubourget on Instagram, the official IG account for the Paris Air Show, you'll see that they are following six accounts: 5 which are aircraft manufacturers and… @Ballou34, meaning Me. And trust me, I don't know the guy behind the account. We did not even meet during the show. All of this happened because one day, I corrected him: he made a mistake naming a plane so I sent him a message (I told you I was an aviation nerd). And since then, he has loved my work and has decided to follow me.
But he is not the only one. During the airshow, I uploaded some LEGO pictures taken there during the day. And I was quite surprised and honored to have huge companies such as Ariane Espace, Airbus Helicopters or even Airbus liking my work. I even was invited by Airbus to have a guest visit of their pavilion. I was able to visit the A380, the big double decker airplane and I could take all the pictures I wanted.
So you know what I did?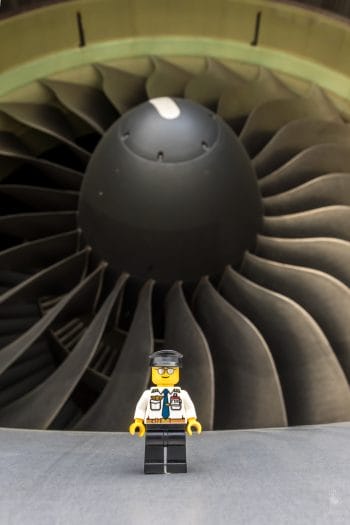 I put a LEGO minifigure inside the A380 engine (one of the biggest engine currently installed on commercial aircraft's) and I even brought him inside the cockpit.
I had such a lot of fun during this new edition.
And so, did I win the photo contest?
To tell you the truth, I have no idea.
The jury did not select the winning pictures, yet.
And there are some good photographers among my colleagues.
But, I don't really care if I win.
I really enjoyed my time at the air show, and I even spent countless hours working on those pictures and it was awesome. Of course, it would be great to win, but whatever the result, I am really proud of the work I presented and that's the most important for me.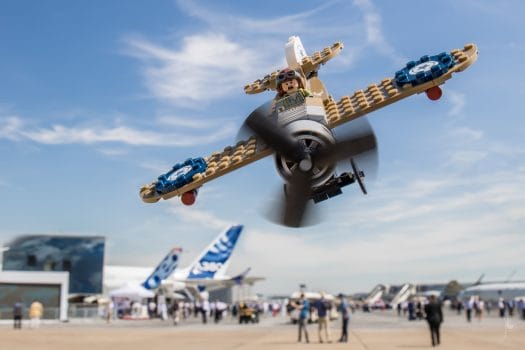 Julien/Ballou34
Sidenote: My next article on the blog will be a complete tutorial about how the lego aircraft picture was crafted. From the initial vision to the final result. Talk about craftsmanship
Aeronautics engineer by day, toy photographer by night.
Exploring the world with his plastic figures.