TGiF- Thank Godtfred it's Friday again.
Hello, it's Stefan on behalf of the SiP crew. Let's sit down for a virtual cup of coffee and talk to a friend of our little blog about themselves, their photography and about the #SiPgoes52 challenge again.
This week I thought I'd be extra clever and offer a cup of tea instead as I was going to talk to Ian from Liverpool, England. Turns out I hadn't done my homework precisely enough:
Our guest kindly asked for a latte with sugar. (He spent some time in France.)
But now, dear readers, grab yourself an euphorigenic hot drink of your choice, lean back and enjoy our talk.
Please welcome Ian
SiP: Hello Ian, tell us a little bit more about the person behind the camera.
Ian: Hello. I describe myself as an incidental photographer. It all began when I started using Instagram in 2012. My job was a digital strategist. I had to show businesses how to get the best out of online marketing, which involved experimenting with social networks. So I got onto Instagram as it was starting to get traction.
Six years later Instagram is my go-to social network where I follow a mix of genres: mainly toy photographers, but also automotive photographers. That is because over the past four years, my day job has involved digital analytics for auto brands, and I have always been a bit of a closet petrolhead.
What type of camera do you shoot with?
I do not profess to know one end of a camera from the other. So I shoot on either my smartphone (currently a Moto G5) or a Panasonic Lumix digital camera. One of my photos that was published was taken on a Samsung Galaxy S3 Mini. It has just a 5MP camera. I firmly believe that the best camera is the one with you. One does not necessarily have to have a fancy kit to produce a satisfying photo. The idea and the execution are key, and sometimes a little luck!
When did you start taking pictures of toys? What made you start?
The very first photo I posted on Instagram could probably be classed as a toy photograph. It was from when Royal De Luxe brought their fabulous toys to my home city. If you have not heard of Royal De Luxe, they make the biggest and best toys, and I am really excited to welcome them back to Liverpool again later this year. I wonder if I can make my minifigure world and their giant one collide? That would be cool!
Back when I started on Instagram my first son had started his LEGO phase and I was building with him at the weekends. Out of this grew an interest in building my own vignettes. It was mainly around the topic of the LEGO Zombie Apocalypse. It was my Zombie Grandpa figure that brought me together with my oldest Instagram friend, the infamous Seb from Berlin (currently @berlin_brick_squad), a true legend. From there and from following other LEGO photographers and LEGO blogs my interest grew in building for myself. Along the way, I started amassing a modest collection of sets along with a pool of retro LEGO. After a few years of moving between France and England and back again, the sets are all still boxed away, the retro LEGO is my major source of inspiration.
So, why toy photography? What makes you continue this fascinating genre of photography?
I started out photographing LEGO as I wanted to share what I was making. I enjoy pulling together my own MOCs, particularly Classic Space builds to take part in the #spacekarttuesday and #spacecowboysaturday hashtags. Over the past year or so I have gravitated to mainly photograph retro minifigures. They bring a sense of nostalgia to the images which I prefer to the newer collectable minifigures. I like what Jerry Business said in his recent short film Little Toys, Big World that old toys have lived, and we are giving them a second life in our work. Or like Magnus Walker who loves old Porsches. The old figures just have soul.
The main thing that keeps me going is the great toy photography community. There have been some difficult times over the past few years, and the friendships I have made online have really helped me. I have also been fortunate enough to be able to attend two of the Stuck in Plastic toy safaris in Stockholm and Edinburgh of which I have many special memories and met some amazing photographers. It is true what they say about these events. They are like coming home, even if you have never been to one before. If you have not done one of these events yet, you should. I guarantee you will come back a different person from the one that went.
SiPgoes52
And what was it that attracted you to the SiP goes 52 challenge?
The #SiPgoes52 challenge attracted me because I thought it would give me the opportunity to try to take some different types of photograph. The reality is that of course life has a tendency to get in the way. So whilst I have managed to get out of my comfort zone for a couple of the words, I have had to fall back on some of my staple muses to get me through: thank you, Red and White.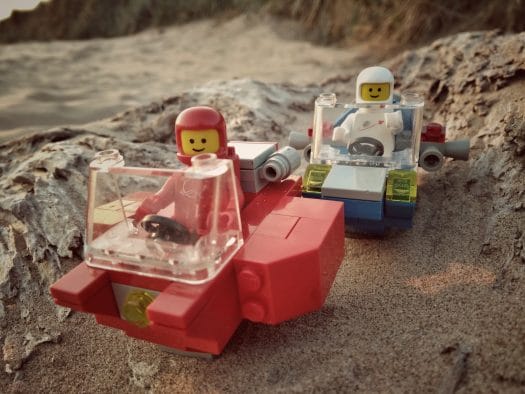 What's been the best image/word so far? And why?
Spirituality. That photo was definitely the type of image I was hoping for out of taking part in this challenge. Definitely not what I would normally produce.
Which is the one word you are really looking forward to the most?
Looking ahead, I think Faith. That's something that I do not have enough of, and that I really need to work on. That is going to be an interesting one.
Do you plan on completing the 52?
Absolutely,! I have reached the half-way point. There is too much completer-finisher in me to give up now.
Did you learn anything so far with this challenge?
That would be to plan ahead. I photograph toys to relax and escape. So I do not want to feel under pressure to capture an image. I much prefer to be thinking about the words and maybe getting the images in the can ahead of their allotted week. Committing to 52 images was a tall order for me. It is probably not far off my total toy photo output on Instagram all last year, so I knew I would have to work at this challenge.
Would you recommend it to friends and photographers alike?
I would totally recommend a challenge like this. Particularly if you manage to get out of your comfort zone and start creating images that you would not do normally. Maybe even if it just makes you think about what you do normally a little differently because it helps you advance in your art instead of knocking out the same old type of image over and again. We generally all have our own style.
Thank you, Ian, for taking the time and talking to us! We're looking forward to your upcoming works.
Find Ian on Instagram under @iancockayne.
A Non-Belgian living in Hamburg, Germany. Curiosity-driven and mostly to be found on tiny adventures and great journeys.