It is official now.
What so many of you anticipated, rumored, guessed and hoped for, is now official. The Millennium Falcon™ has arrived (again) in its full glory and is now bigger than ever.
New Millenium Falcon. Again The Biggest Set.
The original Millennium Falcon released by LEGO in 2007 was at that time the biggest set ever with a little bit more than 5K pieces (that is five thousand). 10 years later, and LEGO does it again with this second edition. The new Millenium Falcon takes again the place of largest sold set ever with 7.5K pieces (yes, that is a whopping seven thousand five hundred pieces of building fun).
Back to the Future.
The new Falcon is not only bigger and better, it also covers the original and new episodes VII/VIII thanks to its interchangeable sensor dishes and crew (yes, you will find both the old and young Han Solo inside the box, and can have BB-8 ride along with C-3PO and a timeless Chewbacca).
Talk about going back to the future.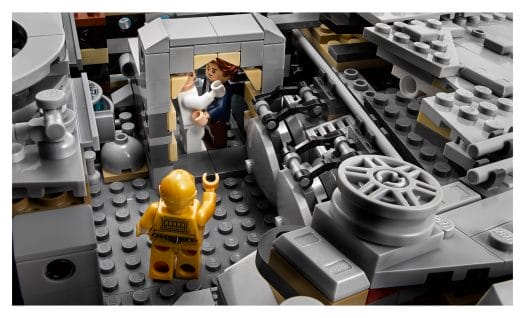 When we asked the Star Wars designer on the RLFM days if they could confirm the rumors of the new and upcoming Millenium Falcon, we got a dreamy "no comment" with a twinkle of pleasure in their eyes.
We now know why.
It is no longer a rumor, but a reality.
It is available to gasp at in a LEGO store near you as of September 1st, and will be available to purchase as a Xmas present as of October 1st.
What do you say, will you be getting one of these to take along on your photographic adventures?
May The Force Build With You.
PS. If all this Star Wars madness is nothing for you, you may want to take a shoot at our creative challenge and take Anton for a stroll. 
Stuck In Plastic.
The creative collective of toy photographers.