The Anton Saga
We are having a little Anton craziness here on the blog. As you know we are giving away three (yes, three) LEGO Old Fishing Store boxes as part of our creative contest (cc).
And all of you can participate in this fun photo challenge.
You can make your own Anton.
You can pick up Anton in the LEGO store. This set is so awesome and packed with toy photographers little objects you will reuse time after time, that ending up with an extra set through this contest is worth it.
Or, you can get a real Anton from us.
Yes, we got our hands on a full box of Anton's ready to be shipped around the globe and discover your place in this photo adventure. Special thanks to the great folks at LEGO.
We already selected the first five locations where Anton is traveling to. Congratulations, Ann, Bennett, Joseph, David, and Lizzi.
You were the first to offer Anton a trip around your place.
And all the SiP Goes Scotland folks will get their own Anton to explore the highlands in less as two weeks. BTW, you can still join our Scotland trip if you want. 
Get your Own Anton
And so here we are.
We still have 10 Antons waiting to see the world through your eyes.
But these last come with a challenge.
You will need to tell us in the comments below "why" Anton should come your way.
Make the pitch.
Sell your story.
Convince us.
And do include in the URL field of the comment or in the post a link to some of your photographic work. Anton likes to be seen from his best side when traveling to new places. 
Inner Monologue
When I got my hands on Anton, I could not resist in making it mine.
I will be traveling with Anton to a few special locations during September, so I needed to get his inner monologue right.
Who is this Anton?  For me, as a toy photographer. A creative director looking through my viewfinder. Telling my stories.
What does he mean in my pictures?
Is he chasing the cat away, as the box art may suggest or is Rebeca (the cat) actually his best friend?
What about all these amazing lobsters in the set.
They also must be part of the adventure, so I gave the main lobster a name.
A special name. A lobster with attitude.
A wink to one of our Scotland travelers who will unfortunately not be able to make it. So at least she is in plastic with us.
And if you ever traveled the Stockholm Archipelago you know our Seagulls are special. And so is Ralph.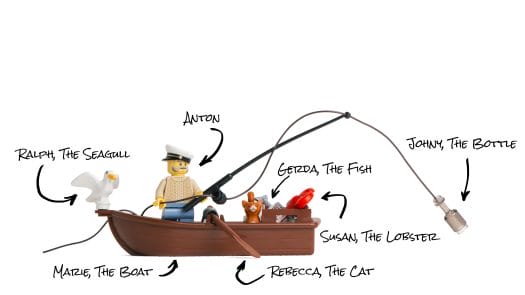 This is my little character storyboard on how I will be using Anton this month and beyond, including some signature features I will be special attention to.
Like, Anton wears his hat halfway turned back.
And he likes Johny, the bottle.
So, that is my Anton.
Tell us why you want Anton.
Tell us what he will mean to you.
Give us a glimpse into your Anton and which places you will show him.
And we sent him your way.
Boris
PS. The Fine Footprint.
By participating in our little get your own Anton, you agree to participate in our #WhereIsAnton creative competition and share your adventures on your social channels and tag them with the right tags. So, when we sent Anton your way, we do expect some creative fun back :)