When I started thinking about numbers related to our favourite plastic toys the magical SEVEN instantly appeared in front of me. Like in The Magnificent SEVEN, Snow White And The SEVEN Dwarfs  or SEVEN Deadly Sins. Just…well…a little more out-of-this-world kind of…
Back in 1978 Red and White were the first two spacemen to enter our galaxy. Yellow, Blue, and Black arrived with the same spacesuit. Much more were to follow but as time went by so did fashion. Spacesuits became more colorful, helmet´s shapes and visors changed and spaceships evolved. We had to wait until the year 2014 to see Green in a classic spacesuit again and another three years until with the latest series of collectible minifigures  Grey completed the group of the SEVEN Classic Spacemen.
Reason enough for me to invite them over to my little studio and get a group photo of our SEVEN heroes.
After some big hellos, shaking hands and some heartfelt hugs a historic group shot could be taken.
A shot of more than just colleagues.
A photo of good companions, buddies, friends.
A captured moment of SEVEN astronauts.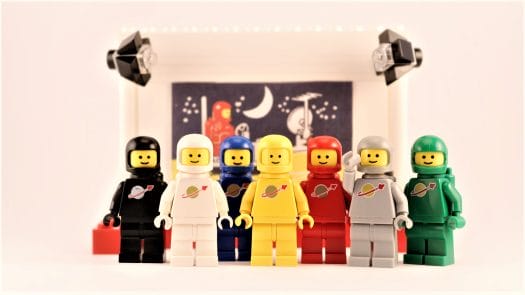 Feeling close to tears of happiness I could not resist asking this enviable group of SEVEN explorers to have a selfie taken with them.
What a moment! I´m guessing I will be holding the memory of this moment deep in my heart for the rest of my days.
May the SEVEN live long and prosper and may the force be with them- always.
-Stefan
Ps:          What´s the best part of getting together with your best friends for a photo session?
A Non-Belgian living in Hamburg, Germany. Curiosity-driven and mostly to be found on tiny adventures and great journeys.