Another week, another Friday, another Feature Friday #SiPgoes52 interview around a virtual cup of coffee. Today it's Thomas Thoresen from Denmark joining us.
Meet Thomas
My name is Thomas, and I am proud to be as old as the minifigure! Being the father of three wonderful kids, I am rarely wondering what to do with my time. I am a teacher of children between the ages of 6 and 12. My job is very fulfilling but also demanding, and when I come home, I like to do something completely different.
I do enjoy spending time alone without too much digital pollution, and after having avoided social media for several years, I eventually joined Instagram in late 2016. I wanted to begin taking photos because I enjoy beauty, solitude, and silence. At that point, I had not considered taking photos of toys.
Thomas and toy photography
I came across the toy photography communities, and a whole new world opened up for me. I've loved Lego for as long as I can remember, so that was what I started photographing.
I started taking pictures of toys in November 2016. To begin with, I focused mostly on the narrative, and not so much on aesthetics. But soon I wanted more. I wanted to be able to shoot quality photos and find my own photographic style. I used my mobile phone, but I picked up a camera in January of this year. I wanted an interchangeable lens camera and chose the Olympus Pen-F with a 45 mm F1.8 lens. I enjoy being able to manually focus and control the depth of field. I am currently considering which lens to get next.
Photography has always fascinated me. I have been collecting old photographs for many years. I love the miniature world of toys. I have a few favourite locations, but I never stop scouting for small worlds for my minifigs. I can't spend time in Nature without automatically looking for suitable spots for a minifigure setup. Toy photography is also a fun way to spend time with my kids.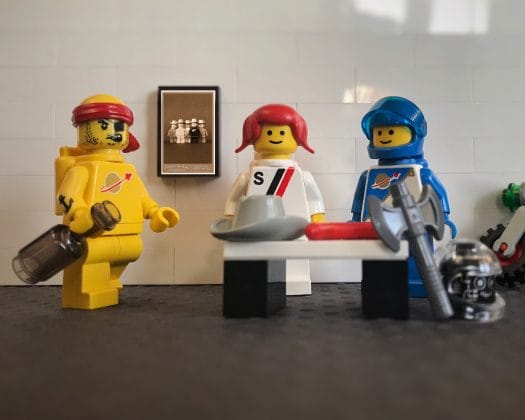 SiPgoes52
When the SiP goes 52 challenge started, I was experiencing a creative drought. The challenge instantly boosted my inspiration. Regretfully, I often have to leave my camera on the shelf, since I have so many other things on my hands.
I like the word nostalgia, and the photo for that word is one of my favourites. That is perhaps because it contains one of my favourite sets from my childhood – the Holiday Home from 1983. And the blue spaceman, of course. The picture was the first in a narrative series of three. (See recognition and community) I am also very pleased with the photos for fun and spirituality.
I am looking forward to the word family. I have several ideas in my mind for that word. To me, family is first of all my three children and my immediate family. However, I also consider visualising one of my ancestors or the generations to come.
I plan to complete the challenge, knowing very well that I will not be able to take a picture for every word. I intend to catch up on some of the words that I missed.
I learn so much every week by seeing what other people post, and I love seeing BTS. With this challenge, I am forced to work in a way that I normally don't do. As a consequence, I learn a lot about myself and my style.
Definitely! The challenge is so much fun, you are pushed out of your comfort zone, and it is very interesting to see what the other talented photographers come up with.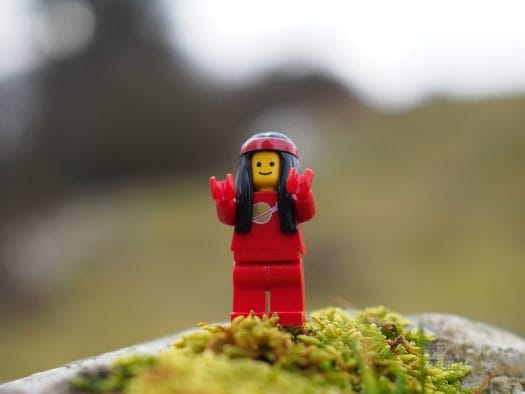 The question we didn't ask
When we asked Thomas what is the magic question we might have missed, he told us:
You should have asked me what is my favourite picture taken by another photographer in this challenge! My answer would be "That feeling when you build an old set…" by Konstantin Schmidt for the word joy. It is a gem of a picture!
We'd like to thank Thomas for his time! Be sure to follow his future work on Instagram at @thomas_thoresen_!
Stuck In Plastic.
The creative collective of toy photographers.