Once upon a time
Once upon a time, there were two scientists.
If you have no idea what scientist are doing all day: most of the time they are just being curious. They look at the world and try to understand it bit by bit. They may do so in their offices, on expeditions or in their laboratories.
And sometimes they even stumble across a problem when on their coffee breaks.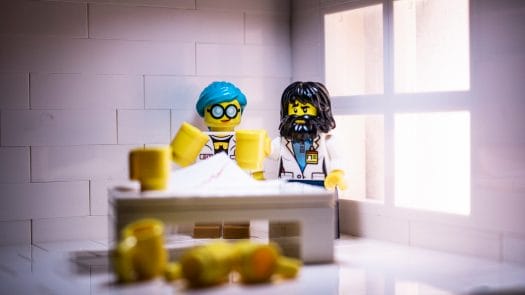 Blue and Beard
That's what happened to Blue and Beard one day (yup, those were the names of the scientists). As they were enjoying yet another round of mugs with euphorigenic hot beverages they talked about this and that. They quickly discussed the plans of their research institute to build more labs. That was in order to have more space for even more curiosity. Their institute was located on the outskirts of town. Fortunately, there were not many (or should we say: not any) neighbors around. Then again, unfortunately, lots of space filled with hills of sand and gravel, rocks and even a forest were there, too. It was obvious to them that the forest should not be touched.
Forests naturally are an important home for animals and plants alike.
So instead the piles of sand and gravel had to be moved.
Orange and the other men
The head of the institute said that he knew a good man named Orange. He would surely do his very best to shovel all the sand away.
Blue and Beard thought that that'd be a funny idea.
By the time Orange might be finished only halfways he'd already have reached the age for retirement. Yes indeed, there was that much sand.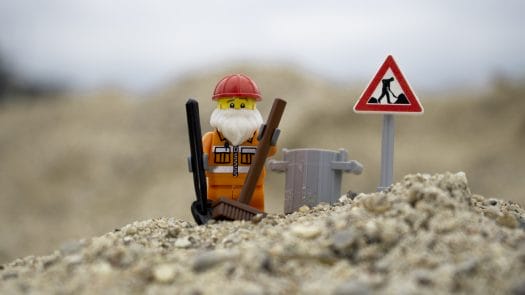 More Manpower.
So maybe more manpower could do the job?
Then again they still had to have lots of coffee breaks (at least as many as Blue and Beard had) to be able to stay awake long enough for getting things done. "But wait", Beard said to Blue. " Do we know what's underneath all the sand?"
Not only were Blue and Beard curious scientists, the two of them also had a very vivid fantasy. They agreed that if the men who would shovel away the masses of sand, had imagination skills just like Blue and Beard, they'd get scared of the things they could find.
And as a consequence- they would run away.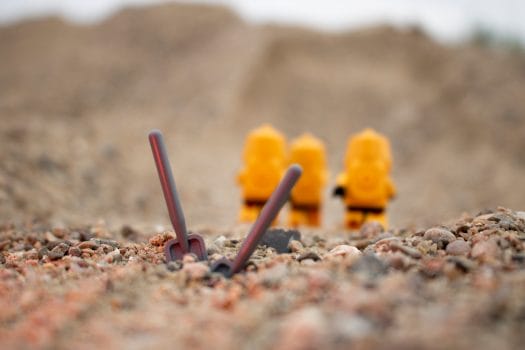 The birth of another idea
Another plan had to be created. "Why don't we invent a machine to do most of the job?", said Blue," Maybe an autonomous one so it could work both night and day. That way we'd be finished in no time!"
"That's great!", replied Beard. "And if we found some really fearless guys, they could still watch out for possible dangers on the site. And all that while having their well-deserved coffee breaks."
What a plan!
Blue and Beard went back to their lab for further thinking and planning. As they hadn't built any loading machines themselves, they asked their fellow scientists and engineers from Sweden to help on that end.
Meanwhile back in reality
That is supposedly the story of how the 42081 LEGO Technic Volvo Concept Wheel Loader ZEUX came to life. This vehicle is the result of engineers and designers (and maybe some coffee loving scientists) joining thoughts, experiences and superpowers. They even asked some kids about their ideas. Kids are our future and their ideas matter just the same. Or even more.
In order to be able to move as much material as possible, Zeux was given a huge bucket.
In practice, it actually is a little bit too big.
When you fill it all up, ZEUX needs a tiny helping hand for lifting its arm.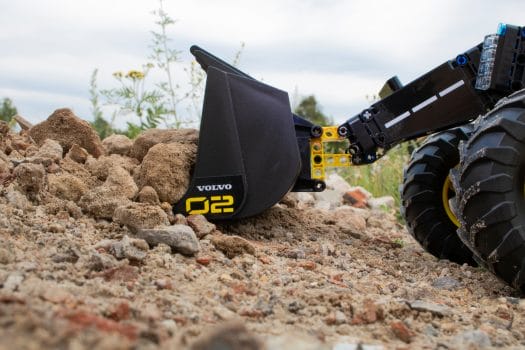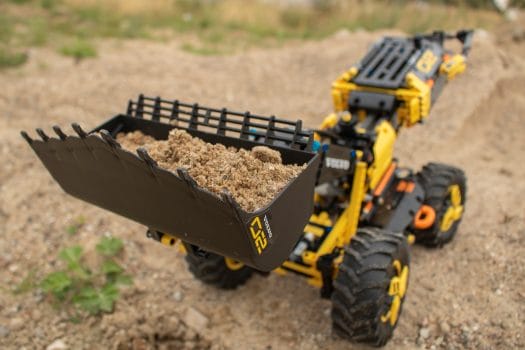 A great addition to this concept vehicle is its massively big tires.
They go wherever you want them to.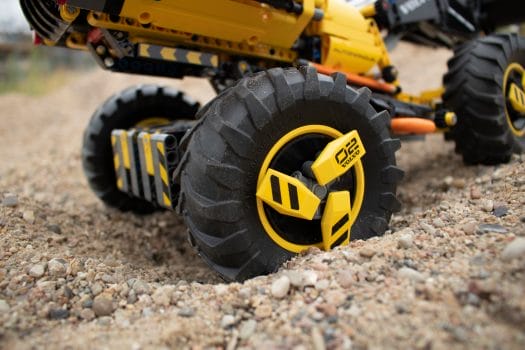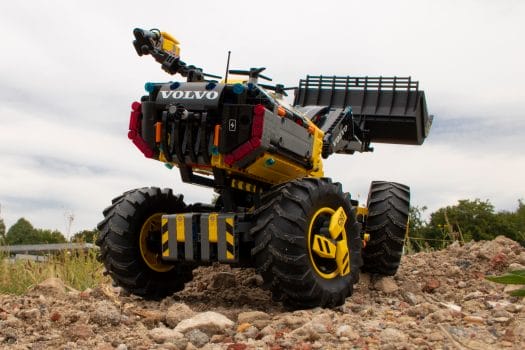 And in order to be working fully autonomous, Zeux is additionally equipped with its own drone. When needed, it flies around, looking for the next site to take material away from. Or to send an overview of the working progress to the scientists' labs. When it is not needed the drone will sit in its place on the counterweight that also includes batteries and electronics to keep ZEUX going continuously.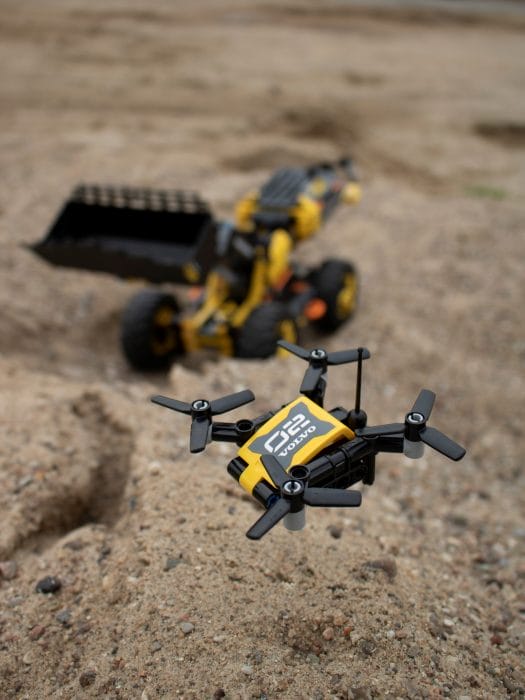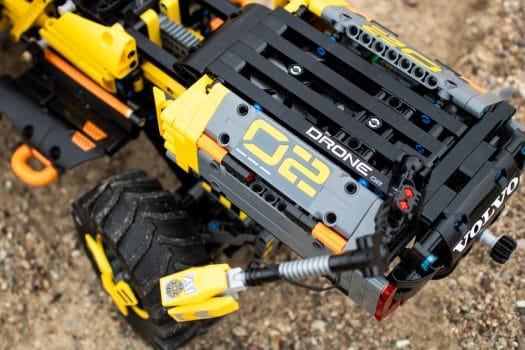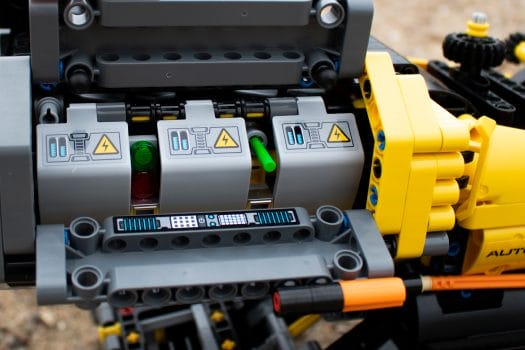 What's this arm for?
Looking at the loader you´ll instantly spot a long arm on its' top back. This is a detail the designers picked up from the kids. They righteously said that if this loader was working autonomic how could they know it took notice of the humans around it? So this arm has a camera on its end.
An electronic eye if you wish.
This turns to you as soon as the vehicles' sensors registered you.
And that´s how you make sure you're not in the way whenever ZEUX is doing its thing.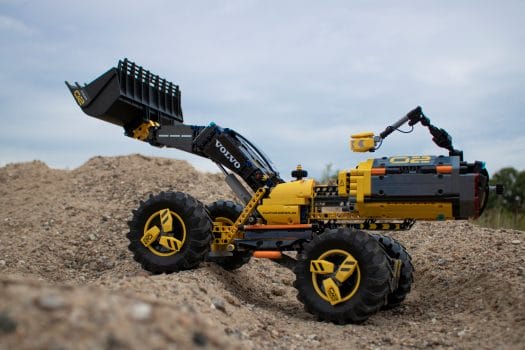 An experience
Thank you to the people at The LEGO Group for providing this model for reviewing. Building it was… a true experience for me. First of all, I really can't remember the last time I built a Technic model.
Next up I was very surprised to find ten (all in all thirteen) bags- and none numbered. Guessing I was too much spoilt by my favorite line, LEGO Ideas. The 260 pages booklet with its +400 steps instantly granted a good building experience.
And fun it was, too. All in all, I made only two mistakes.
The first one I noticed a good 70 steps after having made it but it was easy to fix. The second one took a little (!) more time and disassembling. Guessing I should build more Technic sets to improve on that end.
The fifty stickers were also fun to attach (I am aware not many people share the passion but I think they definitely add to the model. I can't imagine why so many people are annoyed by them, but I am sure some will share their thoughts in the comments …).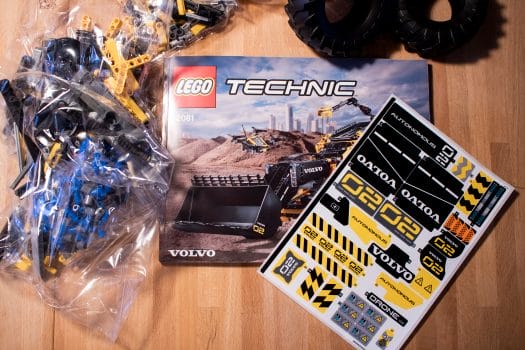 Mixed reactions.
Another thing I really enjoyed before writing these lines was watching people's reactions to this set. Some AFOLs think the main purpose of this set is to provide many great parts. Others were disappointed that ZEUX is operated all manually and that there are no motors inside. And the odd few complained that there's not enough space to equip it with Mindstorms parts to actually turn it into a real autonomous vehicle.
Come on, people.
First of all, this is a kid's toy.
The box clearly states that it´s for ages "10-16". Those who really want it motorized will find their ways of customizing this into a self-working machine. (Jim from Eurobricks had another very interesting thought why it's good this model is not equipped with a remote control in his own review of the ZEUX. Cheers for that, Jim!)
Having to operate this loader manually stays true to the original LEGO idea to be a system toy that can help to develop creativity.
And where would we be without or imagination?
In my personal opinion, it's a great set that provides a great building experience and some great playability.
But wait, what happened to our two scientists and their little story?
When ZEUX finally took up its' work the fearless men were really happy to be working with such a great machine. It allowed them to enjoy their coffee while knowing the loader had noticed them and wouldn't spill coffee nor milk about yet another problem.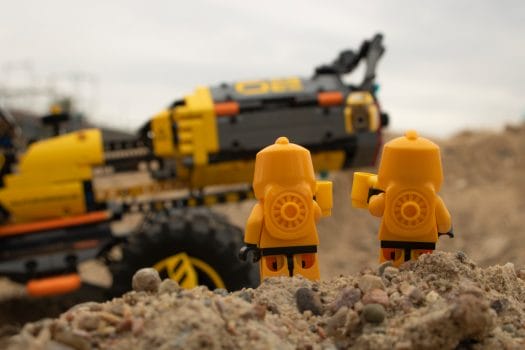 And unless Blue and Beard didn't run out of coffee they'll still be living happily together trying to understand the world and solving problems to make this world a better place.
The End.
(This article tells my own opinion and is not influenced by anyone else.)
A Non-Belgian living in Hamburg, Germany. Curiosity-driven and mostly to be found on tiny adventures and great journeys.