Have a Minute?
When was the last time you intentionally took a minute (sixty seconds) to think about the miraculous invention of words? Especially the written word? Words, put together from letters, can be very helpful. They can be powerful, too. With a text put together from words you can create an image. The reader will be able to see an entire scenery in his mind's eye. Whoever reads can possibly go on a journey, thousands of miles away (if not lightyears) without leaving their home. This simple idea has just become so omnipresent that those who can read (there are still millions of humans worldwide who can't) easily take this little miracle for granted.
Another massive miracle is for a human mind to find a solution to a complex task. One of these tasks was probably for Steve Guinness to create a moving model of a typewriter and we asked Stefan and Bev to write down their thoughts.
Dear Bev,
I am old enough to remember my dad writing letters on a real typewriter back in the days. And as most kids are easily fascinated by moving machineries that produce something (a letter for instance) I, too, was fascinated by that machine. Admittedly, my fascination only lasted long enough to try said machine myself and see it moving to type down some words that I wanted it to. Steve went FAR beyond that point and imagined a moving typewriter out of LEGO.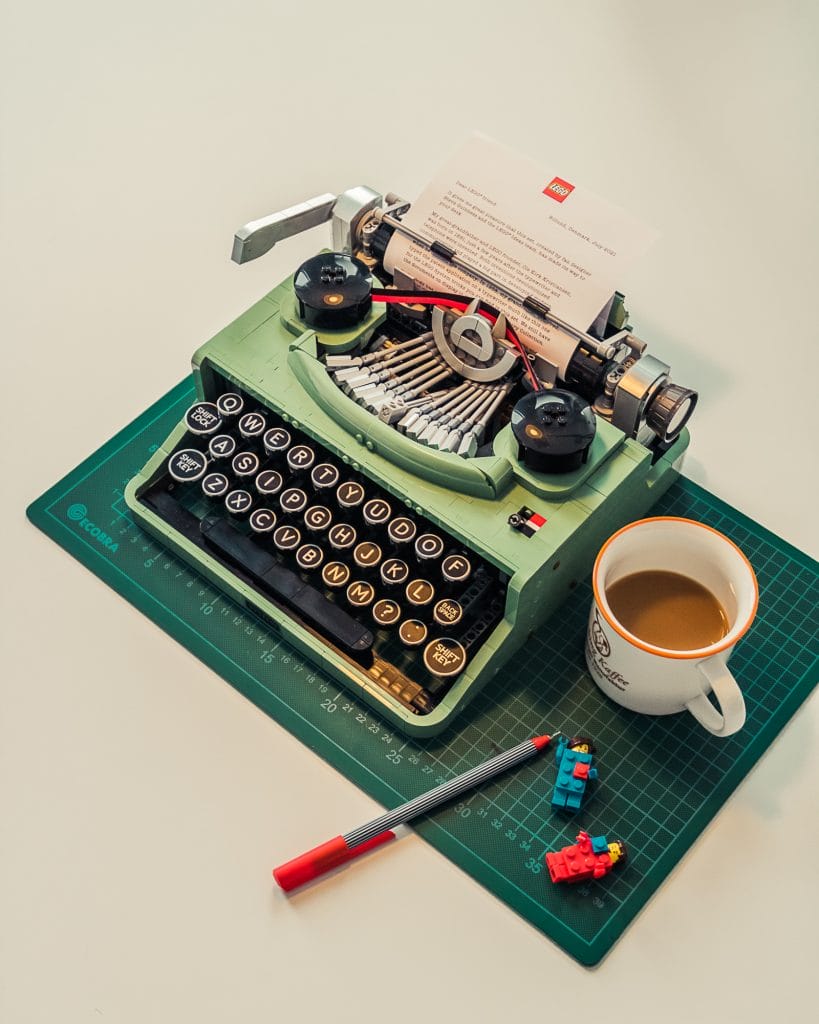 As the finished model is sitting on my table, I find it hard to find the right words to describe it. Therefore, I'll keep it simple: Beautiful and astonishing. Although you can't really write letters on it, the working mechanisms in this Ideas set are a great reminder of a time way before computers, mobile phones and what not. To me it is an inspirational gem that reminds me of how creative we can easily get when using our minds and words in a certain way.
Taking images of it was a completely different thing! I won`t cite any quotes here as I think we can all agree that this typewriter is a toy. A toy based on an everyday item. This made it much harder for me to put the model in scene. The dimensions of it only added to that. What story would I want to tell with it?
Many Letters
You may already have noticed that the #21327 comes with a wonderful accessory: a letter from Thomas Kirk Kristiansen, the great-grandson of LEGO's founder. As the brand is beloved all over the world, this letter comes in 24 different languages. Taking up their idea, I wanted to add a different message. I went to their website and found the words I wanted to include. I then printed it on paper and adjusted the size of it to match the typewriter. That's how things got together for me.
Yours Truly
Stefan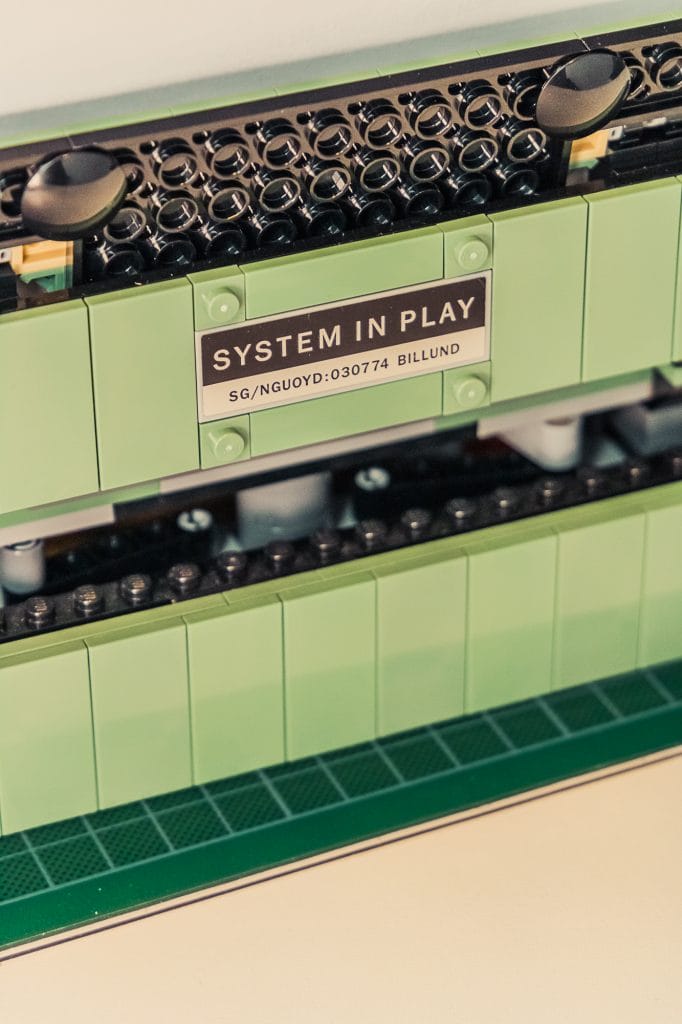 Dear Stefan,
It is wonderful to hear from you and I, too, received this beautiful Typewriter set provided by our dear friends over at The LEGO Group. And it was lovely to read about your childhood memories. Saying this, I ,too, am old enough to remember using an actual real typewriter and I remember attending typing classes in school. The teacher would get rather cross if we started typing with one finger. Nevertheless, she taught me to use the ASDF JKL; keys as the main keys. Then everything else was just a finger away.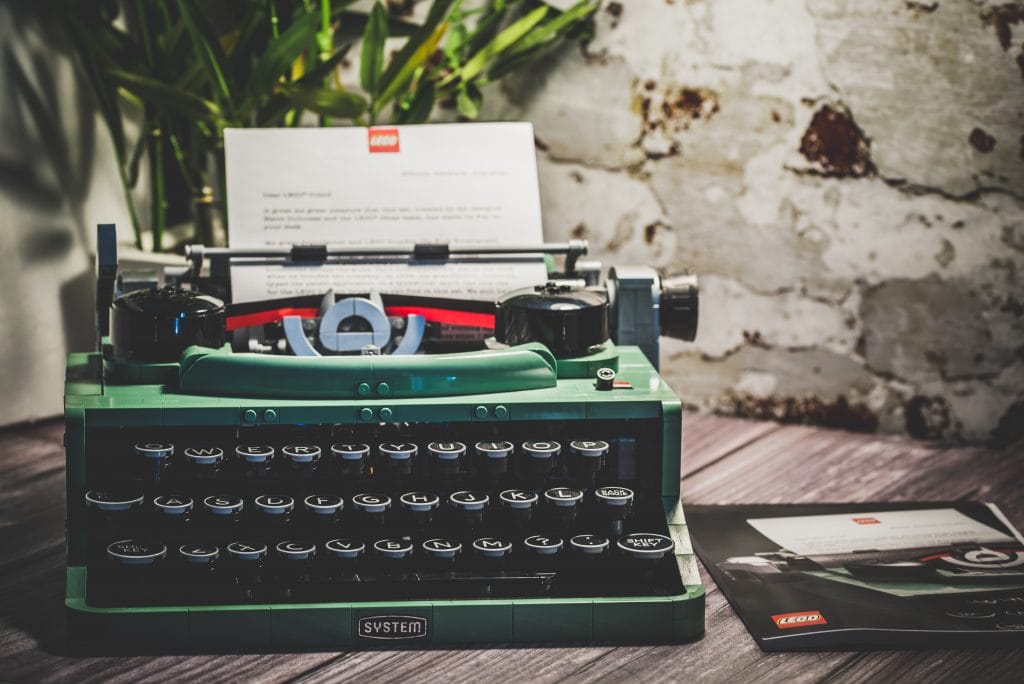 Not going to lie, my eldest son built our model and it was a golden opportunity to tell him all about how I used a typewriter when I was his age. Plus, now he actually thinks this replica collectable is pretty cool. With 2079 pieces included in the box, I did think he would take a long time to complete it. But eight hours later and he presented it to me, all finished and in working order.
Authentic and Realistic
I am impressed by the striking design and incredible details that has been placed into this set. And the Sand Green (great colour choice) gives it that classical vintage look. The way I approached the photoshoot was to try to emulate a vintage theme and take the model back in time. However, I will agree with you it was slightly harder to shoot. In particular for me, the design dictated the orientation.
The keys are fab aren't they? Having a full alphabet of printed tiles is great and now every time I show someone the set, they have a tendency to press the keys (you can hear that all important click). Not only is this model authentic and extremely realistic, It also brings a little nostalgia to my home office.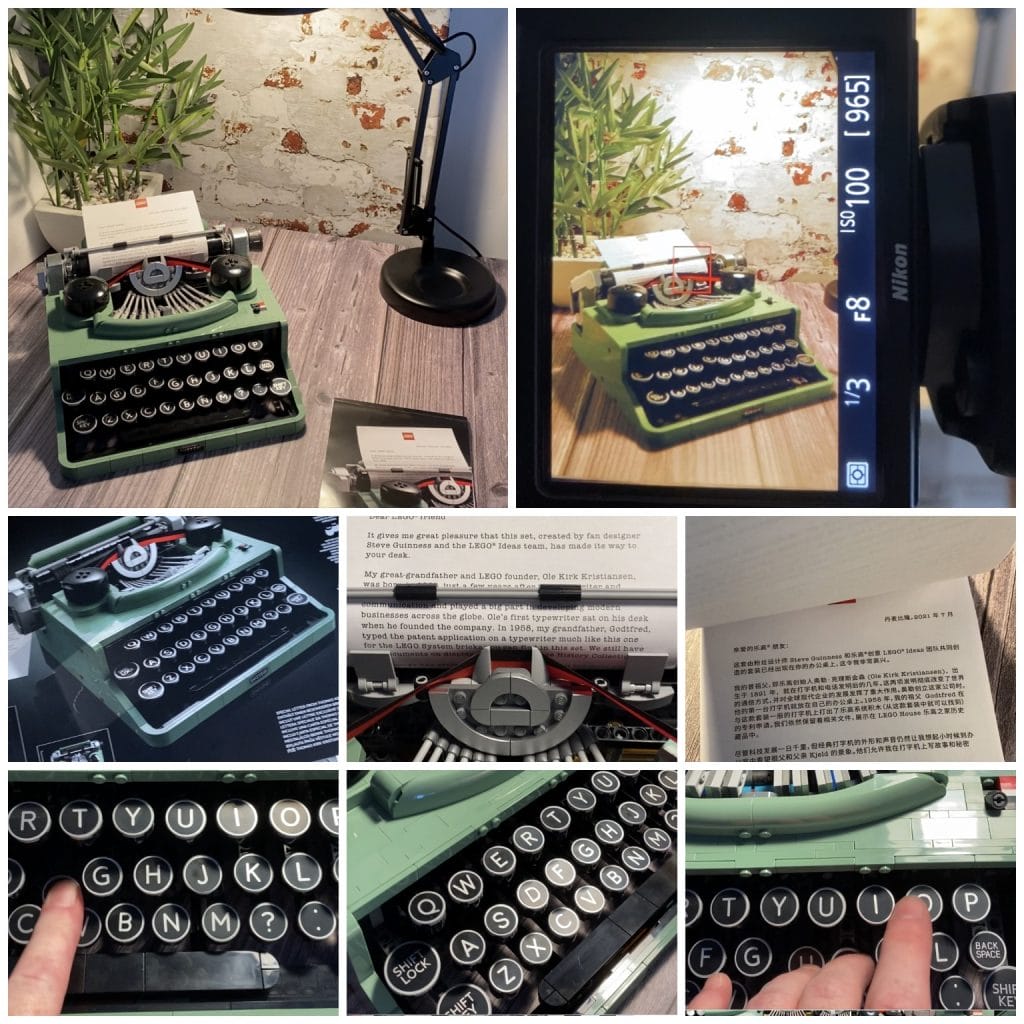 Never Give Up On Your Dreams
Thinking back to the RMFL days, in particular when Boris and myself were fortunate to see the typewriter ahead of launch. The creator of the set SG_Steve Guinness, really thought of everything. He even placed his own personal touch on the back of the typewriter in the form of letters and numbers " SG/NGUOYD:030774 Billund". Personally, I love the idea of how the designers place small elements of themselves into each set. This code means "Never Give Up on Your Dreams" and Steve's birthday (03-07-74) and Billund, well, you know the home of LEGO.
Yours Truly
Bev
Words of Wisdom
Believe in words and use them to create your own universe. Just as with bricks and minifigures. And remember"Never Give Up on Your Dreams."
Let us know if you have this set or write your own thoughts about the design in our comments below.
Stuck In Plastic.
The creative collective of toy photographers.
Co Authors :