When LEGO and Porsche get together you just know the finishing touches would live up to a very high standard. And for me, this 911 model #10295 really takes me back in time. I was lucky enough to take this set out on a test drive and it did not disappoint.
Driving Force
Saying this, throwback some time ago, and I got to test drive the Technic Porsche 911 RSR #42096 for review. This was not the first time I had received one of the LEGO cars. I had already test drove the Aston Martin DB5 #10262 and the Land Rover Defender #42110. And the crew does love to photograph a variety of LEGO Cars over at Stuck in Plastic, to add to the list don't forget the beautiful Green LEGO Lamborghini.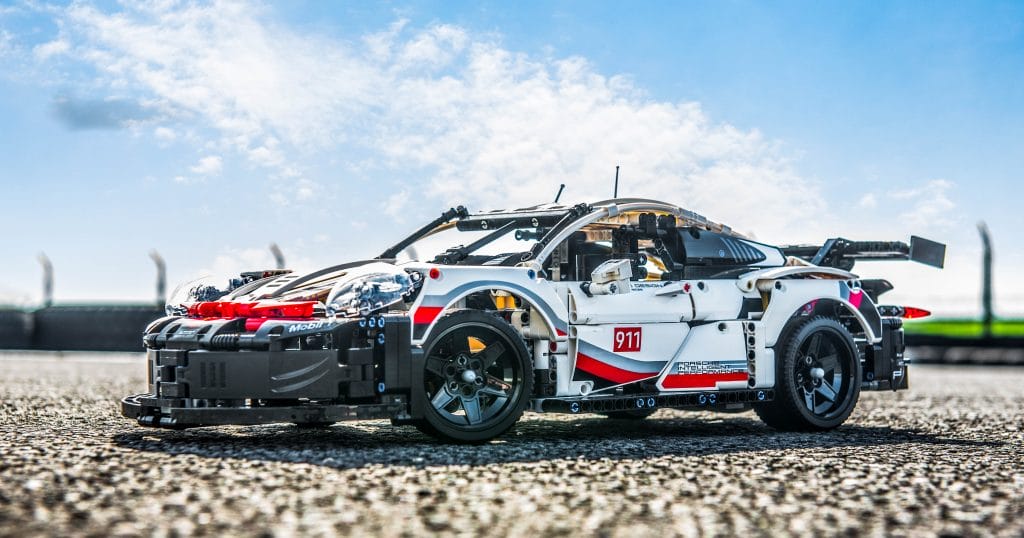 As with all the car photoshoots, we at SiP approach them with the cars in mind and the Porsche RSR was no exception. In order to compliment the RSR model and its need for speed, I decided to take it to a racing track.
However, the RSR model is and was completely a different building system and approach to the latest LEGO Porsche 911. Although, it is obvious that a similar engineering excellence has gone into the design of the new 911.
The design for the new 911 was created in collaboration with Porsche and a passion project for Mike Psiaki, LEGO Design Master. Notably, he also designed the Ghostbuster ECTO-1 #10274 that Julien and Chris were fortunate to shoot. (Did you see their pix on our Stuck in Plastic Instagram feed? And recently featured on The LEGO Group social media.
Exploring the Latest Porsche 911
Back to the Porsche 911 and a throwback to February 2021. Based on the late '70s and early '80s model of the Porsche 911, this car is certainly an iconic classic. And I remember growing up at the same time just how impressed I used to be as a kid seeing it featured on adverts. By Porsche selling the art of desire, I would wonder could the driver be someone famous like James Dean, a renowned Porsche owner. Obviously I knew it couldn't be, but one sometimes walks on the boulevard of broken dreams.
The Creator Expert Porsche 911
The LEGO Creator Expert Porsche 911 #10295 comes complete with 1458 pieces and authentic details throughout. As I explore the high performance features the Porsche 911 has to offer. I can see it includes the rear-mounted , air cooled flat-six engine. A working gear stick. It even has emergency breaks and tilting seats in a dark-orange and nougat colour scheme that compliments the curvaceous iconic white exterior.
As far as classic collectible cars go, this one is really special. It is impressive in size coming in at 35cm depth and 16cm wide and 10cm in height. Porsche fans will not be disappointed to say the least as it includes the Porsche logo and three unique licence plates. And AFOLs might just do a little dance because there are no stickers only printed tiles.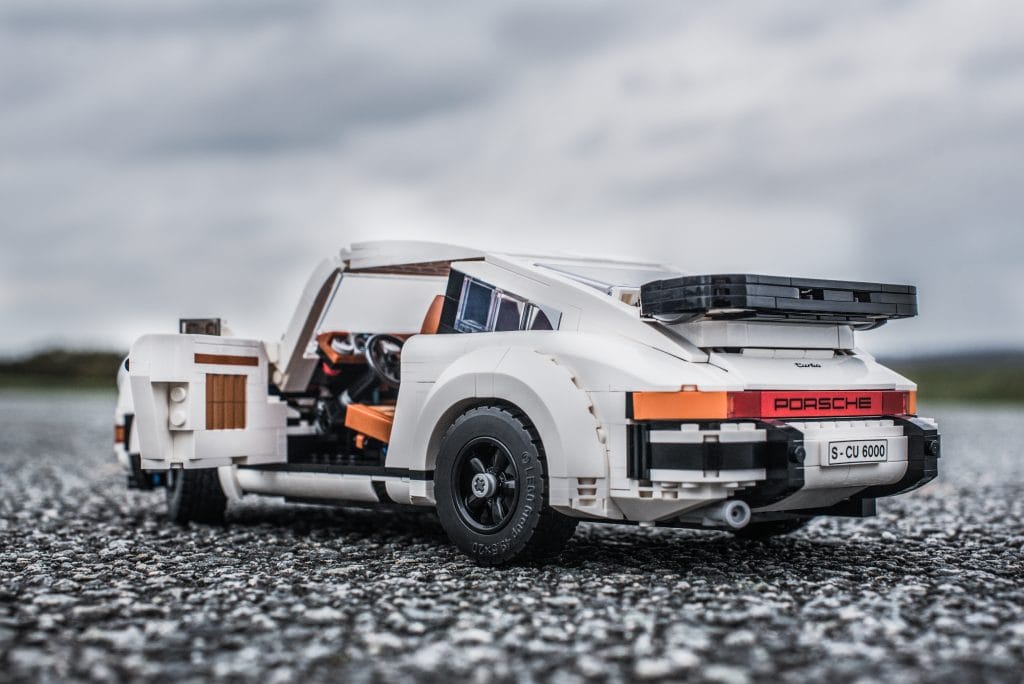 Turbo or Targa?
This legendary iconic design is not only impressive as one build, but you get the option to choose between the Turbo model with its turbo-charged engine or the Targa version with its iconic Targa bar and removable roof.
Originally, I had shot the sporty Turbo with its wide rear and spoiler on location and naturally placed it into an environment that I felt complimented it. It was kind of funny because Chris, who also received this model and unbeknown to me where he was intending to shoot. We both chose a golf club as our venues in completely different parts of the UK.
Then much to my excitement, notification came in that our dear friends over at The LEGO group had sent another set. Naturally I asked my son to build both versions. To be honest, I am glad I received two because to choose which one to shoot was kind of hard.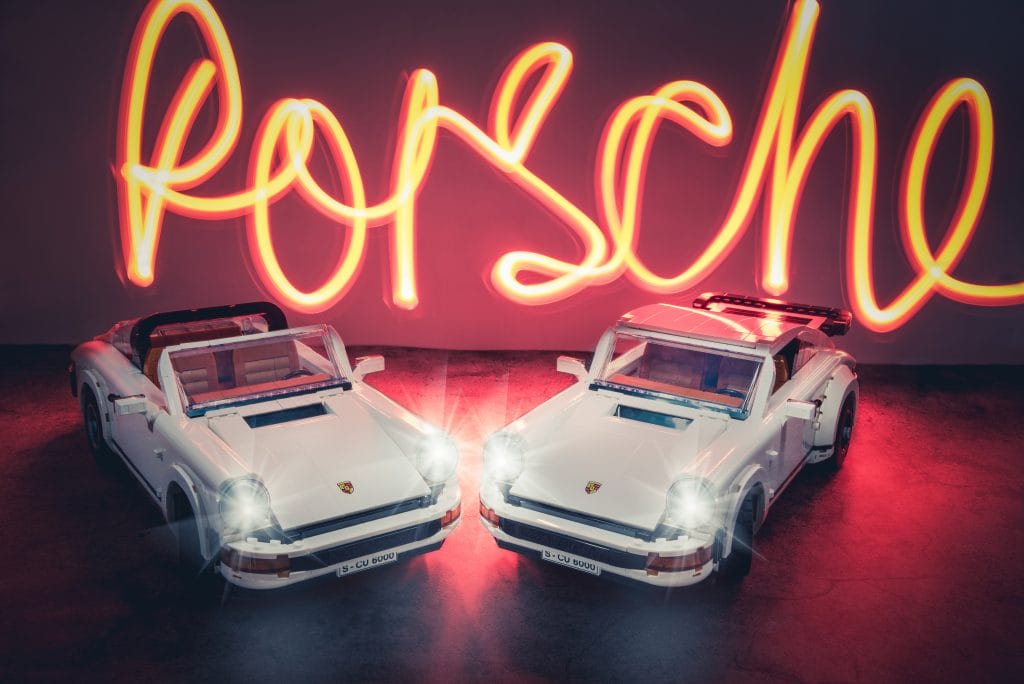 Light Painting
With both Turbo and Targa models built, I decided to shoot them together. At the same time, I did not want to go back to the same location. Therefore, I decided to use my studio to create something different.
Light Painting Photography is the art form of using handheld lights in order to paint and draw in a scene. This technique requires long exposures and a lot of patience. Especially when you are trying to write Porsche back towards the camera. Before you ask did I photoshop the words? And the simple answer is no, the above was created in camera using a torch.
On reflection, another idea I wanted to explore was to showcase the differences in both these models in one photograph. In fact, purchasing only one means you will need to consider being very organised and that you do not mix up the parts when you change the design. You build almost 80% of the car and then you have to choose which to build. The Turbo? or the Targa? The elements such as the wheels and the roof will be evidently different.
Some things to consider when light painting is that light travels in straight lines and these models are full of curves in the right places. With this in mind, I had to move the light source to make the Porsche look like it was moving, at the same time maintaining that curve appeal. Plus, in the final shot it meant that I had to experiment and stack the images. This enabled me to illuminate and control the positions.
The Porsche 911 was a great model to shoot. Would I advise buying two? If your budget can stretch to purchasing two, then yes for sure buy and build both. However, retailing at £119.99 it is understandable it would be a one off investment or then again why not combined the two?
Tell us are you a proud owner of this iconic classic car? Or is it on your wish list?