Part Three
This will be the last part of three from Carl @carlp_photography, who portrayed fifteen out of the sixteen minifigures of the CMF series 20. (One of them is reported to have had issues at the customs. Maybe her javelin was mistaken for a weapon …) Here´s Carl for you:
Peapod Costume Girl
I did a portrait photography course last year, which I thought a mini portrait would be a fun idea, to bring out her inner green!
A really nice figure from a long line of brilliant costume pieces over the years. I think this is one of the best that Lego have made.
Martial Arts Boy
With great nod to famous Karate Kid from the 80's, this is a nice design with a cool hairpiece and a nicely made accessory – a pair of nunchucks!
I thought it would be fun to shoot him training by moonlight, this would emphasize the design and intensity of the face print.
Piñata Boy
This a is cute little figure with a really nice Poncho and hat. The Piñata accessory is also very nicely designed. Viva la Mexico.
I decided to go with a vintage look for this picture and had a play with creating a mountain backdrop.
Space Fan
This girl comes along with a printed tile, showing a blueprint for a bigger, better rocket. Taking this into account, I thought I'd experiment with forced perspective. This perspective enabled me to see how big I could make the included rocket appear, and show off the nice NASA print.
As a result, this figure is really nicely designed with a great hat & hairpiece and charming body print. The rocket print tile is really sweet and for that reason it could be used as a wall poster. I am curious to see when the first of these blue prints will show up on Instagram.
80's Musician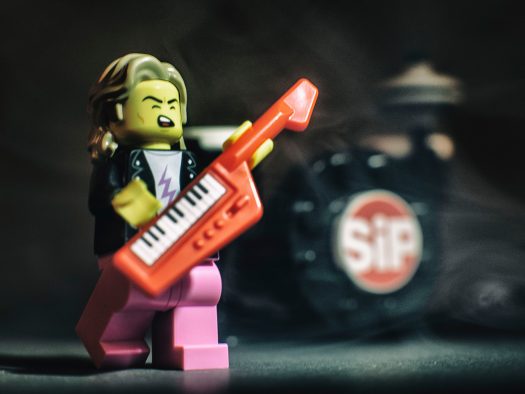 "If music be the food of love, play on." Introducing rockstar, Steve Legoman. Music is in his veins. Even after all these years, when I get together with my band, Stuck in Plastic. It becomes obvious that we still enjoy touring. Our performance, allows me to loose myself in the moment, especially during the grand encore!
I really like this figure! Lego got all the details right, including both sides of the head to make a very likeable figure, plus it was great fun to photograph.
That´s It
Well, that's about it from me for now.I just wanted to say another big thanks for inviting me to take this on. I'm planning to reshoot some of the figures over the next few weeks with some more ambitious set ups. I'd also like to use some of the bits for other projects, and the figs will blend very nicely into my growing collection!
My wife said to say it will save her few trips to the toy shop 'feeling' blister packs, as she often helps me collect each series.
Can't wait to see the next blogs!
Thanks again :)
Carl
Thank You Carl
Well, WE'd like to thank Carl for sharing his visions of the figures with us. It's sure was great fun to see his set-ups and read about his ideas for (almost) all of the figures. We´re also looking forward to his next creations, hopefully to be seen in his IG feed.
To our readers here: which minifigure of the CMF20 is your favourite? Is there a top one? Or haven´t you made up your mind about that yet? Will you have to see them in your hands first? Maybe you've got a completely different setting for a photoshoot in your mind? Tell us all about it in the comments below. We can´t wait to read about it…
This review is part of a series of guest reviews by toy photographers from around the globe. To see all their amazing posts, just follow this link.
Stuck In Plastic.
The creative collective of toy photographers.