I never thought that when Evelien asked me to participate in this program but we are already watching episode 3 again tonight!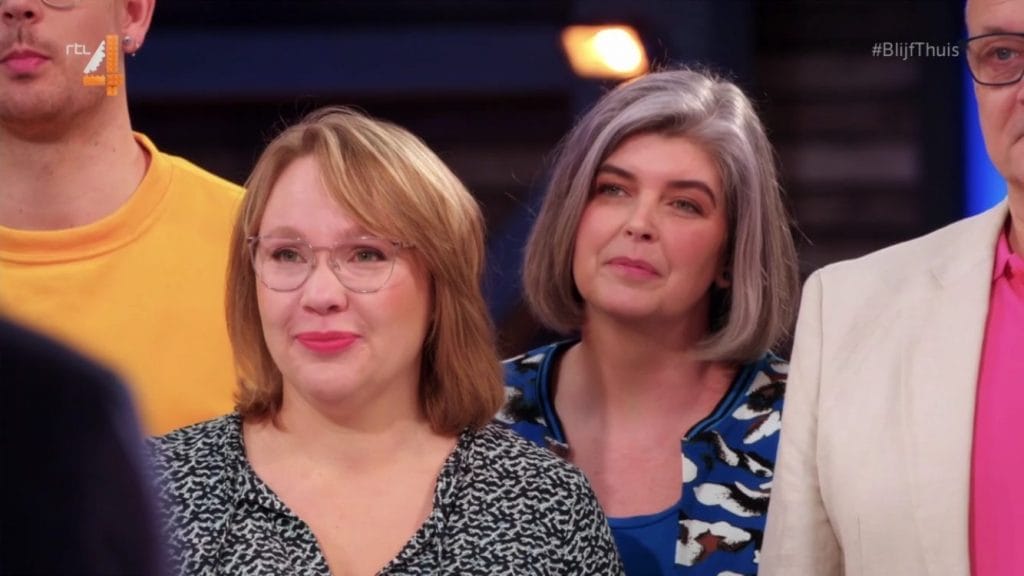 LEGO MASTERS it is.
It is really unreal and very exciting to see ourselves again!
In this difficult time that we all have to stay indoors, LEGO MASTERS is the best "outing" at the moment.
At home here too, we eagerly look forward to Saturday evenings.
Even though I have told them small pieces, the four of us are mesmerized watching LEGO MASTERS as we sit on the couch.
And one of my sons has been shouting for a few days now … "I'm so curious about Saturday Mom".
Speaking for myself (and I think for Evelien too), this was a very big adventure for both of us… also because we knew each other only from Instagram before the program.
So during the recordings, we had to manage certain things.
Evelien and I are very different and both have our own opinion and our uncertainty but I think we have found a good middle ground and a super friendship has emerged from it.
Banana
We also had a code word: "banana" for when one of us felt angry, sad or just didn't know it anymore. Then the other person know that the other one needed some "me" time alone so that there would be no friction or saying things that we might regret later.
Hahahaha "banana" has become a thing in episode 1.

All in all a great time together.
We sometimes shout "why do you live in Zwolle and I in Zeeland?"
The first episode of LEGO MASTERS was fantastic!
It is super nice to see what we had built and how we look like as a person on TV. But also so nice to see the other duos at work. Because I can tell you if you have to build there for so long (first building work was 18 hours), you are really only busy with yourself. Of course, you notice things that happen to the other duos, but they actually pass you by because you are on your own little island
Our building looked really cool.
The first assignment was to build a very large and high building that fit between the existing buildings.
We had made a kind of ecological building. From below a sort of market hall where people could buy their fruit and vegetables. Then a large part of office space with lots of greenery. Above it a green roof terrace where people can chill and above an apartment complex and on top of that a greenhouse where all fruit and vegetables are grown that are for sale in the market hall. And of course the solar panels
At the back of the building it was completely green …. our idea was that the green was there to collect the water because all buildings in the city are built of concrete and so the water drainage is very poor if there is a lot of rainfall.
We spent 15 hours on this entire structure.
And then there was a twist … the city was attacked.
We had 3 hours to build something that attacked the city.
We had the idea that we were going to make a mega snail with a lot of snails inside that big snail … just like the Trojan horse
A Trojan Snail.
Evelien made the big snail and I build a lot of little snails. We actually found 3 hours were very short to make what we wanted and have also forgotten a few details such as making a snail trail of eaten plants… and the shiny track that snails make.
All in all, I think that Evelien (as a Duplo builder) and I (as a photographer of minifigures) should be very proud of ourselves.
We certainly thought our building was successful.
Episode 2 Space and destroy
This episode had a space theme.
But more important all builds are destroyed in front of a slow-motion camera.
The horror to demolish your build with a baseball bat or an explosion.
Not with my own bricks.
But this is television and we have unlimited bricks.
We got a drop from 4 meters high.
Let's do this.
Space, but we could not include Natasja's favourite space minifigure Benny.
He was not to be found in the brickroom….
So we decided to build a space zeppelin with green aliens.
The aliens abducted the minifigures.
The idea is that the drop will set them free.
I find building Duplo monsters really enjoyable.
We had one in mind by the start of this build. We wanted to make a colorful zeppelin with a lot of small pieces inside. That will come free when the zeppelin was dropped. We made a red/gray basket, green/orange/yellow aliens, and a blue/yellow balloon.
Certainly, enough color, but not enough minifigures the brickmaster said later on.
We intended to build the balloon bigger, but it was too heavy. When we're at home you start over, but we had a big clock counting down… We tried to make it as round as possible. Nothing of that matter when we drove it to the dropzone. We shortened our lives by a couple of years standing there waiting, hoping it won't collapse too early. Kurt and the zeppelin made it to the top!
And what a drop.
This image will stay with me for the rest of my life
Tonight
We are also very curious about tonight's episode!
As you can see in the promos of @rtl4 and @‪vtm.be‬ objects have been cut in half and it is up to us to make a nice story.
So I would say… watch it all!!!
Hugs Evelien & Natasja
Special thanks to RTL/EndemolShine for providing the experience and lending the images for this article.
And here are some more memories from the first two episodes…
[envira-gallery id="25600″]