Meet Martin
Martin a.k.a. @derbephep also got some bags from the CMF20 series to portrait for us. Let us have a look at his results and see whether he´s happy with the figures:
The Llama
Hello there. First of all I'd like to thank you for the great opportunity to present my favourite figures here. Thank you soooo much, StuckinPlastic crew!
First up, is there anyone who does NOT like Llamas? Good.
The Llama of the upcoming CMF20 is the next animal-suit figure. And what can i say? It's awesome.
This one has a nice design with a special little print on the back. A zipper, that was missing on other minifigs, e.g. the giraffe.
You can choose between two facial expressions, and they are both very lovely. The will be helpful for many stories and adventures of other figures, too.
For me as an animal costume fan, the llama is an absolute must-have. I think every animal lover will feel the same. Just one more thing: LEGO, can we have a rhino next time? Pretty please?
Rocket Girl
OH MY GOD! WHAT A FIGURE! I can´t deny that this was love at first sight!
But let me list up some facts here first. You get a figure with some accessories. A wrench, a small NASA rocket and the associated instructions, printed on a tile. This girl's got a space fan cap with a black hair pony tail. There are two faces: one with a friendly smile, the other with protective goggles. The torso comes with a print of the classic LL918 space ship (Benny will jump for joy). The lower body has a print of a planet with a ring, a star and a heart.
With that said now let ME jump for joy! I really really love all of that. The figure has so many stories to tell. She can be a fan, a scientist, a teacher, a friend of the Benny Crew,…
What will your story with the rocket girl be? Go and explore. If you love any space theme, this figure is the the one you've been waiting for!
Boy With Piñata
The Hat. The Poncho. The Piñata. A stick. What else do you need? Exactly. Let´s go!
There simply is nothing more to say. This figure is awesome, too.
He´s got a simple white torso. Then there's the poncho. I really love its colourful design. He only has a one-sided face, pretty cute und perfect for him. But that's good for taking pics of him from behind, right?
And the piñata? You see it, it lookes beautiful and you can easily hang it, without any tricks. Thanks LEGO, he is just wonderful.
Female Pirate
With all honesty: when I saw all minifigures, the female pirate was nice but infact my least favourite. A pirate is a pirate. She´s nice, but not really a must-have for me. But when I held her, she sure changed my mind.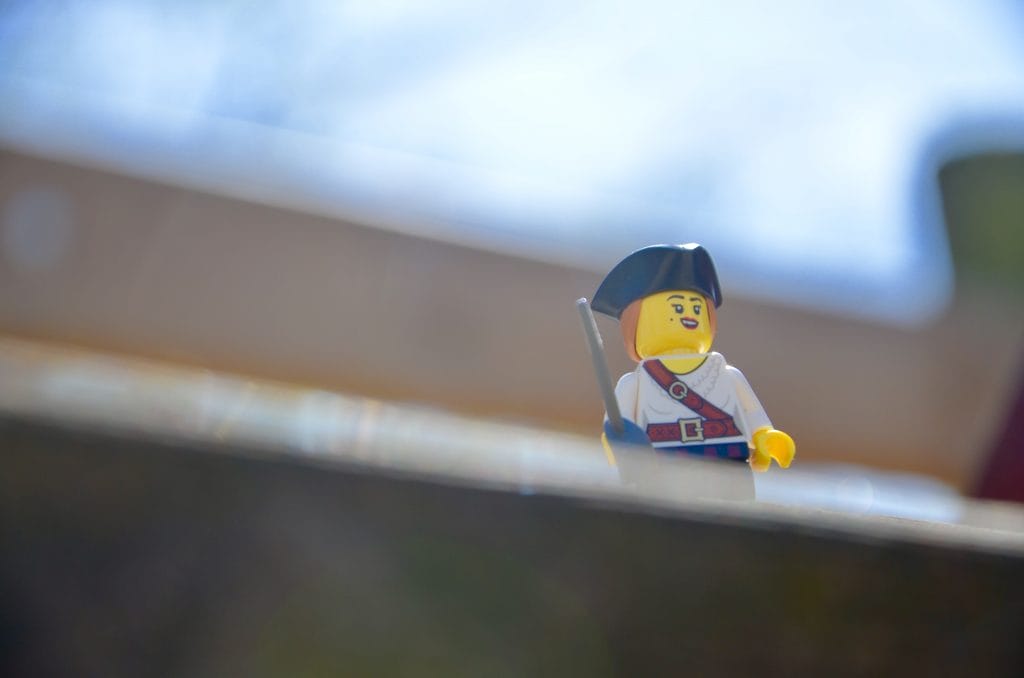 Here´s what you get:
It´s a female pirate with light brown hair and a pirate hat. She´s got two facial prints, a torso with printed front and back and legs with printed front and sides. And there are two swords as well.
How She Stole My Heart
First up, the torso is wonderfully detailed. It looks very good and the front and back side make for perfect shots from any given angle. But the best thing on this figure are her two faces. A happy one and an "Arrrrrr, I will get you!" sort of face. Her eyebrows tell everything you everything you need to understood her mood. The beauty-spot on her cheek makes her very real. And then the smile… If you look real close you'll be able to spot the tooth-gap.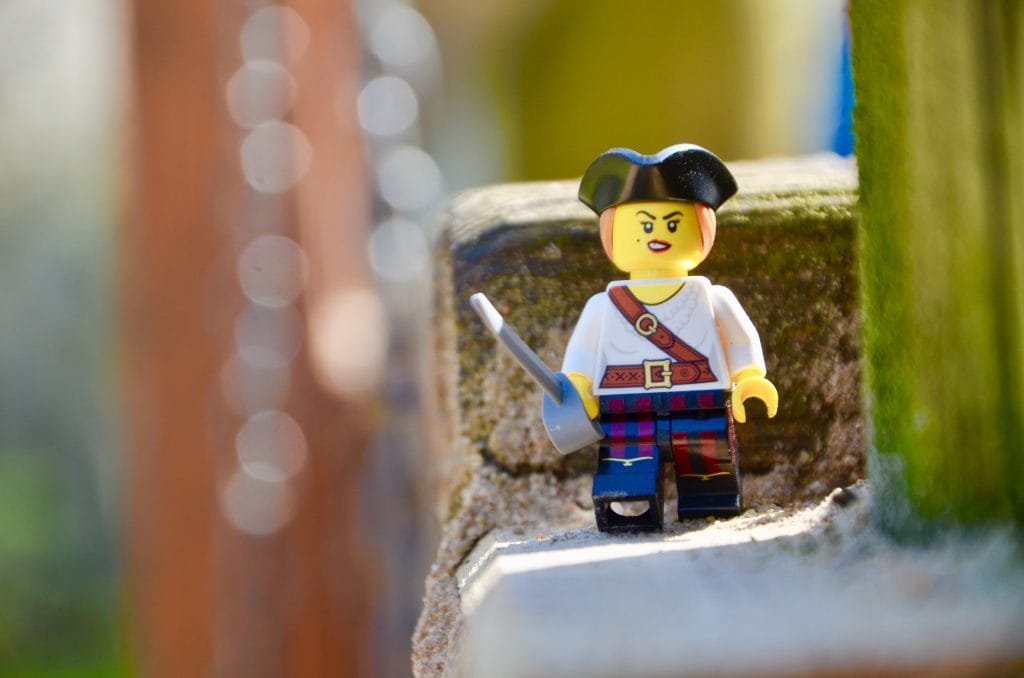 All these details are a perfect summary for why toyphotographers do what they do.
All of the above make the female pirate a perfect member for your pirate crew. Believe me. I talked to Captain Redbeard… (and instantly ordered the 21322 Barracuda Bay)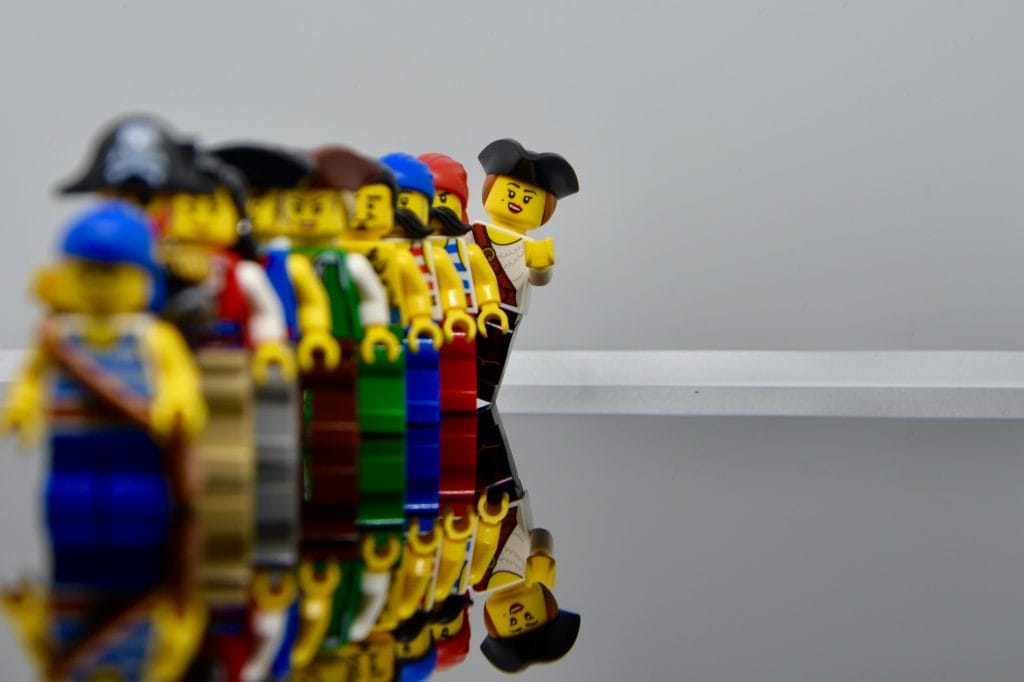 Thank You @derbephep
Looks like Martin is all happy with his new house mates. We´re hoping you´ll be just as happy with the new minifigs, once you get your hands on and lenses at them.
This review is part of a series of guest reviews by toy photographers from around the globe. To see all their amazing posts, just follow this link.
Stuck In Plastic.
The creative collective of toy photographers.