It's friday, it's time for a new #FeatureFriday interview. Following my interview of two great Toy Photographers women for HispaBrick Magazine 032, let's meet Hanna (@hannakuvaa on Instagram).
Can you present yourself shortly?
I'm Hanna, a nature and toy photographer living in Finland, on the northern edge of Europe. By education I am a biologist, working as a biology and geography teacher. I got my first film camera for a birthday present when I turned ten, but I only took real interest on photography when I got my hands on a DSLR camera 15 years later.
How did the adventure of toy photography begin?
I used to do mainly nature photography, usually shooting plants, invertebrates and reptiles. When my kids found the world of LEGO, I often found myself sorting the bricks, searching missing pieces for my little builders, reading the catalog out loud and picking my favorite set from every spread. After two years of brick circus around me I started getting photo ideas. I took a couple of minifigures with me every time I went to shoot wildlife, but after a while it has changed. I went out to shoot LEGO, and took some nature pics on the side.
What is your connection with LEGO toys?
As a kid, I didn't have much LEGO myself, but my brother did. I was much more into cuddly toys and My Little Pony, but sometimes I built LEGO houses with gardens and white fences around them. I didn't really find the way to the brick world until my kids have led me there. Now I'm as excited as they are when new sets or series of minifigures are launched.
What are your favorite LEGO toys? Minifigs? Minidolls? Bricks?
My favorite LEGO toys are minifigures and animals. They are the main subject of my pictures, what they do, what they think and feel. For me, their posture and facial expressions are the key of the story.
What is/are your favorite LEGO theme(s)?
My favorite LEGO themes are Minifigures and LEGO City, because there are a lot of basic body parts and different faces, which can be combined in various ways. Sometimes I take pictures of famous characters like Batman or stormtroopers, but most often just ordinary little yellow people living their lives.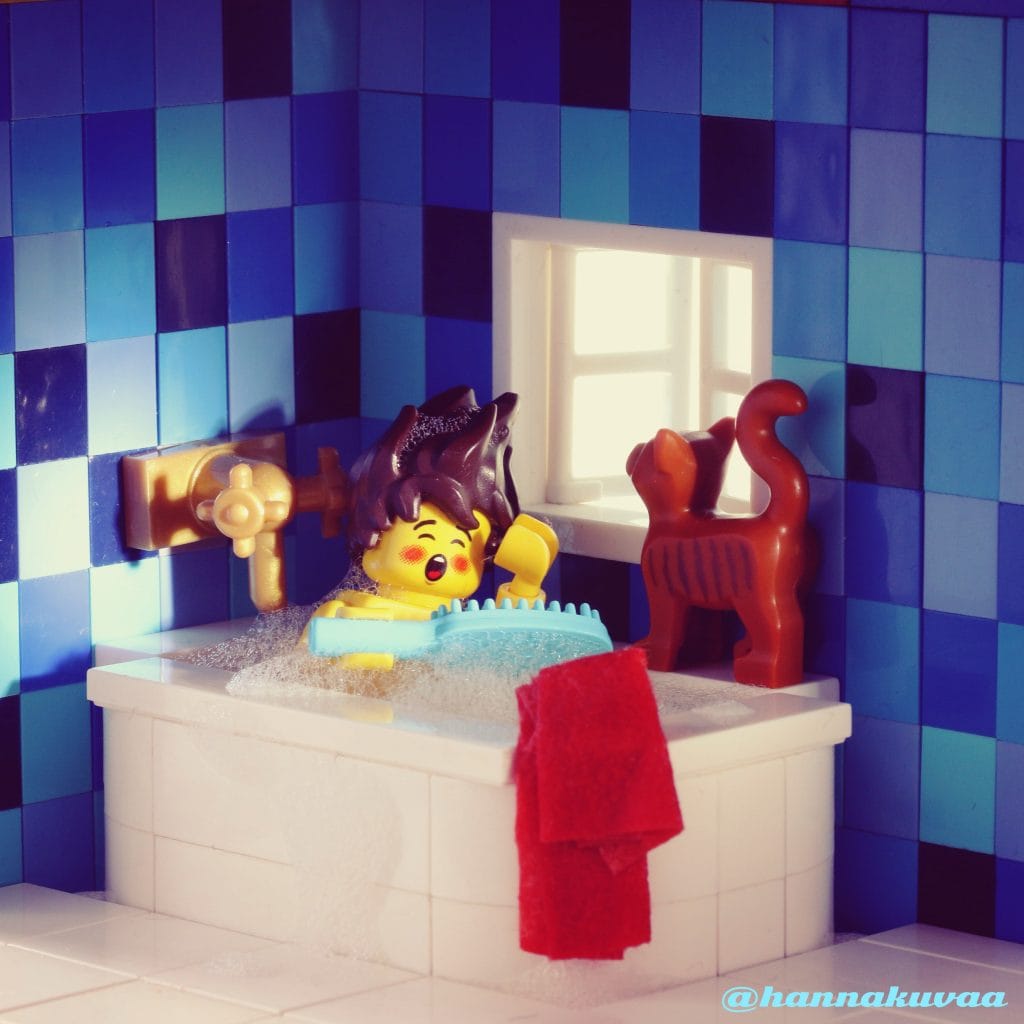 What is your main creative process? Starting with the minifigure or with the location, an idea, etc?
I get ideas for my pictures in several ways. Sometimes it all starts from a minifigure, sometimes from a nice landscape for a background, an everyday item at home, a fairy tale, a figure of mythology or a proverb. Sometimes I want to make a LEGO version of a friend or a famous piece of art like a painting or an album cover. I don't do much of retouching, because I'm better with cameras than computers. So, I try to get everything as perfect as possible during the shooting process. I change the angle, lighting, white balance etc. until I am satisfied with the result. Afterwards I only adjust the colors and light on the computer, if needed.
What is the best place for you to take pictures? Outdoor, indoor, specific location?
I shoot both indoor and outdoors, depending on the idea I have for a photo. Both have their pros and cons. For indoor photos, I usually have to build the whole setup (well, it's fun, but takes a lot of time), while outdoors in the best case as I can just set a minifigure in a suitable place and that's it. Of course, finding the perfect place is not always easy, and the weather and light conditions might change suddenly. Once I was having a session in the woods when a thunderstorm broke out. I ran to find a shelter and dropped Sensei Wu's hat on the way (but found him the day after).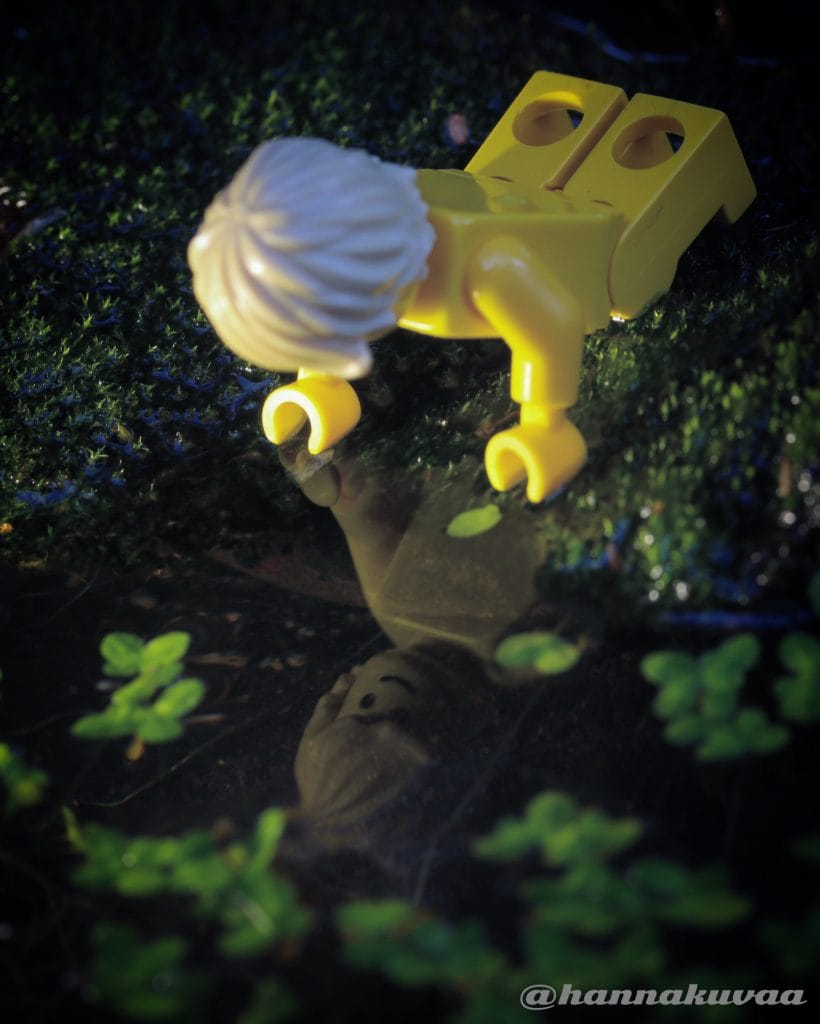 Do you take your toys with you when you travel?
Almost every time I go to a nature destination (a cycling trip, the nearest conservation area or somewhere abroad), I take a couple of minifigures with me. Sometimes I've planned the pictures beforehand, especially if I've been to the location before. Sometimes I improvise, sometimes the figures stay in my pocket. I can't force an idea to come.
Any goal for 2019?
My plan for the near future is to finally make a LEGO version of the movie poster of one of my favorite films of all time. It's been on my mind for a long time, but the setup is a bit challenging. But somehow I'll do it!
Let's thanks Hanna again and be sure to follow her upcoming adventures on Instagram.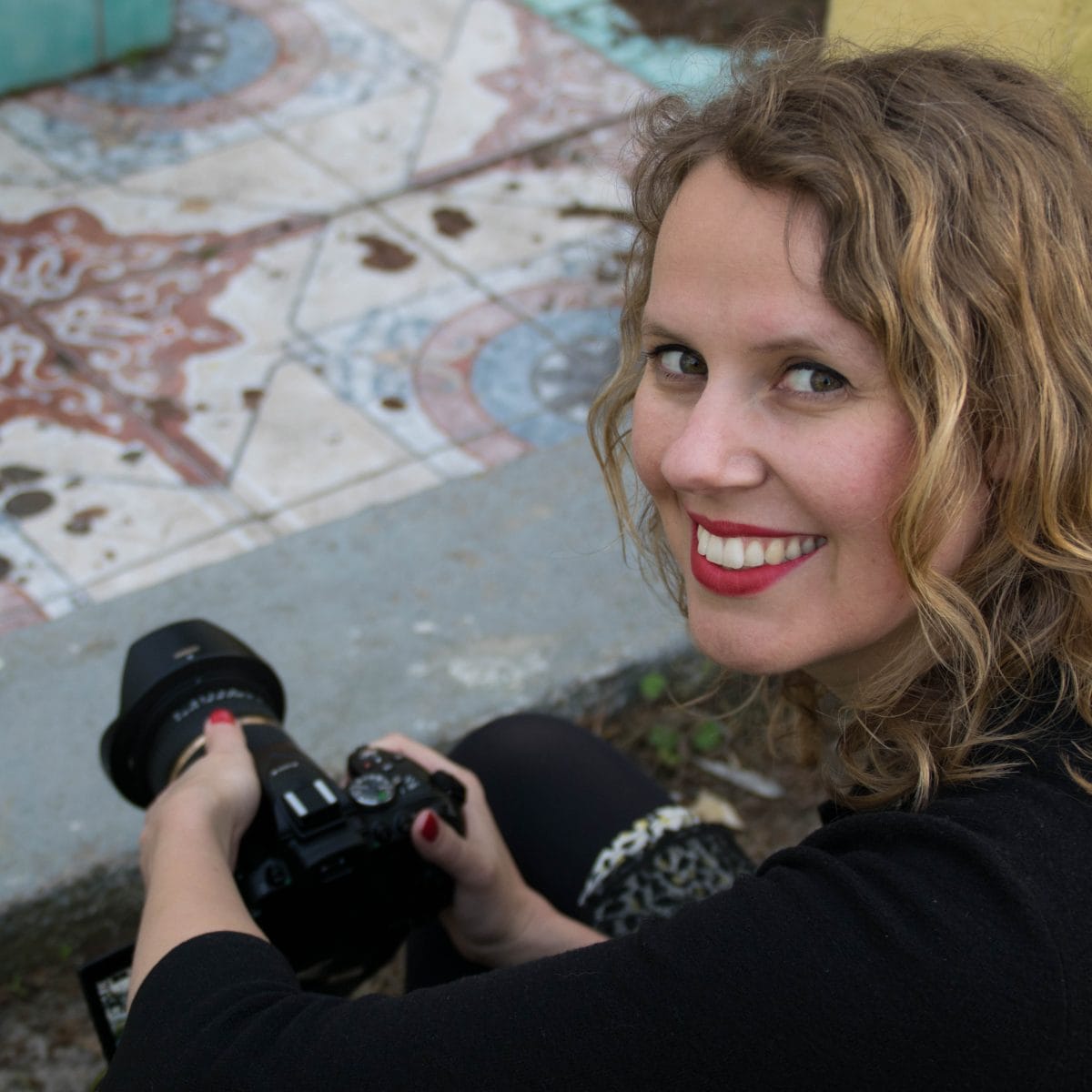 I'm Karine, a French girl living in the South of France and I'm the girl behind Eat my Bones. During my free time I enjoy taking pictures of my small skeletons friends : Edgar, Rebecca and Peter. You can follow my adventures on eatmybones.com