Brick Fanatics is excited to announce Brick Fanatics Magazine, a new LEGO-based publication for all fans of the brick, available for purchase now. We (read the Stuck In Plastic Crew) are proud to be part of this very first inaugural edition. Here is what they have to say on the very first paper issue. A different kind of Feature Friday, on a Saturday morning nonetheless.
The Magazine, what is it all about?
Brought to you by the team behind brickfanatics.com, Brick Fanatics Magazine is a new 80-page, A5-size print magazine all about LEGO. For fans of the brick looking to build upon their hobby in any way they want to, including some exciting toy photography.
The magazine is packed with brick-based content. From tailored sections to one-off features, Brick Fanatics Magazine is carefully designed to give the reader (that is hopefully you) an immersive and comprehensive LEGO experience in each and every issue. And knowing the crew behind Brick Fanatics we are sure they will deliver.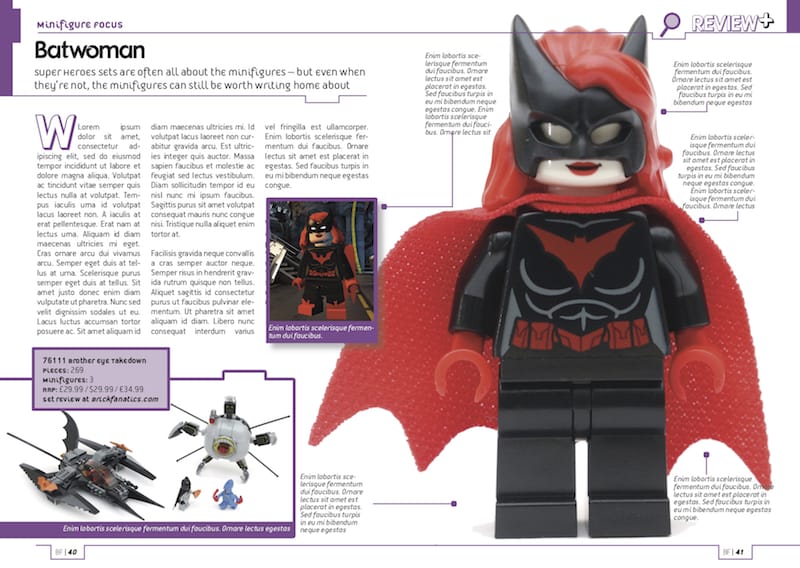 Inside the magazine
There are three regular sections to Brick Fanatics Magazine – On Topic offers insight, opinion, statistics and humour on the latest goings on in the LEGO world. Review+ brings a new level of focus and presentation to the most interesting LEGO releases with more than just simple reviews. And last but not least, Retro provides a healthy dose of nostalgia, from fun facts on classic sets to new builds in old themes.
The Regulars
Each issue of Brick Fanatics Magazine also has columns from Christian Faber, a man involved in many of the LEGO themes you will have played with over the past 30 years; Kevin Hinkle, fresh from 12 years working at the LEGO Group and bursting with fascinating stories from behind the scenes; and innovative fan builder JmeWheeler, whose quantity of LEGO bricks is matched only by his number of ideas on what to do with them.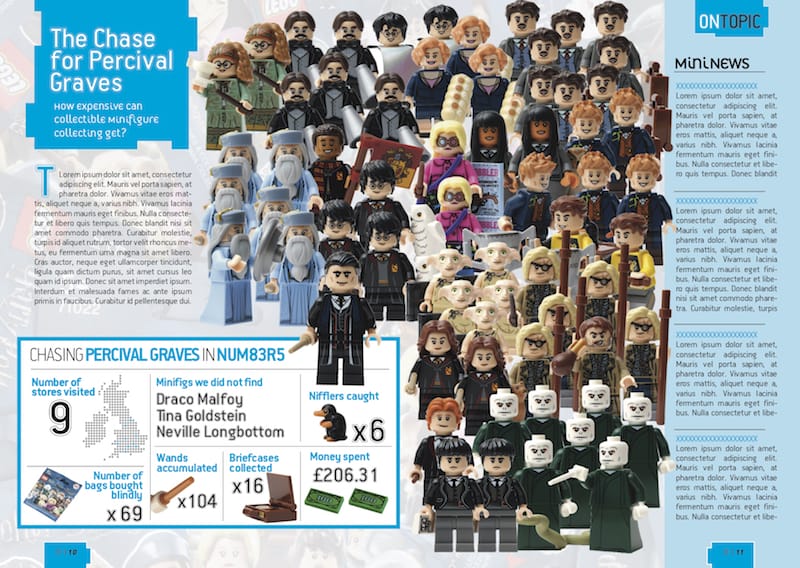 Alongside all of the above, each issue contains LEGO builds, tips, graphics, interviews, features and much more. There is a lot to discover in every issue of Brick Fanatics Magazine, and something for every LEGO fan (and we did hide a sweet gem inside, curious if you will find it)
Brick Fanatics Magazine's Review+ section is about more than just reviewing the latest LEGO sets…
The story behind Review+
In developing Brick Fanatics Magazine, one of the first sections that we put together was Review+. Love them or hate them, set and product reviews are a staple of any LEGO media outlet. Be it website, YouTube channel or magazine. There's an audience out there interested to hear opinion and observations on what's available to buy, build and photograph.  Yes, we are sure this magazine will inspire also the toy photographers in unknown areas. And if you are new to Stuck In Plastic, you know we like our Creative Reviews as well.
The reality of print deadlines and the fact we have a healthy review section on brickfanatics.com meant that incorporating reviews into Brick Fanatics Magazine was a unique challenge. We still wanted to offer coverage on the latest LEGO sets released and recognize capitalize on the way that a print magazine can use text and photography. Yet we wanted to do so in a different way, and offer readers of Brick Fanatics Magazine something more than just straightforward reviews, something truly worth their money.
Allow us to introduce you to Review+.
Review+
Pairing smart writing with eye-catching photography is just the starting point in Review+. We lead each issue with a detailed analysis of a set that has caught our eye and fill the pages with as many facts, figures and callouts as we will with a review copy and large images.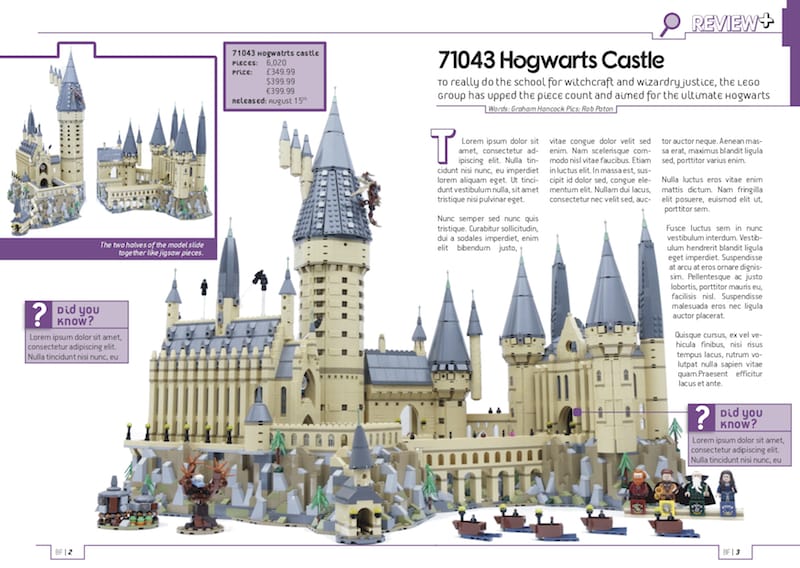 We want to give you a fun, informative and engaging experience, page by page. And we are always looking for an opportunity to give the reader even more than that – Issue 1's look at 71043 Hogwarts Castle, for instance, includes a walkthrough from its designer, Justin Ramsden.
Our desire to dive deeper into the latest LEGO releases continues with unique focuses in other Review+ features. We may pick out interesting minifigures and tell you more than you think you already know about them; or find comparisons between new and old sets, important or unusual; we may be drawn in by a particular technique used in a set and explore its concept and potential; we may decide to test a set to its true limits all for the love of destruction LEGO – whatever the rabbit hole a set offers, Review+ will be diving down it.
Beautiful Toy Photography
Importantly, we recognize that print media has the potential to use imagery and text in creative ways that online platforms have still yet to offer. And Review+ is just one section of Brick Fanatics Magazine that aims to take advantage of that. Each issue, we will task some of the LEGO community's most talented photographers with giving you a completely new way to look at that set you may have been eyeing in the LEGO store. Issue 1 has the Stuck in Plastic team work their magic on 21311 Voltron.
You may have read a review or two on this set, but, have you seen an artist play with it?
Thanks Rob, it was for sure a creative challenge and we will tell more on that once the first edition is on the shelves on our respective blogs. 
Review+ is all about offering more than just straightforward reviews. Clever writing and engaging photography is just the starting point for a section we guarantee will draw you in. Come to brickfanatics.com for and be one of the first to subscribe to Brick Fanatics Magazine for something special. 
The SiP Footnote
We want to thank the Brick Fanatics Crew for having us join the party. We can't wait to get our hands on this first edition, and we wish the whole Brick Fanatics team an awesome start of what is for sure going to be an awesome magazine. We had great and challenging fun with the Voltron review and there will be some other extra sweet toy photography hidden inside the magazine.
We ordered our copy today, will you?
Stuck In Plastic.
The creative collective of toy photographers.