Have you ever asked yourself why you were doing the things you do, the things that you like, the things that motivate you?
That is the question Shelly asked me. And to be honest, it is not an easy task.
It's like asking Bruce Wayne why he became Batman or Anakin Skywalker why he became Darth Vader…
What is my origin story?
Maybe let's start with some information about me. My name is Julien, I am 28 and I work in aeronautics, as an engineer, in France. So nothing directly related to photography or toys, for that matter.
I have been a big fan of Lego since my younger age and I came back to the brick a few years ago, collecting minifigures, mainly from the Star Wars and the Super Heroes universes.
At the same time, I have always enjoyed taking pictures, especially during my trips or during air shows. So I have a lot of pictures of aircraft, architecture and landscapes (some still available on my Flickr account). For me, photography is a way to escape from the daily world and flee all my problems. When I am taking pictures, I am focusing on the moment and nothing else matter.
What about Lego photography?
Well, I had been a follower of several of you for some time before I launched myself and I really enjoyed your pictures. And one day, it clicked. Why not make myself a picture with Lego? I have a camera and I have minifigures.
I started taking pictures at home, in my living room and after posting them online the feedback was so positive, it motivated me to continue. Quickly after my first pictures, I launched my first photo project, the #100_shadows project. With a goal of 100 pictures, it gave me purpose.
I also figured out that It could help me improve my technique as a photographer.
One thing you should know about me is that I am a self-taught photographer and I have always learned everything by myself (Photoshop, Lightroom, photography techniques…) and when I find something that motivates me (a project of some sort), I push myself beyond my limits to reach that goal.
So, to improve my Lego pictures, I started taking pictures manually (now I don't use the Automatic mode of my camera anymore). I bought some gear (tripod, light, reflectors,..) and quickly learned how to use it.
I hate to push to the world pictures that I don't like. I am very critical over my own work and I have difficulties to upload a picture when I am not a 100% satisfied but seeing the feedback and discussions we can have on social media, I may be too difficult with myself… If I were only listening to myself, you would not see a lot of my pictures. But with those exchanges and reading about other photographer troubles, I am learning a lot. That is something I found really interesting with this community. You can talk about your problems and learn something new everyday.
After learning to create a small studio with lighting, I decided to go further, to harvest the power of the sun and I left the comfort of my house to explore the world and take pictures outside. New challenges, new goals, new experiences.
Back to the Why?
Legography, as a project, liberated me. In my daily life, I am someone who is really shy. But, since I started taking pictures of Lego, I don't mind lying on the ground in the middle of a crowd to get my shot. People are looking at me, people are talking to me, but I don't mind (a little bit at first…). I have even crossed borders to meet some of you during the last Stuck in Plastic toy Safari. This was such a great moment. I can't wait to renew the experience.
Legography is also a way to tell story and share emotions. It is often easier for me to transpire my feelings through the medium of photography rather than in person (my shy side, once again). I can create characters and have them evolve in a unique environment. You don't see the world with the same eyes when you spend so much time on the ground.
Legography, and toy photography in general is a medicine and every one can use it. Its good for you, either as a maker or a follower/watcher. When I make pictures or when I look at your creations, it quickly brings a smile on my face. I have some pictures from our toy safari picture exchange hanging on the wall in my office. When I have a bad day at work, I spend some time looking at them, remembering the good moments and I immediately feel better. And same as HerrSM, I believe that photography helps me not turning insane but he tells it much better than I can, in his own words.
Legography can also be a disease (but a good one – if you can consider a disease can be good) which can change people. I have seen photographers completely opening themselves through toy photography, and I am an example of that. Now, I have also friends and colleagues who carry toys with them and take pictures of them during their trips.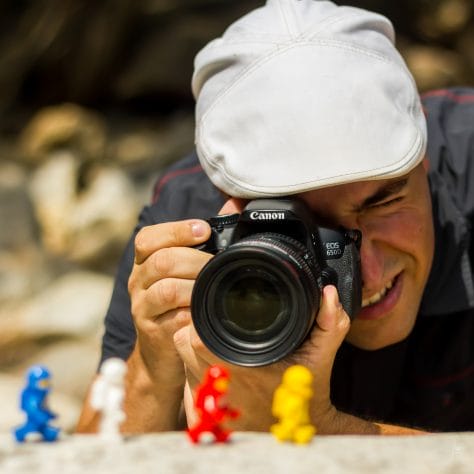 Toy photography being a cure, it is also contagious. "You", the community, gave me the disease, and since then, I have myself spread it around. Let's continue the contagion.
~ Julien / Ballou34
PS: Thank you Shelly for this opportunity to write once again for the Stuck In Plastic blog. It is always a pleasure to write for this wonderful community.
Aeronautics engineer by day, toy photographer by night.
Exploring the world with his plastic figures.