The LEGO Batman Movie Minifigures Review
I've never been a completionist when it comes to the Collectable Minifigure Series'. Sure, I'll snap up multiples of the ones I really like, Hotdog Guys, Zombie Cheerleaders, Sharks, Penguins, but I've never been one to complete a series just for the sake of completing a series. However, when I first saw The LEGO Batman Movie Minifigures, I wanted them all. Come on! There's not a weak link in this series. And it's Batman!
It's not just Batman, it's five Batmans! Um, Batmen?
So when LEGO offered to send us a box pre-release to review, I nearly threw my shoulder out putting my hand up to be the lucky recipient.
As there are 20 minifigures in this series, I figured I'd split the review into two. Heroes vs. villains. Good vs. evil. Or should I say, good vs. just as good?
Let's start with the villians.
Arkham Asylum Joker
Dressed in Arkham Asylum uniform Mr J is one of the few LEGO Batman Movie Collectible Minifigures with a double-sided head, one a toothy grin, and the other a super sad face. I'd be pretty sad too, being locked away in that psychiatric hospital for the criminally insane.
The printing on the prison uniform is similar to the Arkham Asylum Breakout set Joker, with a little more detail including leg printing, and a simple "ARKHAM" emblazoned across the back.

Nurse Harley Quinn
Although  Harley Quinn is a violent and unpredictable felon,  this Minifigure of her wouldn't suggest it. Perhaps that's the guise she wants to portray?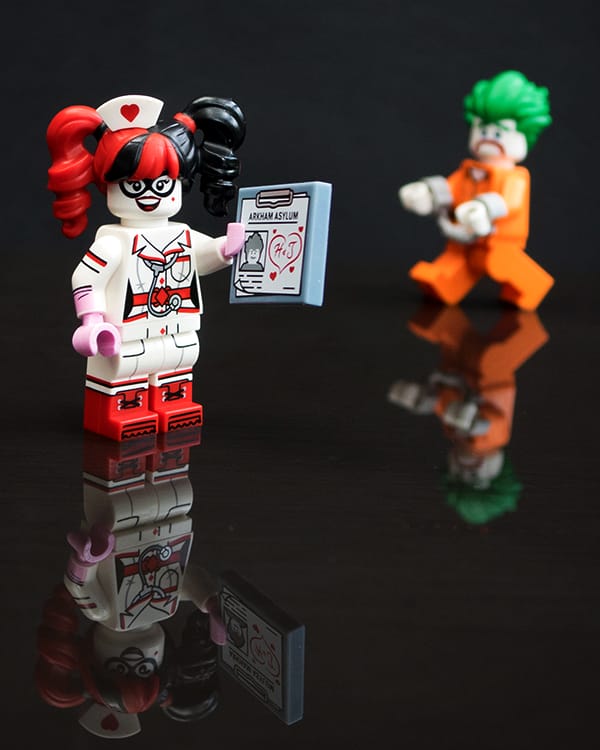 This is my first look at this hair piece for Harley, and I love it. The addition of the nurse's hat as a separate piece is cool. The torso and leg printing are detailed, especially the laced up boots, but my favourite detail is the continuation of the pink rubber gloves up the arms. The "H & J" scribbling on the Arkham Asylum clipboard is a terrific addition.
Catman
I first thought this was Batman in a Wolverine outfit, but no, it's Thomas Blake, Catman. The world-famous trapper of jungle cats who turns to crime because he has grown bored with hunting and has squandered most of his fortune. He believes his outfit gives him a cat's nine lives.
So why have a bat-like head? This is the one Minifigure that kinda puzzled me. Sure the ears a smaller than the Bats', but they're still more bat than cat? Apart from that, the brown utility belt is great and I see plenty of Batman/Wolverine shots being made thanks to the addition of this Minifigure.
Red Hood
Before plunging in a vat of chemicals, where the toxins permanently disfigured him, turning his hair green, his skin white and his lips red, there was Red Hood.
Underneath the hood, we find a masked head which somewhat resembles Deadpool. And underneath the Hood's cape and shoulder armour lies some pretty dapper formal attire, complete with purple vest and bowtie to match his gloves. Mighty sharp!
Calculator
The Calculator began his criminal career by crossing the country and getting into fights with various superheroes. He would then press a button on his special costume that would analyse and record their battle tactics, ensuring that hero could never beat him again.
Mathematics and analysis? My kind of villain! The inclusion of "07734" as the print on his visor is pure genius! The 1×1 printed calculator tile (which, in my excited haste to build and photograph, I neglected to take note of!) also attaches onto the body wear.
Zodiac Master
The Zodiac Master is a masked super villain who made his presence known in Gotham City by accurately predicting a series of disasters, all of which he secretly orchestrated. Charlatan!
The inclusion of the zodiac symbols, as gold printing is great, although not all are represented in the 6 prints on the legs, the 8 on the torso and the 2 on each arm? Libra appears 3 times?
Zodiac's accessories represent two zodiac signs too; a fish for Pisces and a new flat silver crab for Cancer.
Orca
Grace Balin attends Gotham Gate College and quickly becomes fascinated with the ocean. Grace uses a chemical formula that she derived from an Orca whale in the Gotham Aquarium on herself and that is what causes her to transform into Orca.
Although this Minifigure first appears to be a simple adaptation of the series 15 Shark Suit Guy, we get printed legs, a different print on the head piece and torso and a wonderfully useful head. The mouth, tongue and uvula (the punching bag of the mouth) offer up so many potentials for combining with other Minifigures. I can't wait to let my Hotdog Men take a bite back!
King Tut
King Tut was a villain and enemy of Batman created specifically for the Batman 1960s TV Series. The resemblance to Victor Buono is uncanny, something fans of the original TV Series will surely get a kick out of.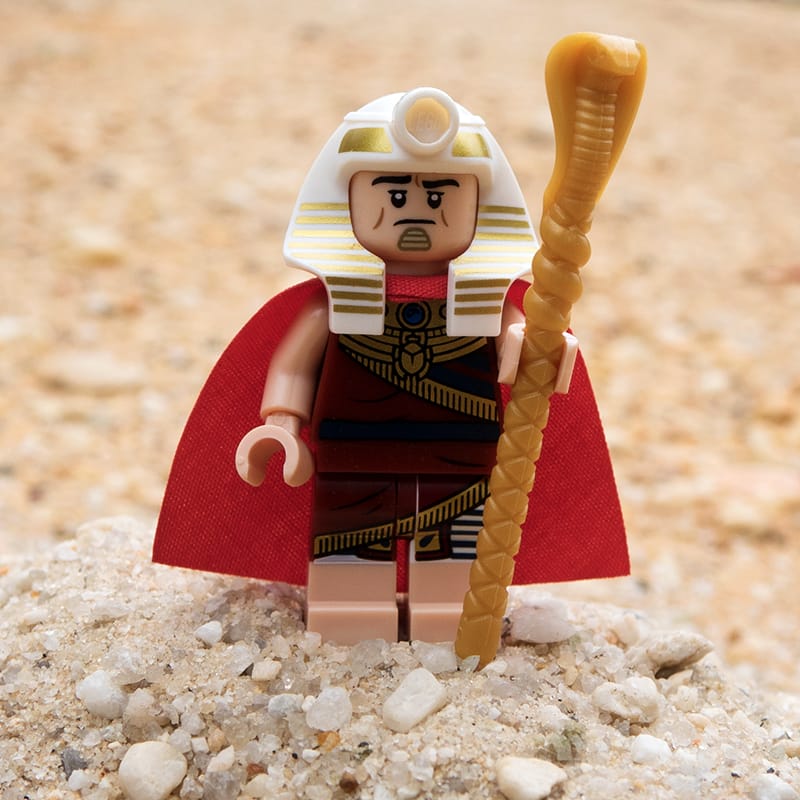 As well as a wonderful nod to the original TV series, this one of the Minifigures that will transcend the worlds of superheroes into others. The torso and leg prints are great, all the way down to the scarab beetle.
March Harriet
March Harriet, is a grifter and escort who wears a rabbit themed outfit, so I was a little surprised to see her included in the series. I'm glad she is though.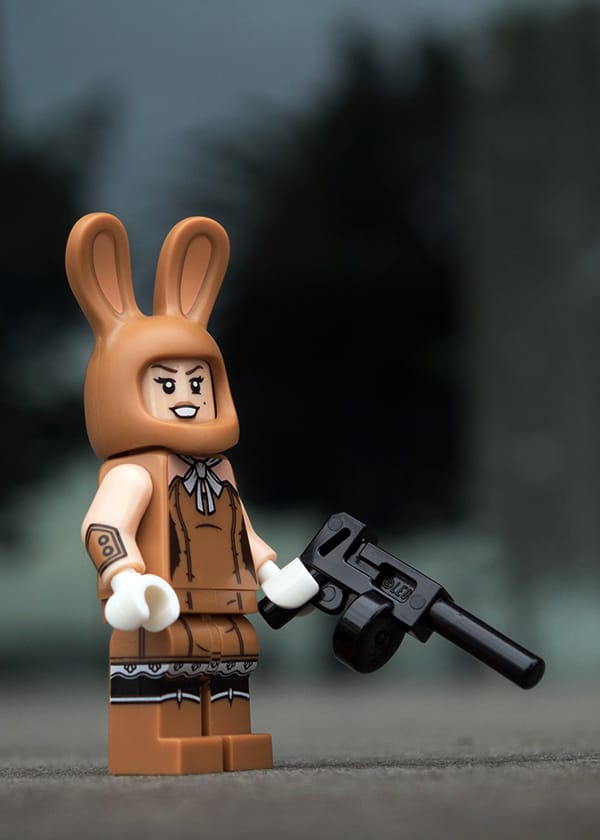 The cheeky bunny outfit has some terrific printing. The face print is also cheeky and wonderful. The bunny head piece is the same as the series 7 Bunny Suit Guy, yet in browns. And the Tommy gun is a wonderful accessory.
Eraser
The Eraser was the chosen alias of Lenny Fiasco, who turned to crime after living his college days under constant mocking and taunting by his classmates.
If I had another kid, I'd call him Lenny Fiasco Wilson! And I would love him as much as I love this Minifigure. The yellow pinstripe suit is wonderful, all the way down to the wingtip shoe prints. And the printed tile with an empty "to do" list of things to erase is great too! But the head! Oh my! I love this piece so much. The molded, printed cylinder withe the pink round tile on top is just ace.
Mime
Camilla Cameo is a talented, practised mime. As the Mime, her main weapon is a pistol, with a silencer obviously! Her backup weapon is that her gloves are electrified.
Mime has one of my favourite head prints. No doubt this head will make it's way into many LEGO shots as the first true female clown/mime print. The scowling nature, with its contradictions of what a clown should be, fascinates me. We also get a newly coloured mohawk with her, blue.
Tune in next time when I review the heroes from this wonderful series, same Bat-Time, same Bat-Channel!