Had I known this would come up, I would have packed something flashier with me when I left for my trip to Seattle. But there is actually a reason why my bag is like it is.
First the bag itself. I bought it from Florence, Italy, in 2008 because, well, I needed a nice bag. I didn't want to buy a Mark VII British Gas Mask Bag because that would've been too obvious for a movie fan to carry around, the leather bag was a great substitute for that and takes an A4 paper nicely.
[clickToTweet tweet="Had I known this would come up, I would have packed something flashier with me when I left for Seattle." quote="Had I known this would come up, I would have packed something flashier with me when I left for my trip to Seattle."]
The camera is a Canon G16 which I bought about a year ago to replace my old Ixus 60. The reason I ended up with the G16 was that, after reading some reviews it seemed like a fine travel compact, it is also reasonably close to Canon SX280 camera, which I know works really well with miniatures. I have used it quite a lot and it has replaced my big DSLR as the camera I take along to most, if not all my travels.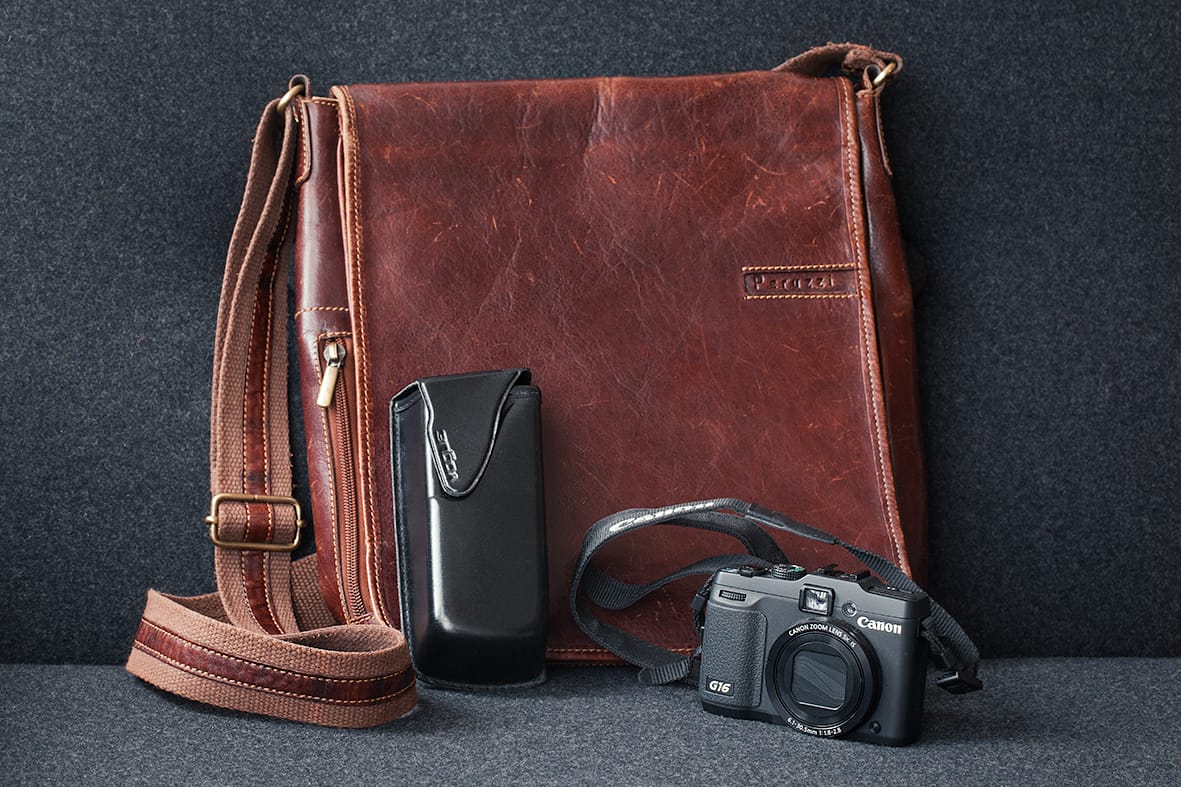 Then we get to the the black sunglass case, it is not for sunglasses, as you might have guessed, it's for my traveling companions.
As I left home I grabbed some of the little guys with me, I got two Lego Batmans, a Snowtrooper and the collector series' Werewolf. The IG-88, or Iggy, has been with me on many trips, got into the spotlight on just one of the trips so far. Then there is the Tardis, purchased from Chris McVeigh, and, yes, it's Doctor Who (Peter Capaldi) custom, built by the kid.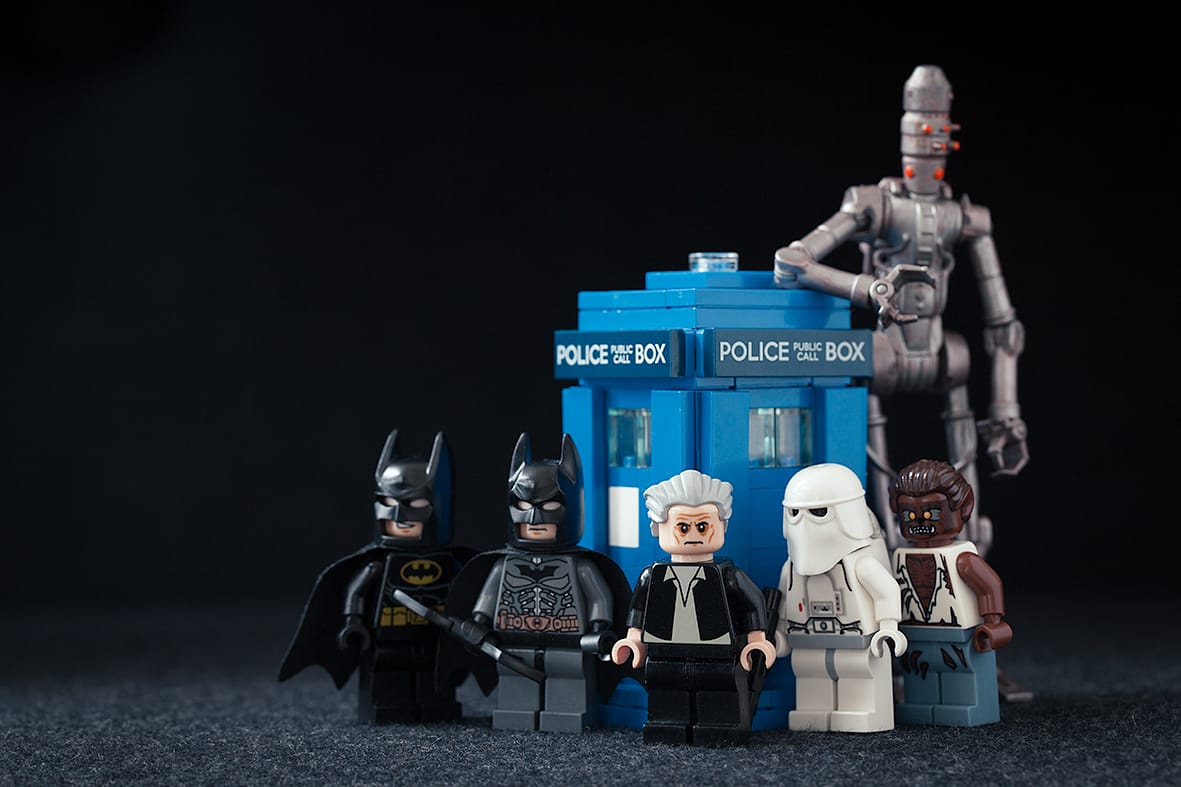 There is a story why I took the good Doctor with me. In June 2005 I was in New York and I had a toy with me (yes, I have been doing this for a while now), I took a picture of it on the top of The Empire State Building as a surprise for the kid, he didn't know I had the toy with me. I wanted to reprise that surprise with the Lego Tardis, it being a time and space travelling machine and all, but the kid got onto me, figured out what I had in mind and insisted I took the Doctor with me as well. The Doctor is a custom he built because we really liked to watch the tv-show with Peter Capaldi. I took some shots of the Tardis and the Doctor on top of the Seattle Space Needle, but they didn't turn out that good. But perhaps there is a pattern here, the next time when I'm in a city with a tower, I know what I must do.
There wasn't much more in my bag, except a bottle of water, not even a spare battery, which I bitterly realized one day out of town Seattle. There is a reason for this spartan selection, other than the fact that I didn't want to carry my big gun, that is (the Canon 5DMK2 with extra lenses, it's really heavy!).
I happen think that it is very dull to always use the regular tools, it just feels too easy, like… I don't know, don't you ever want to draw with a straw and ink instead of oils all the time? I do.
I wanted to challenge myself into learning to push the G16 a little, I don't know it so well but I knew I hadn't reached the end of it's capability by a long shot. It's controls still feels awkward and it just takes me a lot of time to find my way around with it. It was something I wanted to learn while I was on the trip.
Also, I didn't want to carry too many toys with me, I have often carried just one and forced myself to make do with that alone. It doesn't always work but it is a nice excercise, trying to manage with what you got. This time I took the most I've ever had along with me, I think, it's still veeeery little compared to what Shelly and Boris carry around.
In the end I got better with the G16, for sure, but I probably outwitted myself miserably this time. There were moments I truly hoped I had taken the big camera, the things I saw were just too amazing to capture with a point-and-shooter, I really missed my 16-35 mm zoom lens and I missed the resolution of a full sensor camera. I was so focused on trying to find a new angle to the small subject that I missed the big picture.
Next time I will carry it all!
Ps. Writing this gave me this annoying earworm from 1985. You are welcome.
Full time illustrator, part time photographer. As such, I created blizzards with Star Wars Lego and had an influence on how The Lego Movie looks like.