Stefan and Scott got the opportunity to get on a little virtual trip and take a closer look at the Singapore Skyline in the Architecture set listening to the number 21507
This architecture set consists of 827 pieces and is aimed at the 18+ crowd. This is the most pieces of any city skyline set to date. The build measures an impressive 29 cm wide, 9 cm deep, and 17 cm tall.
The build is solid with SNOT techniques throughout and a number of printed tiles and bricks that add convincing detail.
The set highlights Singapore's diverse architecture and features the Marina Bay Sands resort, the Brutalist-styled OCBC Centre, the towering One Raffles Place, the historical Boat Quay, the neoclassical Fullerton Hotel, the Victorian Lan Pa Sat market, and the iconic Gardens by the Bay Supertrees.
The overall impression is lush and colourful!
City By Night
Before the pandemic began, Scott enjoyed travel photography. Given current global circumstances, he's now only travelling vicariously via the brick world. In thinking back to those earlier days, Scott remembers exploring cities at night when they come alive with light. Neon signs aglow, light trails galore, and skylines illuminated. While many put their cameras away at sunset, this is when he hits his groove.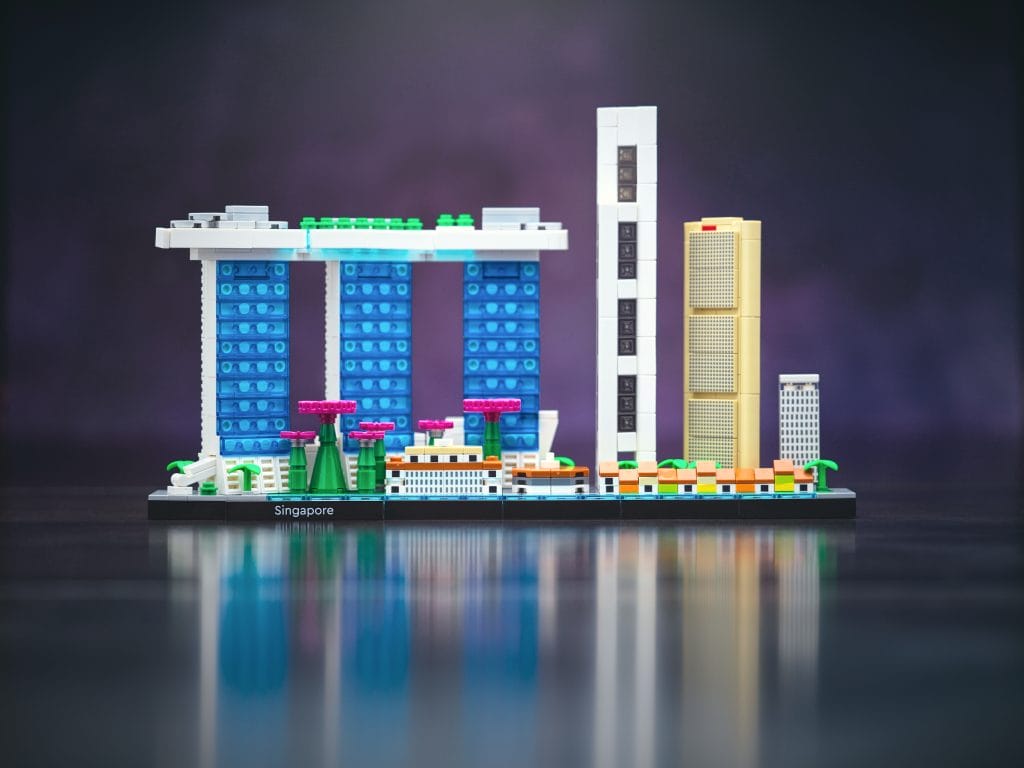 A good pair of walking shoes
Not all those who wander are lost, and the best way to explore a city is on foot. A good pair of walking shoes is essential equipment, and even a short stroll can provide an entirely new perspective on a view. Travelling with a small camera and a compact prime lens (or two) not only lightens the load, it also helps keep you less conspicuous. Additionally, small and light camera gear allows the use of micro tripods which opens the door to the world of long exposures.
Dress to impress (or at least stay warm)
To help with night photography, learn and memorize your gear functions so that you can do them deftly in the dark, consider scouting locations in daylight so as to take best advantage at night, and, as always, be aware of your surroundings for safety's sake. And dress so you can add layers, as temperature can drop quickly!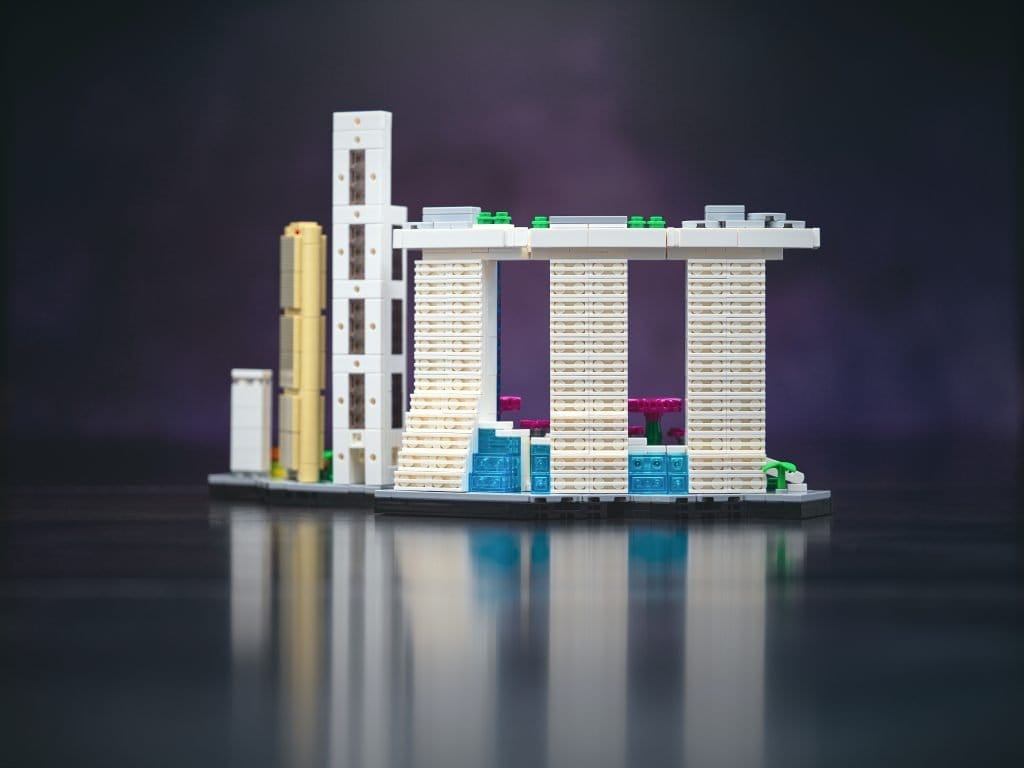 Scott will always gravitate to water: rivers, canals, fountains, even rain puddles! The combination of city lights, reflections, and long exposures can transform the mundane to the otherworldly! For these LEGO architecture photos, his dining room table and a paper backdrop had to make do, but he's inspired to travel again.
Singapore would be fun, and so would bringing his minifigure friends along for the adventure!
Switching on daylight
Stefan hardly ever managed to get out at night for a photo safari. And though he may have travelled far, there are still innumerable places for him still to visit. The new Singapore skyline is a great source for being tempted to travel again. Until we know better how the pandemic will develop, this set will have to be his destination.
He approached the city as he usually would: by the light of day.
Curious to explore new places
The city skyline of Singapore has fascinated me for a long time. I do admire people who have to deal with limited space. Just as if you were to build a city with LEGO bricks in your own home and only have so much room to do so. I think LEGO senior designer Rok Zgalin Kobe again did a great job in assembling the architectural highlights of this city-state.
Thanks to Scott I made up my mind for my next trip to go out at night and explore different views of a destination. And hopefully, I'll get to visit Singapore.
This set was provided by The LEGO Group for a creative review.
Seriously whimsical LEGO photography
Celebrating the essential business of play
Posts daily unless otherwise
Please enjoy irresponsibly
Co Authors :