Remember a while ago, I reviewed the New York City using lights provided by Lightailing. Shortly afterwards, I received a few more Architecture sets provided by our dear friends over at The LEGO Group. Along with other Stuck in Plastic crew and some of our close friends. This was an opportunity to travel and rebuild the world.
However, photographing architecture is no easy task. Photographing architecture in real life situations has its challenges, things like perspectives, making buildings look straight and avoiding distracting distorsions. All these details require consideration before shooting architecture.
Welcome to New York
The big apple or a concrete jungle, The city that never sleeps, welcome to New York. As I mentioned in a previous blog post 'I Love New York' and I haven't personally set foot in the city, but I love the romanticism that surrounds this captivating part of the world.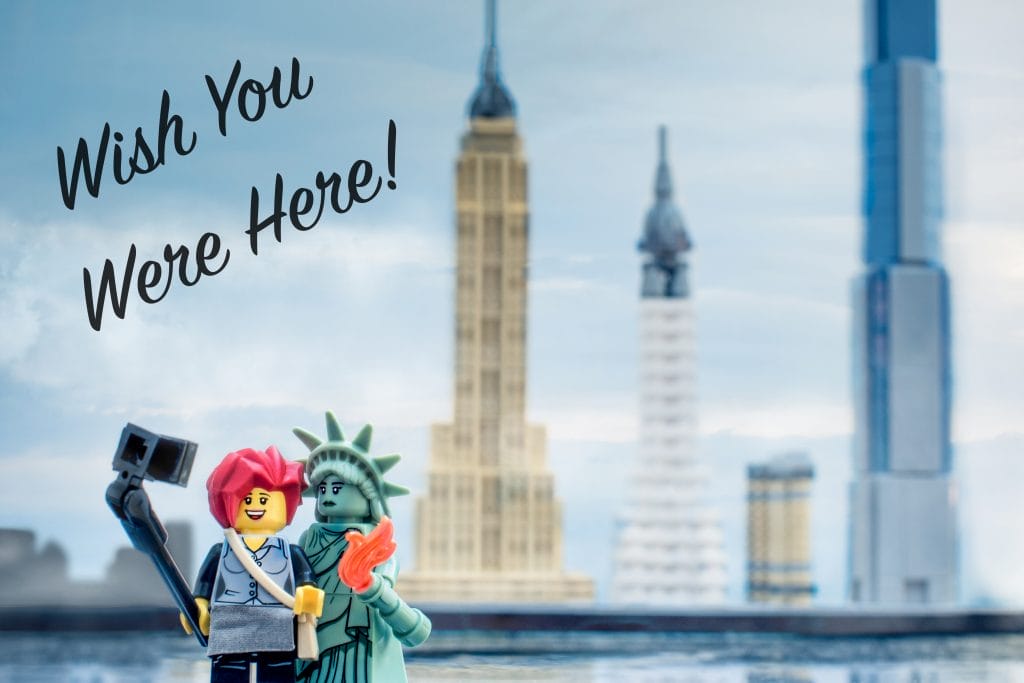 Because I had photographed this set before, I felt the need to shoot it in a way that followed on from the night scenes. However, this time I turn off all the lights.
They say New York is the city that never sleeps, but wait what if?
What if there was a complete blackout?
Would you be able to identify the building just by their silhouette and architectural design?
Why is The Flatiron Building famous?
This iconic building has had its fair share of photographic interest over time. Photographers such as Alfred Stieglitz, Paul Strand and Edward Steichen in the early 1900's frequently photographed the newly erected Flatiron Building that could be seen looming behind the trees. Influenced by these famous images, photographers are still to this day capturing this iconic building in different art forms (see Flatrion fineart here). And each angle tells a different story.
But why is this building famous besides photography. It was one of the first steel skeleton structures whose constructed was made visible to the public. The structural engineers reinforced the triangular frame in order to ensure the slender building would withstand any gusts as it stood within a wind tunnel.
Out of all the elements of the New York skyline, I have to say LEGO stood up to engineering construction based on this model being very robust when moving around.
Tokyo
A long haul flight and we head to our next destination. With much less skyscrapers than New York City. The vast landscape of Tokyo has some of the best skyline views in the world.
This striking LEGO Architecture Skyline Collection Number 21051, I think makes a great souvenir for anyone who has visited, as this is a beautiful recreation of Tokyo. Together with Tokyo written on the nameplate, you will see this set boast some of the most iconic buildings that Japan has to offer. Scale models of Tokyo Skytree, the world's tallestest free standing tower, Tokyo Tower, Mode Gakuen Cocoon Tower and Tokyo Big Sight. I love the cherry trees that fill Chidorigafuchi Park and the iconic Mount Fuji completing the background.
From iconic landmarks to the city skyline, you will find this set is a good size, measuring at 28cm high, 27 cms wide and has a depth of 10cms, you will not need lots of space to display it. However, you might want to purchase a Lightailing light kit to compliment this amazing structure.
The Taj Mahal
Remember back to June, yep long time ago right! Both myself and Boris were fortunate to be presented with this incredibly detailed build, by the designer during an RLFM interview session. Needless to say as fascinating as it was to be presented this set. I could immediately see the amount of small detail that had gone into the design. No way was I looking forward to photographing this particular build because I thought I could not do it justice.
Then amongst my other architecture delivery, was The Taj Mahal. For sure this set was accompanied by its own challenges in a detailed build (my son took on that challenge). Twelve hours later and it was complete. It looked fragile. The construction is fragile,
In order to showcase this set in what I personally felt was a more realistic setting, I immediately referred to images that had resonated with me through the years. I knew I had to incorporate some sort of reflection to give it an authentic look and feel. Then I had to think about how the highlights and shadows would make the individual inserts stand out, I was extremely mindfull of this particular details, as the designer had pointed out during our interview.
Laid buried deep inside is a chamber, the detail continues inside the Taj Mahal when you remove the roof. This set hosts lots of elegant, intricate and interesting features and it looks as realistic as how I imagine the real thing. However, it is wider than the Skyline models, measuring a square 24 cms wide and contains 2022 pieces. (A number very apt for this year ;)
From Paris with Love
During our 2021 Christmas Card Exchange, I received my first postcard from Paris with Love. This prompted me to fit the Briksmax light kit to my magnificent Paris Skyline set collection number 21044 and the final results did not disappoint. More to come on that review later.
When I think of Paris, I think of the iconic Eiffel Tower, The Champs-Elysées, the Arc de Triomphe and the Louvre. I think about the romance that this dynamic city projects and all the love in the air. Then, I receive this magnifique architectural detailed model and it has me thinking about the Grand Palais and the Tour Montparnasse. I must go and visit one day.
Thank you to The LEGO Group for providing The Taj Mahal, Tokyo and Paris, they are truly beautiful. Each Skyline gives an accurate representation of these iconic cities of the world. Each set is as realistic as can be, and each scale model is definitely sitting pride of place on display in my home.