We know, we know it's only September, so don't panic. But do read on as we anticipate the arrival of a Santa' Visit in the form of the wonderful new LEGO Christmas Winter Village set 10293 due for release on October 1st. But wait, Santa tells us there is a presale starting on 16th September for all LEGO VIPs. When we had news that our dear friends at The LEGO Group were sending us two presents ahead of release, we couldn't resist getting all christmassy. We gave Julien and Bev the task of creating some Christmas magic.
Flashback
During the RMFL days back in June. We were given a sneak peek as Designer Chris McVeigh presented us with the finished build. He told us about his mother's secret cookie recipe and how he incorporated this tiny little detail into the set. After all what is Christmas without the smell of cookies baking in the oven, made with lots of love!
Twas the Night before Christmas
Picture the scene, it is the night before Christmas. As we snuggle up with family and watch tv or play some family games, you may even bake some cookies while we await the arrival of Santa Claus.
This brick built house is truly beautiful and full of exciting details. First we take a look at the exterior. A snow covered roof protects the family all warm and cosy inside. The house is made up of blue bricks and has a cute little elevation above the front door in which we get to spy a little present left behind hidden in the attic. The windows invite us to take a look inside, especially when we see the little bird sitting on the windowsill. Perhaps waiting for bread and cookie crumbs to take back to her bird box hidden in the snow covered tree.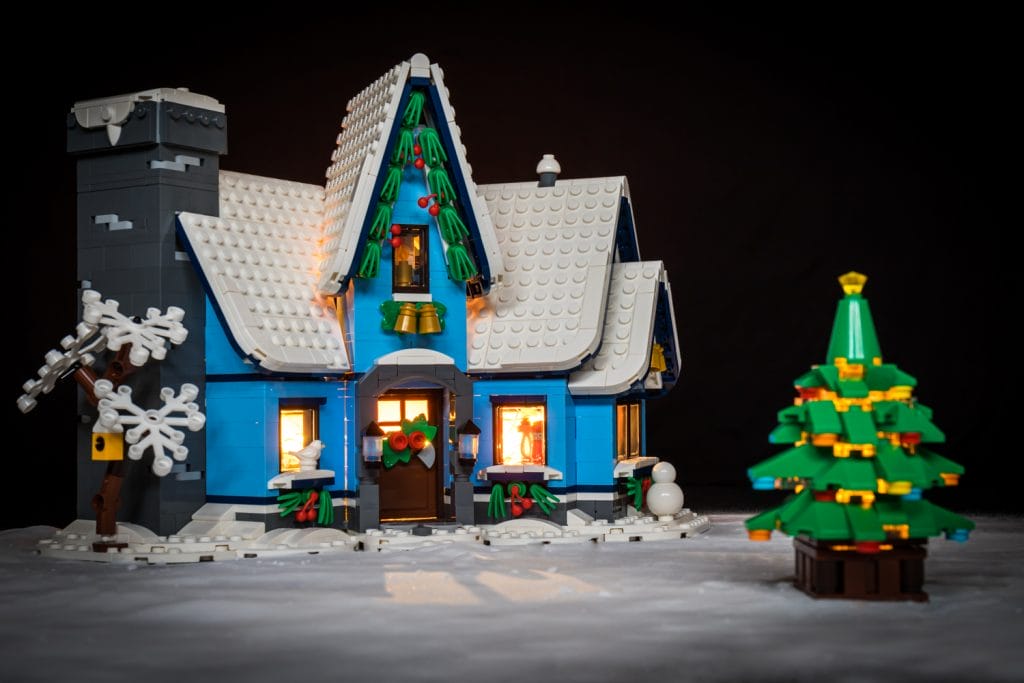 And the all important chimney stands proud covered in snow waiting for Santa to visit and drop down below. Not forgetting the Christmas Tree, decorated so nice and complete with its very own lights.
The Arrival of Santa
One red suit, one red hat, two black boots and a white beard perfectly groomed, and yet never to be seen. Beneath the moonlight in the still of the night, he visits from house to house delivering presents to boys and girls around the world.
Did Santa get stuck in the chimney? We can reveal, no he didn't. In true Santa style, he drops down the chimney with all the presents ready to place under the tree. Once inside the family home, there is lots to explore, from a fitted kitchen with super cute accessories, a table for the family to sit around, eating cookies and drinking hot chocolate. Then resting in front of a beautiful fireplace, before going up to bed.
You are really going to love this set as much as Julien and I do. On that note, we will leave it up to you to explore the inside on Christmas morning. So, while the Autumn leaves begin falling outside, we will leave you with a little Stuck in Plastic recipe to get you into the Christmas Spirit.
A Santa's Visit Recipe
by Bev
Ingredients
3 Cookies for Santa
1/4 glass of milk
1/2 Cup of Sugar & Spice
1 Spoon not naughty but nice
1 Cup of Love
3/4 Hang up the stockings high up above
Ps. Don't forget the carrots for the reindeers
Method
Go to bed early and close your eyes tight,
Make sure you are sleeping, so you don't see who's coming tonight.
Add some magic and some all purpose flour.
Add in the chimes of the clock by the hour.
Stir in some cookies and a little nice treat,
Add in a pitter-patter of reindeer feet.
Next listen for the clunk and the clatter, as Santa Visit's our house,
But no sound on the rooftop, not even a mouse.
Mix in the silence of Christmas eve night,
Bake until morning as the day turns to light.
Add in the presents that you receive,
And remember to dream, imagine and believe.
A final touch before Santa leaves, he greets with a snowman and gives him an extra little gift. On that note, from all the crew, let us be the first to wish you all a very "Merry Christmas," "Joyeux Noël," "Frohe Weihnachten," "Prettige Kerst," "Nadolig Llawen," "Hyvää joulua!" and "god jul!"
Let us know how you will be spending this Christmas eve, do you stick with tradition or do you go with the flow?
Stuck In Plastic.
The creative collective of toy photographers.
Co Authors :