(No, you can't)
When the crew of Stuck in Plastic asked us who might like to review some hot off the press LEGO Brickheadz I was quick to volunteer. Not least because my husband had suggested I can't buy any more Brickheadz until I find a suitable way to display the ones I already have. Unsurprisingly one of the other SiP friends recommended that I look into a divorce lawyer with grounds of unreasonable behavior…
The mystery theme
I had no clue what theme these Brickheadz would be, so the parcel from LEGO HQ was hotly anticipated. Just imagine my heartbreak when the courier had delivered early one morning. While I was out walking the dog and although my neighbors had kindly taken the parcel in and then promptly left for work!
The Rise of Gru
When I finally got my hands on the parcel that evening I was as excited as a child at Christmas!
There was not one but two boxes, each with multiple characters to build.
And all from the Minions series.
One box had Gru with Stuart and Otto, the other had Belle Bottom with Bob and Kevin.
The Minions looked epic, fittingly Gru was the first brickhead I had ever seen with a nose. And Belle Bottom had both an incredible afro and shiny gold earrings. The other noticeable feature on Gru was his hair, seeing the box description 'Minions – The Rise of Gru' but it wasn't a film I had seen or was even aware of.
Google is your friend
A quick Google search and I found out why I didn't know about it. Originally planned for the summer of 2020 (last year), the release of The Rise of Gru had been delayed initially until summer 2021 (this year) but has now been pushed out until July 2022 (next year) because of Covid.
A special set to hold in your hands.
Now back to the build.
Building Brickheadz is easy…
Part of the reason I like Brickheadz is that I can sit and build them in an evening. It's a great screen break and helps me unwind because I can get the general shape of the figure without following the instructions too closely. However, with the Minions being smaller I was kept on my toes putting them together. Once built I realized that even though I have plenty of Brickheadz, I rarely photographed them!
Mainly because they are just so square and brick-like, making it difficult to create emotion and movement, suddenly the photography part of my review felt like a mammoth challenge! Thanks SiP!
Taking pictures of them is fun…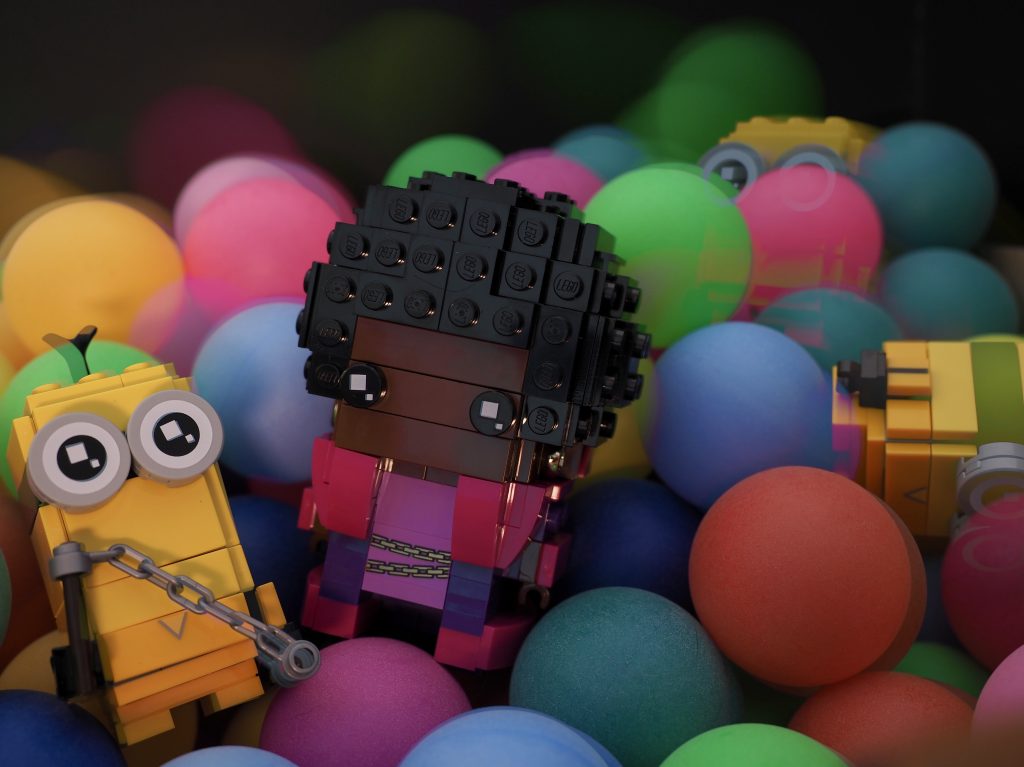 Fortunately, Minions are fun and a little crazy so I just started playing around with the multi-colored ping-pong balls I had bought for something else in lockdown.
This was not my best idea. While Brickheadz are more stable than minifigures there isn't an easy way to balance them on a stack of spheres. Bob fell in one of my long exposure shots. And so he appears ghost-like and I ended up liking that shot better than the one I was trying to achieve!
Bling Bling Belle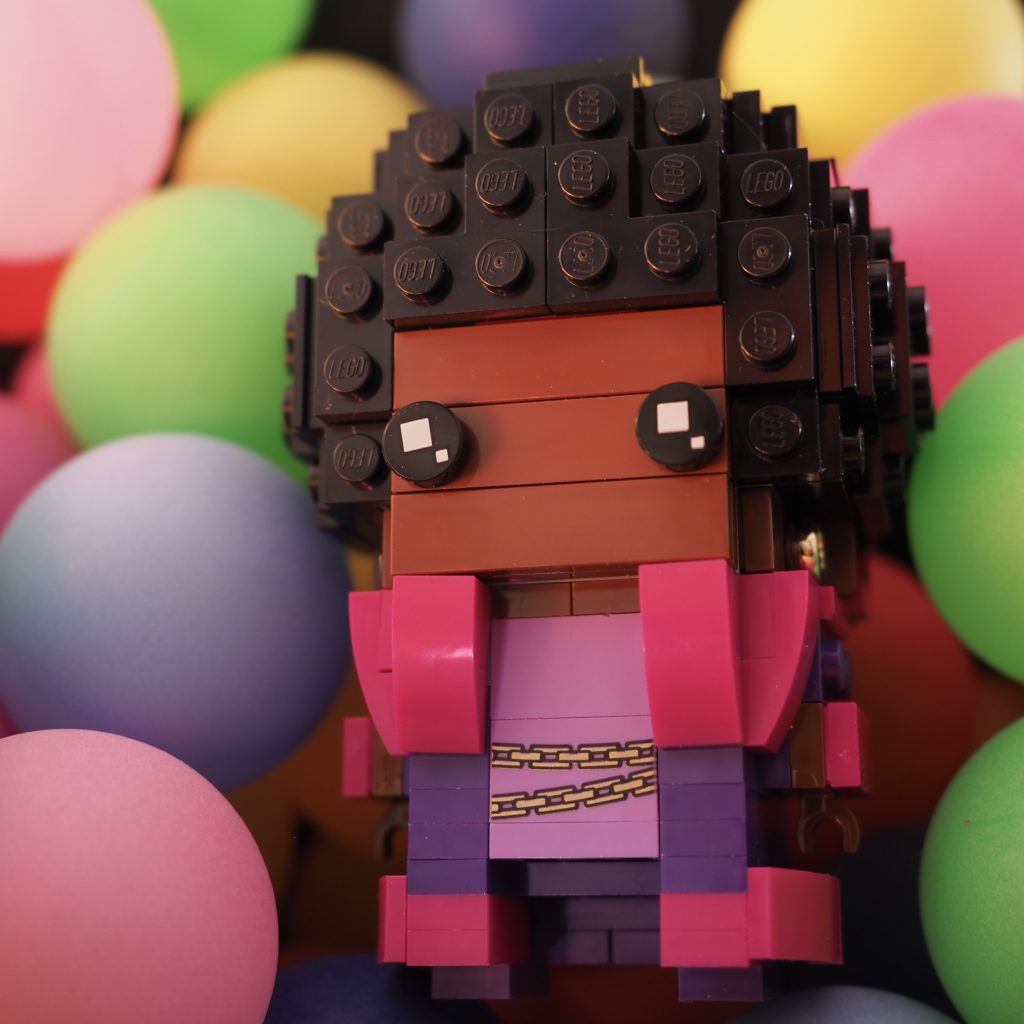 The bright colours of the balls gave a great stage for a Belle Bottom portrait. I really love the detail on this character –the gold rings used as earing loops, the bright colours of her outfit and the spherical afro just look incredible together.
Rembrandt it is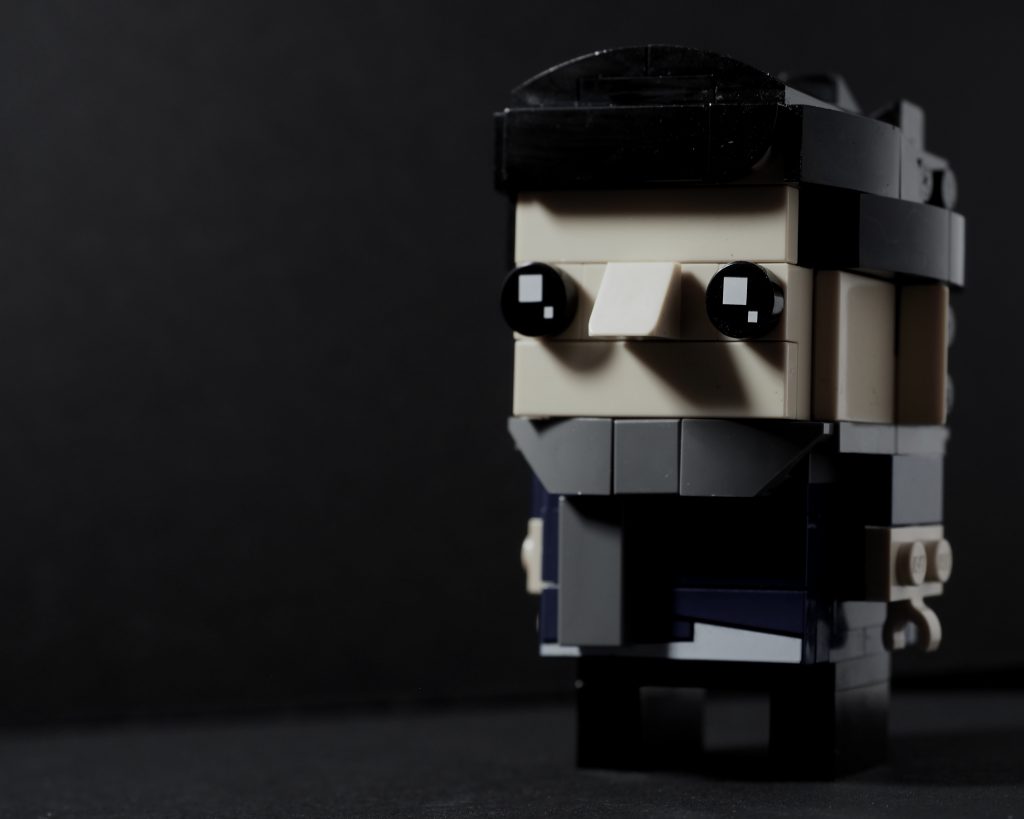 I decided Gru needed a dark foreboding portrait to look menacing. And so I tried to do some Rembrandt style lighting effect to highlight his nose. I find Gru a bit strange with hair. So he wasn't quite as recognizable in LEGO form. But I'm sure that will change after seeing the new movie when Gru (..insert teaser here). He has a custom-painted brick on the front (every model in the sets does). And his scarf is the same front and back. If I was a bit more creative I might have found a way to have it blowing in the air behind him!
The adventure continues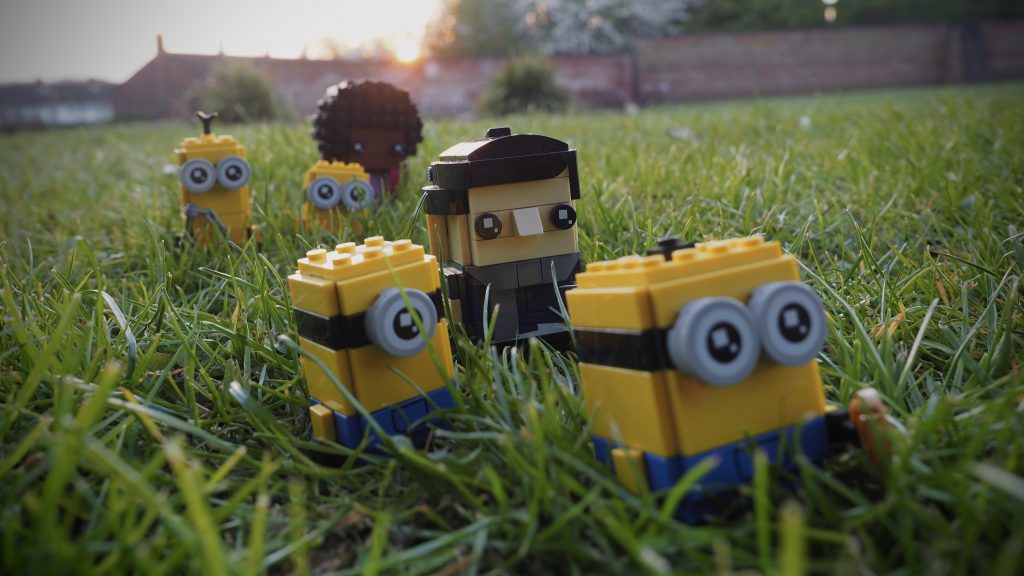 Outside Stuart, Otto and Gru have stolen Belle's rare stone and are trying to escape the chase from Kevin, Bob and Belle.
Gru entrusts Otto with the safe keeping of the stone.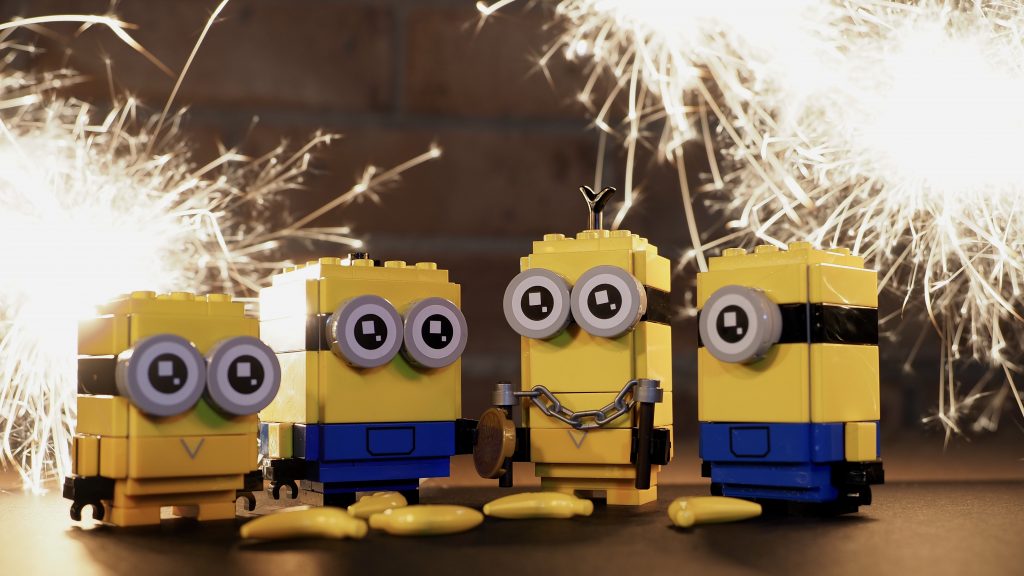 Unfortunately, Stuart convinces Otto to trade the stone with Kevin and Bob for some bananas!!! Curious if this is where Natasja got her inspiration.
The Bricky Details
Bob, Stuart, and Kevin are all 3×3 bricks, each one getting a brick layer taller.
Otto is Stuart's height but 4×4 bricks. They are both wearing the blue bottoms we associate with Minions whilst Bob and Kevin are in orange. I assume the difference will be explained in the movie. Kevin has a whimsical hairpiece (a black carrot stalk piece) which looks fantastic. Otto has a singular black 1×1 square centrally which looks a bit odd. And Stuart has a printed tile with four strands going in each direction. Unfortunately, they are printed on a flat tile in between two studded bricks and they are completely lost.
I was really pleased the Minions didn't have the standard black Brickheadz eyes but printed grey tiles with the typical Brickhead eyes printed in a white surround.
This keeps them recognizable as both Brickheadz AND Minions.
I'm really interested to see what price point LEGO will sell these sets for; if they are similar in price to the Disney/Harry Potter twin packs I think you get great value for money. The boxes have some fantastic themed doodles as background art and the box photos are approximately life-sized. As a Brickheadz fan, I would definitely have been tempted to buy these sets. And now I have them, I'm excited about the new movie- and disappointed I still have to wait another year. Although I do think I'm more upset that LEGO and Universal didn't partner up sooner. We could have had some interchangeable purple bricks to turn the Minions evil…!
Thanks LEGO & SiP for sending me these Brickheadz.
They are going to take pride of place when I finally work out how I'm going to display my collection!!!
Addicted to minifigs and now Brickheadz…