The latest CMF (Collectible Minifigure Series) that LEGO is about to unleash on the world is a toy photographers dream (at least if you like classic American Cartoons) and features the all-star crew of the immensely popular Looney Tunes cartoon series.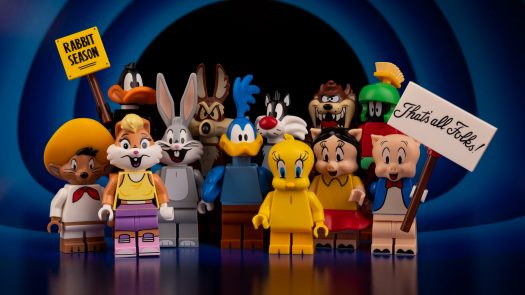 Looney Tunes is almost 100 years old and started in 1930 as a competition for that other classic mouse named Mickey. Originally the first shorts were created to promote the music of Warner Bros, and were the front runners of what later would become MTV (we think). The oldest still standing Looney Tune is Porky Pig who made his debut in 1935 "I haven't got a hat" . The series continued and started to introduce one star after another. Daffy joined the show two years later in Porky's Duck Hunt, and Bugs made his intro in 1940 with a Wild Hare. If you want to dig deeper in the wonderful world of Looney Tunes, this article on Wikipedia can keep you entertained for a couple of hours.
But we are here for the review of the new series.
And not just a trip down memory lane.
The Box
The new CMF series comes in the handy smaller box of 36 bags and should normally contain 3 full series of 12 characters. Our box had some hiccups and the Roadrunners kicked out poor old Wile E. Coyote and forced Bugs on a rescue mission.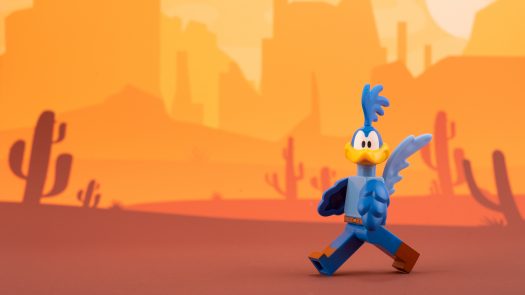 The LEGO Group told us that such mischief was not planned and there should normally not be any chase figure in the box.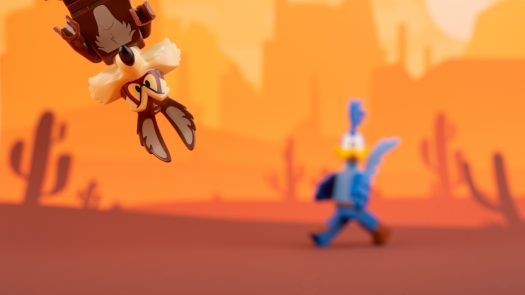 Not sure our roadrunners did agree as they chased Wile E. Coyote away.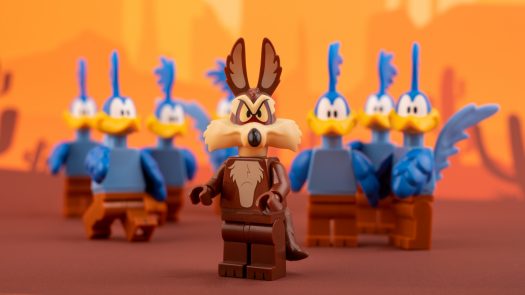 In order of appearance, we will take a first look at the Looney Tunes, and give our very first impressions how photogenic these models are (spoiler alert – they are).
Lola Bunny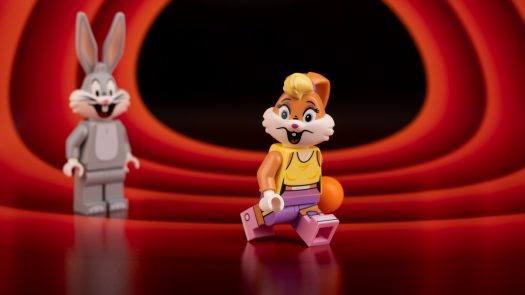 Lola wears most probably the least impressive outfit of all. She must have been caught up somewhere between Space Jam One and Two avoiding any political incorrectness. Now, I am sure we will meet Lola next year as Easter Bunny or in Space Jam Three.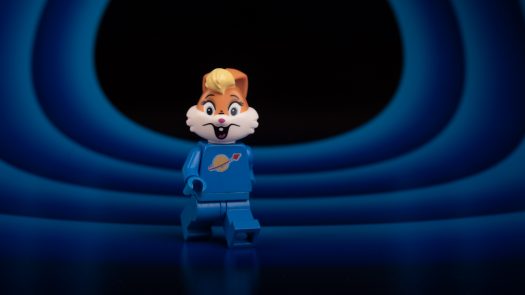 She is the only super starlet that did not appear in the original Looney Tunes from Warner Bros. She only appeared for the first time in the nineties.
Eh…What's Up, Doc?
This rabbit needs no introduction. Bugs starred in more than 160 cartoon shorts produced between 1940 and 1964. He has since then appeared in feature films, TV series, music records, comic books, video games, award shows, amusement park rides, and commercials. He has his own star of fame on the Hollywood Boulevard and now finally his own LEGO minifigure.
Wile E. Coyote and Roadrunner.
My personal favorite stars of this set. I can see many adventures coming our way with these two superstars.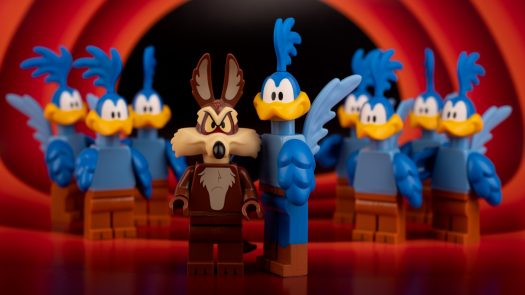 For the avoidance of doubt, the sealed Meep-Meep Roadrunner comes with the classic LEGO legs, and this pair of LEGO Levi's Jeans was kindly provided by Woody for this shoot. Not sure he will get them back though.
Tweety.
The little yellow canary with attitude, and most probably the inspiration for @Jack to name his little startup after this bird. The name "Tweety" is a play on words, as it originally meant "sweetie", along with "tweet" being an English onomatopoeia for the sounds of birds and short messages.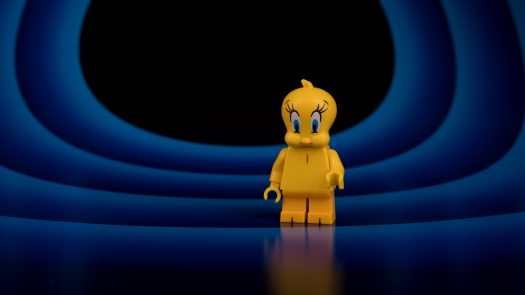 The short yellow legs are not moveable.
But Tweety's head goes the full 360 and is beautifully sculpted.
And he is for sure into a sequal of Space Jam Two.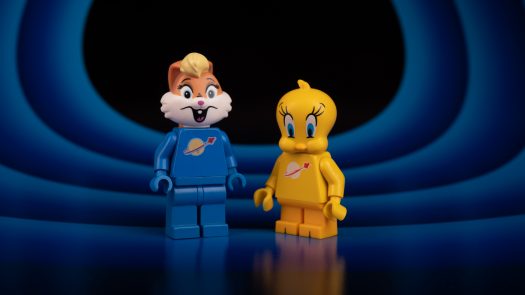 Sylvester.
Our Felis Sapiens or anthropomorphic tuxedo cat is another super star with 103 cartoons in the golden age of American animation and three Academy Awards on his palmares. Yet, he never managed to conquer that little yellow bird.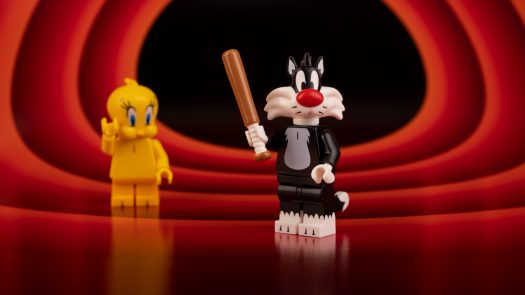 And then there is Daffy.
Daffy, the nemesis of Bugs.
And one of the first screwball characters of the thirties.
The rabbit season is for sure open.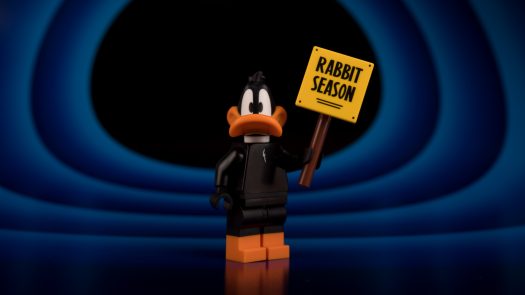 ¡Ándale! ¡Ándale! ¡Arriba! ¡Arriba! ¡Epa! ¡Epa! Yeehaw
The fastest mouse in all of Mexico comes with cheese and an amazing tail.
And you find Sylvester on position six to chase him around.
Or the other way round.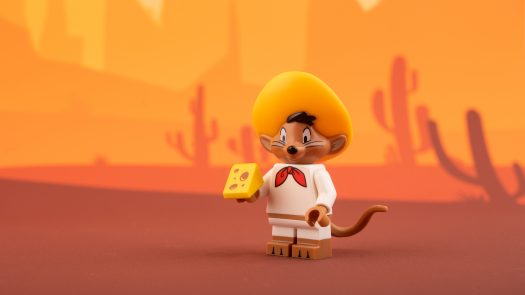 Taz
Taz did make his appearance in the original series, but he really became popular in the nineties.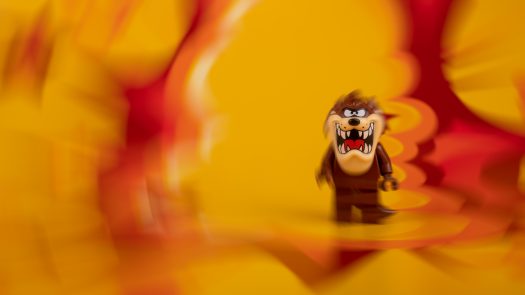 A little Tasmanian Devil that loves music.
And bagpipes … not.
The Commander of Flying Saucer X-2
Marvin the Martian will be going places.
Red movable legs and a hat to drool about.
This commander of the flying saucer X2 only got identified as Marvin as late as 1979.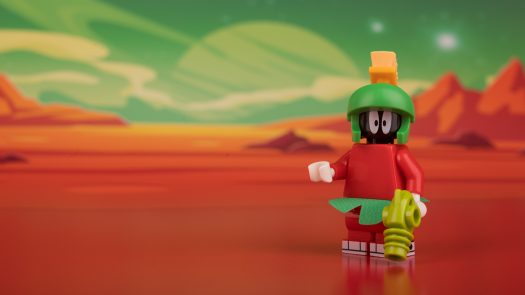 Petunia Pig
Petunia made her way into the Looney Tunes in the movie Porky Romance.
A parody on Walt Disney cartoon called Mickey's Nightmare, where Mickey marries his longtime girlfriend Minnie.
Petunia however …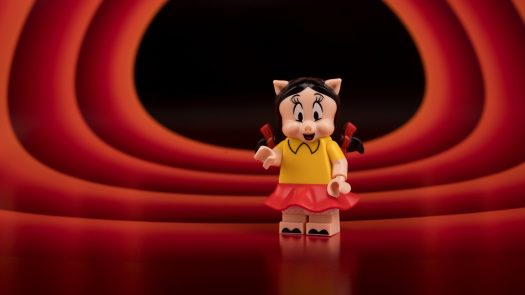 A character in this set that will go places.
Th-th-th-that's all folks!
It all started with Porky.
He took Looney Tunes and Merrie Melodies into our collective memory.
Including his famous stutter and the iconic slogan That's all folks.
Wrapping up
And here we are.
Twelve new characters to add to our adventures.
And I am sure they will meet Mickey in the not so distant future.
Twelve characters with almost hundred years of history.
We have sent them all over the globe to our SiP crew and toy photographer friends to get their take on these new LEGO Minifigures .
And we will be sharing their first impressions with you here on the blog.
And Dat's De End!