Some Thoughts From @pulup
We've been posting quite some articles about the new collectible minifigures series 20 as of lately. These articles came to life because we sent out some minifigs into the great wide open, so that some of you could review them and take pics to share on our blog.
We also sent some to Burak. For some time it seemed that the mail wouldn't be delivered in time to become part of this review series. Fortunately, Hermes seems to have worked his divine powers on this one and Burak got mail. Here is what he replied to us.
The Garage Band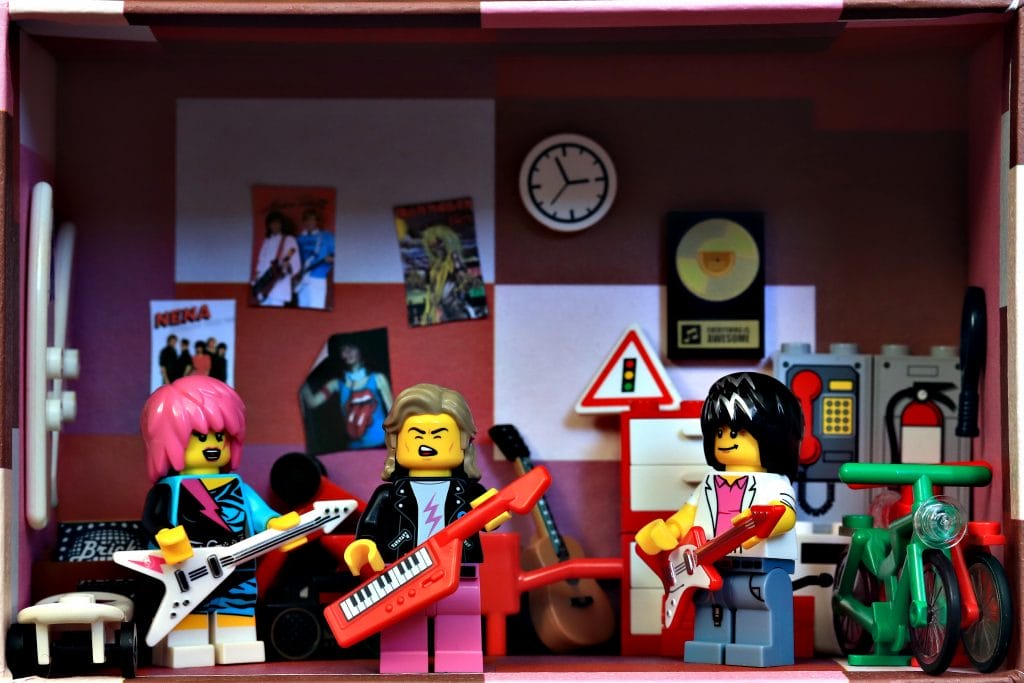 Early 1980s, studying in a German high school in Istanbul, I was naturally introduced to German pop bands before anything else. I was particularly impressed by the New Wave genre. Alphaville's excellent debut album Forever Young (1984) was the first vinyl I purchased. I remember one day, after listening to Big in Japan for more than a hundred times, I decided to make music of my own.
I had this great dream that I was in a band and that we were playing synth-pop songs and fans (read: girls) would love our (read: my) songs. We had a big synthesizer at home, and the only music I could play at the time was Que Sera, Sera (seriously). I remember sitting for an hour in front of that big, two-layer organ, trying to write a song. Finally, I gave up as I told myself, "Burak, evidently, your contribution to the world of music will be as a listener".
Everything is Awesome
Sometimes when I'm alone at home, I like to settle down on my favourite sofa and put on my headphones to listen to some music, either on my iPhone, or on YouTube, or from my vinyl collection. I like the sense of being isolated from the rest of the world and focus on all the sounds moving around my head. I can hear the guitars travelling from one ear to another, the bass lines rising from below the sofa, the drums exploding in my head. It simply is awesome!
Singing Eleven
Do you remember the video game series Winning Eleven? Well, here is the whole line of 11 LEGO minifigure musicians I have, my Singing Eleven (not that funny, eh?).
Have you noticed one thing though? Somehow, there are no left-handed musicians in the LEGO universe. Or in other words, there are no musical instruments made for lefties (pun intended; they should unite!) of the LEGO universe. A friend of mine (Cole Burden, @colebox) used to have this funny series of "Limitations of LEGO", where he used to post photos on Instagram, talking about all the things a LEGO minifigure could not do (but humans could). For example, long-haired minifigures cannot turn their heads around (try it, they cannot). These right-handed minifigures reminded me of Cole's series.
Harvester of Sorrow
Buy some land. Move to a new location. Lease a tractor. Hire some help. Purchase some crops. Plant the seeds. Water the soil. Work for more than eight hours every day. And then you wait and wait and wait. Watch your harvest grow. And then, one day, they just leave the nest.
I wonder whether farmers have that prideful sorrow of letting go their grown peas…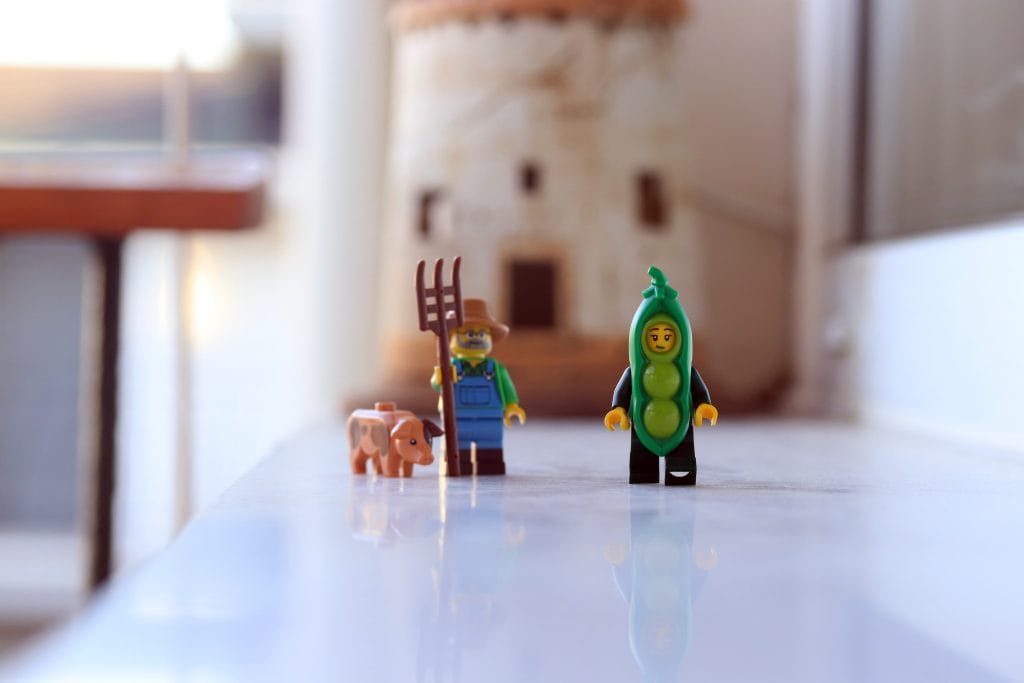 Catch me if you can!
And I also wonder how those farmers would feel if they saw chefs chasing their peas afterwards.
Lady Pea and The Mystery of the Red Apple
Does anyone have any clue as to why the Lady Pea has arrived with a red apple? I googled it, and the only answer I could come up is something called "English Pea Salad with Apples".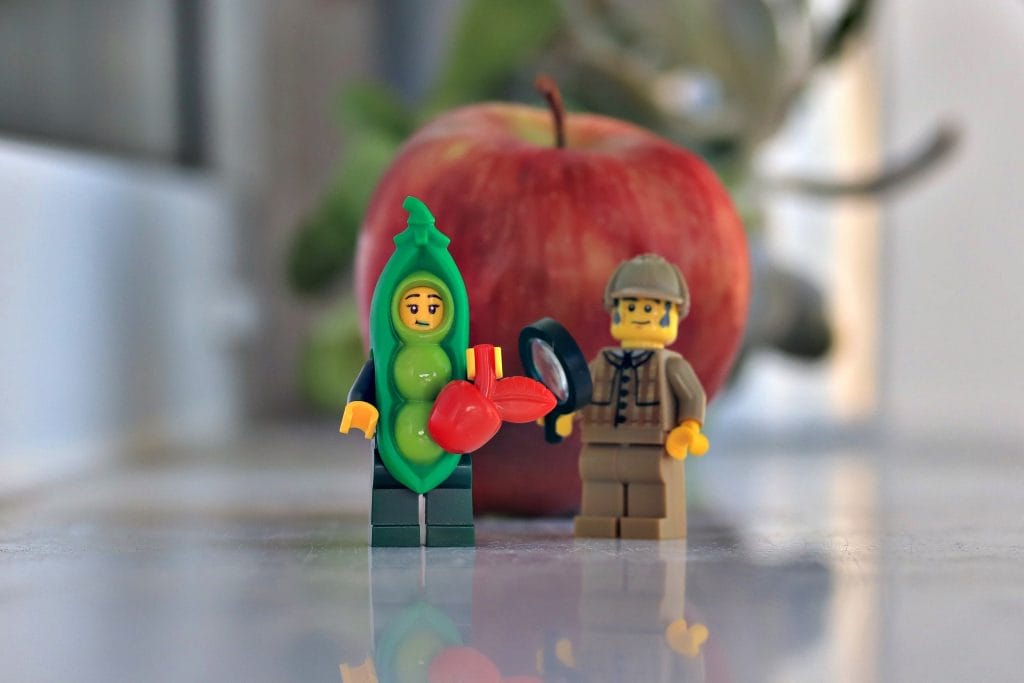 However, thankfully, Mr. Holmes has just arrived at the (crime) scene. He does his usual stick of smelling and observing and going into his mind palace. Finally, he claims that the red apple belongs to Snow White's step mother (boring).
Oh No, Not Again!
I think drones are a great invention. For example, you can secretly watch people in their apartments. You can check whether someone's flat is empty or not. You could fly them around airports and endanger many people's lives. Or you could simply use it to scare your friends, again and again, without even getting tired of it. Ah, so much fun.
I know you are asking, "Why the boy with a camera?" as the drone can already take a video of the whole thing. "Multiple angles" is my answer.
I'll be back!
We are back in the 1980s again. At the time, I wanted to become a computer programmer when I grew up. I had an SVI Computer and I used to buy those game developer magazines. They published pages-long codes that you could enter into your computer and play those games afterwards. I even taught myself BASIC. I remember spending a whole summer, writing all those simple codes, where colourful lights would create circles on the screen, or a simple countdown from 100 to zero would end with a "BLAST" text on the screen. It was silly but fun for a 14-year-old boy.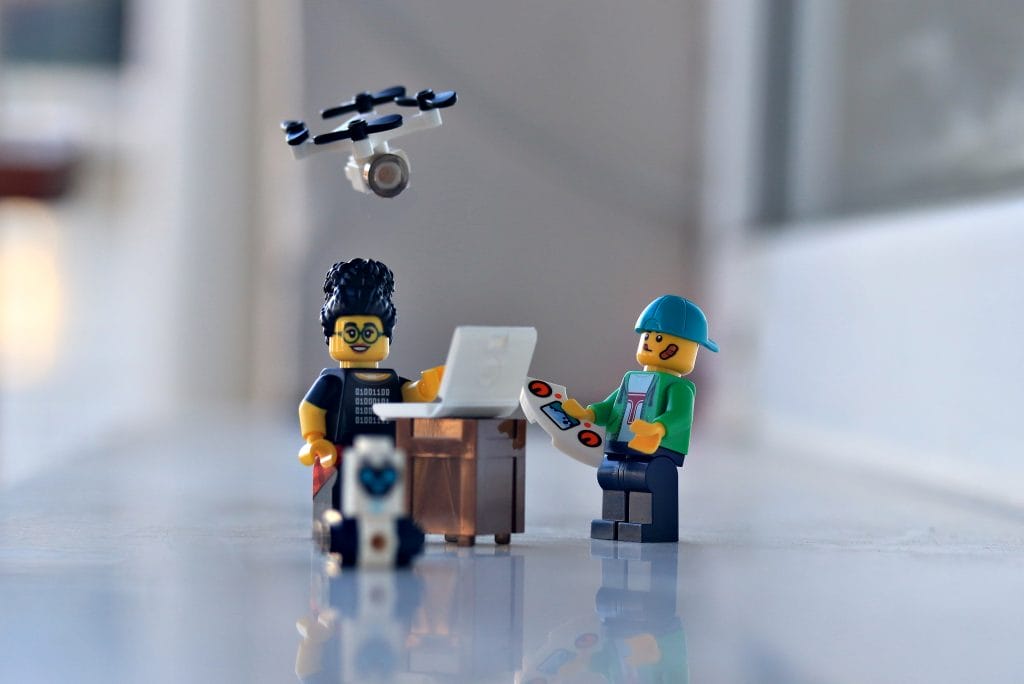 But then I watched The Terminator (1984). The idea that a robot could travel back in time to kill people scared me a lot and I certainly did not want to be a part of this (ah, the confidence of an adolescent). So, I gave up on that dream.
Coincidentally, 1984 has been a year I had to give up on a lot of my dreams.
Flying drones chasing robots: The Judgement Day is nigh, my friends.
Thank You Burak
Even though Burak seems to having given up on some things during the eighties, he didn't give in on toyphotography.
What did you give up in early years? And what would've happened if you hadn't? Tell us in the comments, pretty please…
This review is part of a series of guest reviews by toy photographers from around the globe. To see all their amazing posts, just follow this link.