This month here on Stuck In Plastic our word is projects and so we were happily surprised to discover that the LEGO Group is not just running one but actually two beautiful projects right now for all the RLUG/RLFM groups out there that are celebrating the brick and minifig in all its glory.
The very first one is really tailored to the creative photog in all of us and is some sweet little Easter fun with the chance of winning a nice little LEGO Easter Egg. The LEGO group will innocently draw 10 winners out of all this creative plastic goodness, so this one really has us written all over it.
Taking pictures of plastic.
Here are the rules as posted by the one and only Kim of LEGO on the LAN (LEGO Ambassador Network).
"Dear Ambassadors, 
Our colleagues creating global campaigns have asked us to ask you to participate in this year's #LEGOEaster campaign and share your amazing pictures online using the #LEGOEaster hashtag! 
Once we pass Easter, we will do a Lucky Draw between all the pooled images (read on). We will pick 10 raffle winners, each getting a goodie bag with LEGO related Easter awesomeness and a medium sized LEGO set on top.
What's required?
Take an Easter themed LEGO picture (inspiration can be found using an internet search engine or by taking a look at the work done by Stuck In Plastic  and Toy Photographers or some of the other Instagram communities we have here on LAN).
Upload and share the image online (Flickr, Instagram, Pinterest, Facebook etc), using the hashtag #LEGOEaster
Share the image in the Flickr Pool "RLUG #LEGOEaster Campaign" as a raffle ticket for the Lucky Draw.
Add your first name and RLUG/RLFM affiliation (sic. that would be #stuckinplastic, just saying) along with the #LEGOEaster hashtag in the comment for the image to validate your Lucky Draw entry.
One entry ticket per picture shared in the Flickr pool – please note that you can only participate once with each image – taking pictures from different angels and uploading them does NOT give additional tickets for the Lucky Draw.
Once the Lucky Draw has been completed the winners will be contacted via Flickr Mail asking for their full name which the Ambassador for the given RLUG/RLFM then will be asked to approve as a member of their community before the prize ships … "
[instagram-feed type=hashtag hashtag="#LEGOEaster" num=20 cols=4 showcaption=false]
Now that is a lot of text and has all the elements of a little project.
It has a clear end date: Once we pass Easter.
So post before Easter.
Easter this year is on Sunday 16th April.
It has a clear set of requirements: Easter Themed LEGO picture, upload and share it with a specific #tag on your social media of choice.
It has detailed work instructions aka specifications on how to qualify for a chance to win some LEGO goodness: the whole Flickr upload thing.
So it sure sounds like a little project to me.
An official LEGO group project tailor-made for us toy photographers. Awesome.
I for sure will take my little plastic bunny friends to London this weekend and see what I can come up with to join in this #LEGOEaster fun …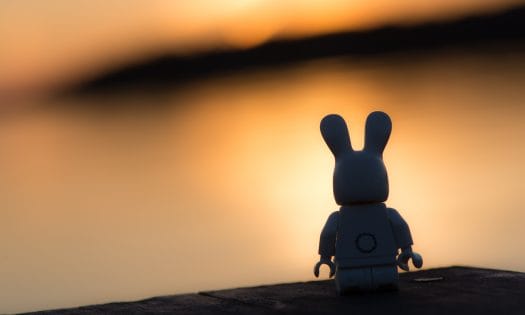 PS. The second little LEGO project is for later this week and actually includes not just taking great images, but also building like a pro. Stay tuned.