Hej, Boris Here !
Me2 is stuck in one of his rabbit holes shooting our next great adventure for all of you to enjoy, and I must say I am starting to get the hang of sharing the odd post with you all here as the other half of Me2 (this is my third post to be precise). So what better way to celebrate than to look back at the fantastic week we had in Seattle now that the dust and excitement of the opening week has settled and share some of the highlights and insights from my end. Some personal experiences and some landmarks you should go and explore yourself when you visit Seattle and our awesome show (shameless self promotion).
Shelly made this fantastic list of things to see and do in the larger Seattle area when we were not busy with the preparation and execution of the "In LEGO, We Connect" exhibition in the International District (still open for you to visit until the first week of April, shameless self promotion continued) and the first on her list was Pike Place Market.
Pike Place Market, is a bustling closed market place, full of great shops and a fantastic photo location to get the ambiance of this real live market, just a stonecast away from the waterfront. We visited the Market a few times during our week in Seattle and I must say it is beautiful and iconic. I recommend you try to go early on a weekday if you have the chance.  10 AM is when the Craft Market starts, but you can go there for early breakfast and some fresh fish as well. Off course you can go later in the evening if you want to do some night shoots (on my to do list for our next visit as I visited it without tripod) or enjoy one of the many restaurants like we did one beautiful evening with great company.
Walking through the market and just getting all the colors, smells and visual details of every little stall is just a pleasure for the senses. A sensory overload best to explored without all the tourists on a Sunday afternoon and as you can see plastic toys are everywhere keeping a safe eye on all the goods. Did anyone see Jaiken ?
The neon signs both in and outside are for me not just an iconic landmark of Seattle, but an iconic landmark of the US and its culture and made me wonder back to early childhood memories of neon, milkshakes and Happy Days on the television. Who remembers Fonzie ?
The lower floor has a fantastic collection of little stores to make you take an even deeper dive into American culture with mint condition Playboy and Time magazines from the early fifties and sixties featuring both their own iconic photography styles to genuine Star Wars collectibles.
Seattle's farmers market, established in 1907 is really a must see and has this true authentic feel to it and is full of photographic opportunities for all kind of photographers (from touristic snapshots, wedding, portraits to city and HDR). This place is iconic and a very good representation of the old Seattle you can still smell in a lot of other places around the city. No wonder it was the first on Shelly's list.
And there is more here than just the market. Opposite of Pike Market Place you will also find the very first Starbucks (that awesome overpriced value selling coffee brand we all love) and an ideal place to take a quick selfie (a very popular photography style these days) for those of you who like historic landmarks of industry and retail as a backdrop.
And then there is the Gum Wall.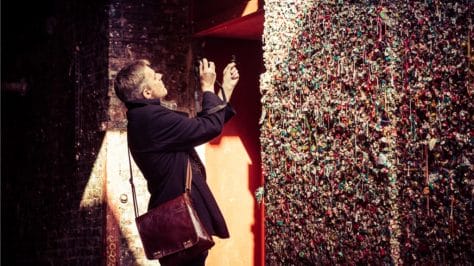 The gum wall is just around the corner of Pike Market Place (the stairs down the pig), and while some of us liked to stay a good few inches away of this colorful stickiness and paradise of shapes, colors and germs alike, others went full in and explored the depth and richness of this artistic composition of chewed plastic*.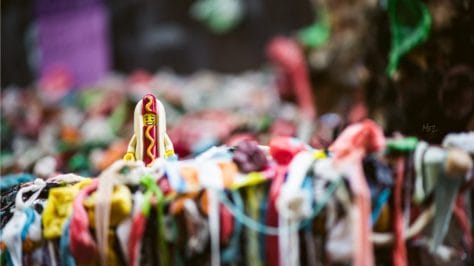 While it may sound crazy, the gum wall really connected with me and did feel like a smorgasbord of molten plastic and raw ideas yet to come to live. A happy place for Me2 to go into unconstrained thinking and rediscover new adventures. It just gave me a completely different dimension to being stuck in plastic, yet being connected.
After the stickiness of the gum wall a fresh breeze of salt air is in order, and a stroll down to the waterfront (Seattle is a city of hills, so photographers pack wisely if you plan to go hiking across town with all your gear) gives you access to the Aquarium (we skipped that one), the Ferris Wheel (another iconic landmark and ideal opportunity for long exposure photography, more on that in one of my next posts as I share with you are freezing tripod adventure) and some more.
All worth the visit, but none of them beats my colorful gum wall just around the corner of Pike Place Market.
Boris
Pike Place Market and its gum wall is just a good 30 minutes walk away from the Bryan Ohno Gallery and for sure worth the visit when you are in Seattle !
Stay tuned for more reflections in my next posts on Seattle taking a deep dive into deception pass, the space needle and rock photography.
* The gum wall is made up of chewing gum. Chewing gum is considered a polymer. And polymers  are the cornerstone of plastic. No wonder both Me2 and I felt at home.