It is raining birthday parties. Last week we had Barbie turning sixty. DUPLO turned fifty only a week or two before. And believe it or not, it only feels like yesterday when the Minifigure turned forty.
And here we are again.
The iconic mouse from Walt Disney is turning 90th this year.
Happy Birthday, Mickey!
And to celebrate this the LEGO Ideas Team released 21317 Steamboat Willie ahead of schedule (as it was only announced a few weeks ago).
Steamboat Willie
Mickey Mouse made his screen debut in a 1928 black-and-white animated short film called 'Steamboat Willie', which was also the first Disney film to have synchronized sound.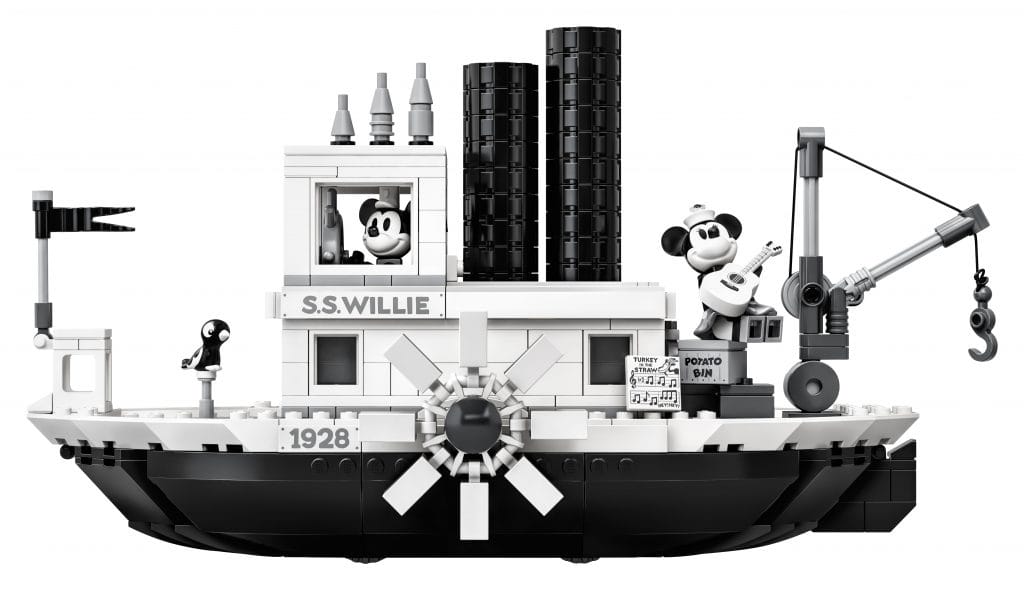 This LEGO brick version of the S.S. Willie features steam pipes that move up and down and paddle wheels that rotate when the boat is pushed along and is a really creative and colorful build as we could explore ourselves. And a true tribute to the original movie (which you can see below)
Captain Minnie
The boat's bridge has room for Captain Minnie and deckhand Mickey and is packed with fun little nautical details such as the ship's wheel, life buoy and buildable bell.
On deck there is a working crane to lift the 'potato bin' cargo aboard (or to replay the naughty Walt scene of the movie) and this unique celebration set comes with brand new Mickey and Minnie Mouse minifigures, each with special silver-colored decoration I really loved (but I think I will have to seal them away when travelling so they don't get scratched)

An ideal LEGO set for builders and toy photographers of all ages to recreate scenes from the original Mickey Mouse cartoon or create their own.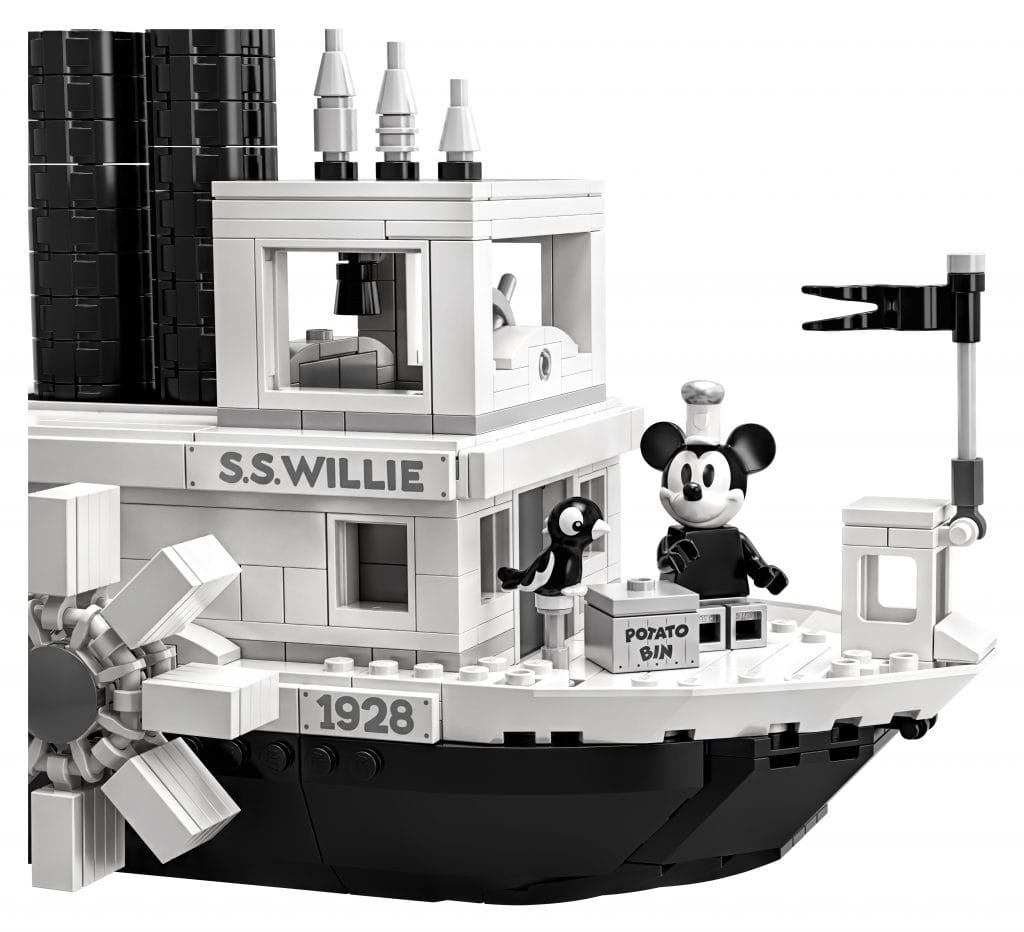 This set is a beautiful black and white on the outside, and contains some epic toy photographer heroes and accessoires like the parrot and the guitar.
A sneak preview.
LEGO asked us to get creative with the set and we got our hands early on this beautiful steamboat and we will be sharing some of that creative mischief in an upcoming post. For now we can give you a glimpse of the colorful inside in this one minute building video.
Available as of April 1st
Steamboat Willie contains 751 pieces of plastic. Measures over 15cm high, is 26cm long and 14cm wide and does not float. Steamboat Willie and it's companions will be available in a LEGO store near you for give and take 90 EUR or USD as of April 1st.
If you happen to live in the UK then this beauty will only cost you 80 GBP.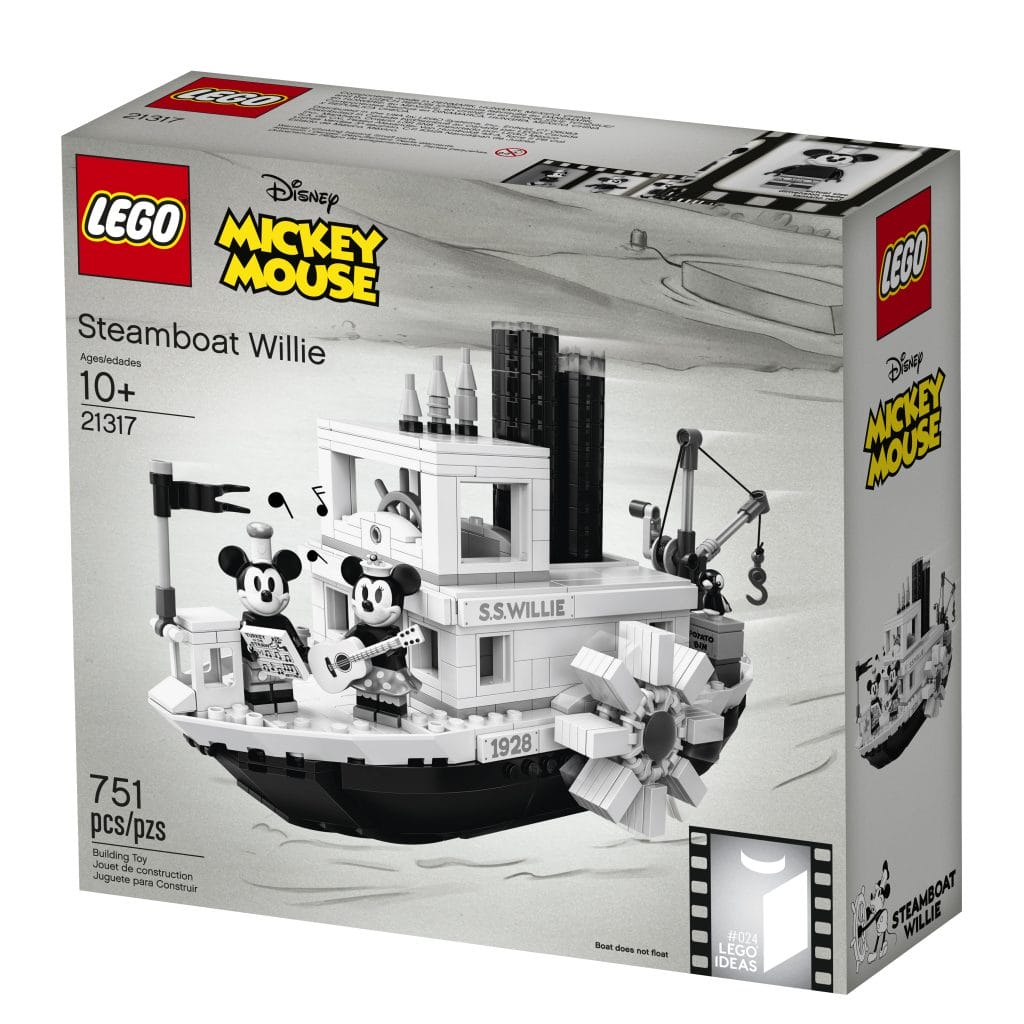 Will you get your copy of this set?
Or save the money for the next great LEGO ideas.