Our young Hogwarts student Natasja had more Hogwarts Moments with Harry Potter. This time she joined the Divination Class of 76396 on her birthday.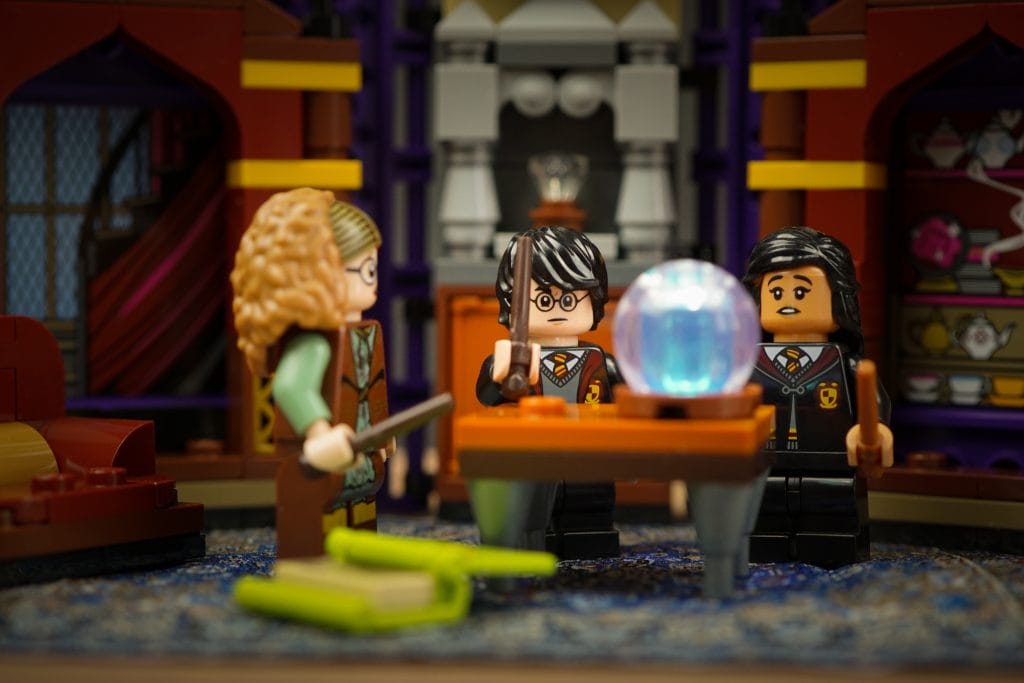 When I heard that there would be more editions of the Harry Potter books my heart made a little jump.
Previously
Last year I bought the first 4 LEGO Harry Potter books and I think these books are genius because  a wonderful scene is just popped out of a book … you can play (for me taking photos) fold it back in the book and put it on the shelf. You also can connect the books with each other to create multiple scenes and that is guaranteed for a lot of playful joy.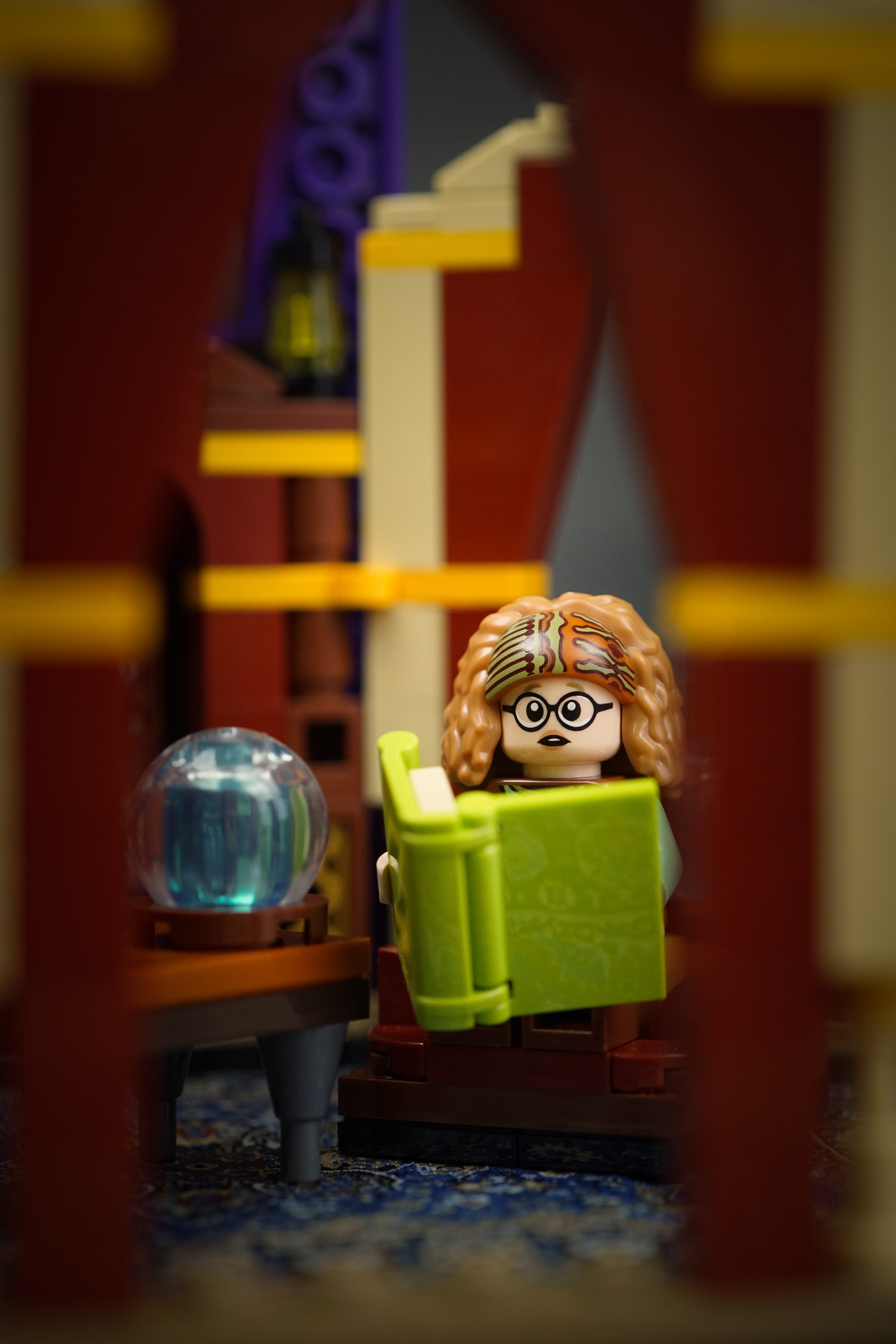 The Magical Lesson
Fortune telling is an elective course taught at Hogwarts. As we all know Hogwarts is the School of Witchcraft and Wizardry.
In these lessons you will learn to predict the future or gather insights about things that might happen in the future.
This is done through various rituals and tools.
The magic taught in the classroom and thus the ability to say prophetic things was also called divination.
Albus Dumbledore had actually decided that this subject should no longer be taught at Hogwarts. It was seen by many people as obscure and inaccurate.
The Prophecy
When Albus Dumbledore found out that Professor Sybill Trelawney was a great-great-granddaughter of the famous Seer Cassandra Trelawney, Albus Dumbledore decided to give her a chance. When Professor Trelawney made a prophecy she made a big impression on Albus Dumbledore and so she got the assignment but the real reason was that Albus Dumbledore wanted to protect her from Lord Voldemort because he was looking for the rest of the prophecy.
A Prediction
Fortune telling was an elective subject and you could take classes from the 3rd year.
The students were able to collect important information through tea residues, visions, horoscope cards, and looking in crystal balls.
Harry actually only followed this class to get a pass and made up a lot of predictions together with Ron Weasley. They very often added tragedies to their predictions. And they joked a lot in class too. And as a result of poor results, he stopped taking these classes.
Parvati is an active participant in the divination classes. She is someone who is very fond of fortune telling and she respects Professor Trelawney.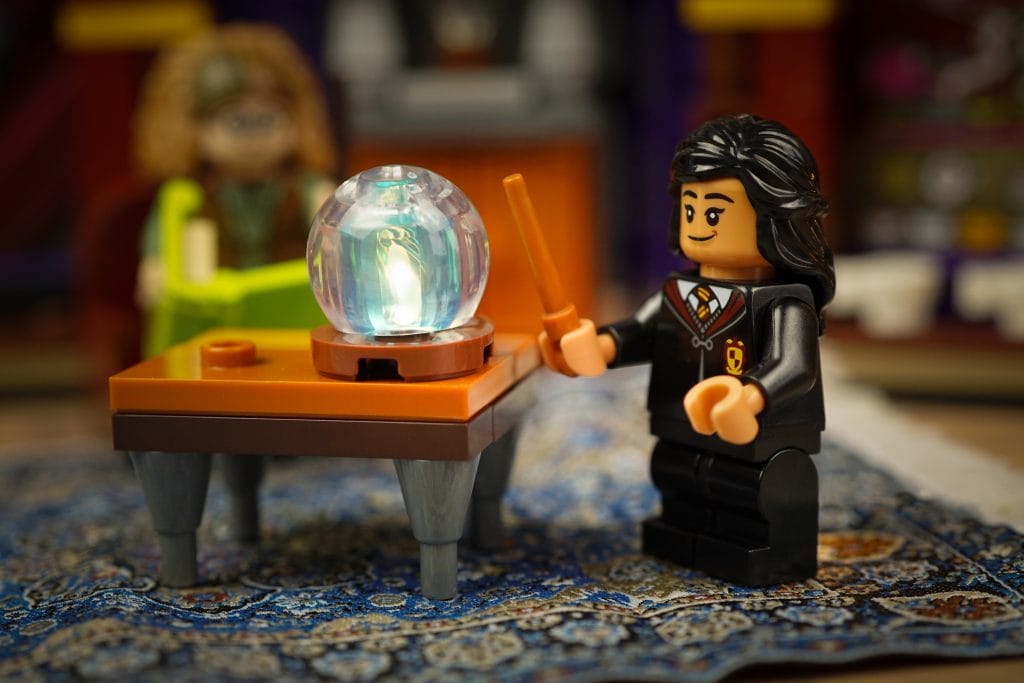 She is also really worried that Professor Trelawney is losing it under the pressure of Professor Umbridge.
The Divination Class
It's a really nice set! The colors that are used feel very warm and really gives you a feeling of a cozy room where you would like to spend a few hours. The stickers that are stuck to the inside of the book are very detailed and fit very well in the atmosphere that is created with them.
The set consists of 3 minifigures, namely Professor Trelawney, Harry Potter and Parvati Patil.
There is also a tea cabinet, 2 chairs and a table with a teapot.
Perfect for reading tea residues.
There is also a lovely chair to sit on and a table with a crystal ball to look into the future.
The set is easy to fold and the furniture can be easily stacked, just like in the other books, to close the book.
The minifigs also have different facial expressions.
All in all a very nice book that fits perfectly with the other books.
PS.
Psst. Today is Natasja's birthday so make her day with some birthday wishes …
This set was provided by TLG for a creative photo review.