After several SiPgoes52 Feature Friday interviews, we're finally leaving Europe for the USA… Today we have our weekly chat around a virtual cup of coffee with Donald Vandervoort from New York!
About Donald
I'm 56 years old and live in Brooklyn NY all life. I love traveling throughout the United States on my motorcycle and I carry my LEGO sigfig with me to document my trips. I play the guitar from time to time. I've been into photography on and off since I was a teenager.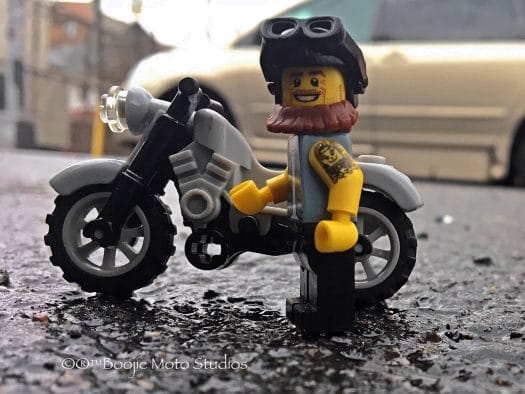 I started taking pictures of toys about 12 or more years ago. I started taking pictures of Stikfas. They were ball and joint socket figures that were customizable. You could add clay and paint them to make different types of action figures. I belonged to a community that customized them and would take pictures of my creations to share with them.
That led me to meet Wiiman. I saw his pictures of LEGO figures and started collecting them and taking pictures of them too. I joined Instagram and started seeing more and more toy photographers and the rest is history.
I like the variety of characters LEGO makes and find them perfect for photography. I've been collecting all sorts of action figures since I was young and was always interested in making stop motion stories with them but that never happened. Taking pictures of them was a bit easier. I always carry my sigfig with me because I never know where I might find a great photo opportunity.
Some of my friends actually like the idea of me taking pictures of toys. But there are also those that think I am too old to play with toys and take pictures of them. It's okay though, everyone is entitled to their opinion.
Donald and SiPgoes52
Recently, I was slowing down on my photography and felt SiPgoes52 would give me an opportunity to take more pictures. I like the idea of a given word and then try and figure out what is my interpretation of it in a toy photograph.
One of my favorite photos is the one for week 26, Quality. The picture shows my sigfig and the sigfig I made for my godson, playing video games and eating pizza together. It's one way we have bonded.
I'm looking forward to Inspiration (next week's word). Hopefully, I will figure out how to put that into a picture.
I want to complete SiPgoes52. I have been late on a few, but so far I've completed each word given. I've learned it's not easy to create an image using one word as a basis. Though some have come easier than others. It helps challenge me and I enjoy that aspect of it.
Let's thank Donald for spending time with us! Be sure to check the upcoming adventures of his sigfig on Instagram at @donaldsshadow.
Stuck In Plastic.
The creative collective of toy photographers.