Self-confidence
Like Julien, the first thing that came to my mind when thinking about this week's word is self-confidence. The truth is, I lack confidence. For almost everything's I've done, both in my private or professional life, I've always underestimated my abilities to succeed. But looking back a few years ago, I've improved. And it's in part due to toy photography.
Lester
A few days ago, I came back from Belgium, where I've spent the past three weeks visiting family and friends. Photographically, not much happened lately: I deserted social media and took very few photos. The only time I used my camera in Belgium, was when I did some tourism in Brussels.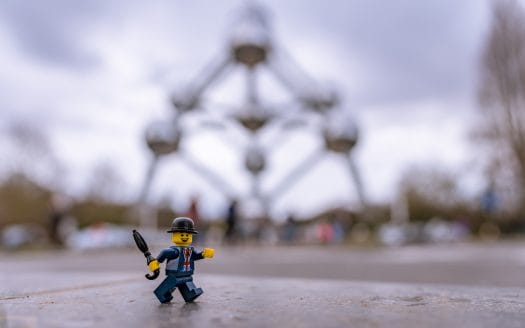 And with me, a few plastic friends to pose in front of the Atomium and on the Grand-Place. Among them Lester, which Boris kindly offered us. Although I've never had a strong desire to own this exclusive minifigure, holding it in my hands made me want to use it for photographic purposes. (And yes this is related to my previous post about creativity and play.)
What struck me with Lester, is how confident he is. In a walking pose, with his lovely large smile and awesome umbrella, he looks like someone who doesn't fear anything that can happen to him. Like someone in control of his life.
When Boris asked us to chose five words from the 52, I made two selections. One selection of the words that I better connect with. A second one of the qualities I wish I had fully mastered and try to strive for. Confidence is part of the second list.
Sharing the Adventures in The North of my Plastic Friends.