When Shelly initially asked me to write a post about my first toy photo, I was hit with competing feelings of excitement and apprehension. On one hand, I knew it'd be fun to look back at my early work and see how far I've come as a photographer. On the other, I knew that it'd be tough, as an artist, to view my early work without a twinge of embarrassment. Judging by similar posts written by Shelly, Mike, and Boris, I'm not alone in either of these regards.
Like Lizzi before me, I had a few options when deciding what counts as my first toy photo. Technically, it's this heavily filtered, out-of-focus shot of a Clone Trooper bobblehead that, according to Instagram, I took 297 weeks ago and captioned, "These Aren't the Beers You're Looking For."
I didn't take another toy photo for several years. When I took the bobblehead picture, it wasn't through some sort of itch to be a photographer, and I doubt that I even knew toy photography was a real option for me; I just thought it was funny. It wasn't until October 9th, 2013 that I decided I wanted to become a LEGO photographer. It's the day I first used a minifigure as my subject, and took this shot, "Cliffhanger."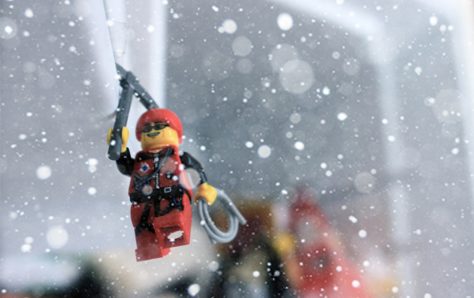 I remember that day vividly. Looking back now, I believe it was one of the most important days of my life, because of the decisions I've made personally, professionally, and artistically, that arose as a result of taking that picture.
Ever since I was young, I wanted to be an artist. As I grew up, the ways in which I satiated my artistic needs changed. I wrote short stories as a kid, moved on to short films just before high school, and then turned to professional videography and music videos once I graduated. I'd always been a fan of photography, but never quite found a subject or style that excited me. I felt that there was nothing new that I could bring to mediums like portraiture, surrealism, or nature photography. So, without a niche or a specific primary subject to focus on, I never felt compelled to pursue photography as an artistic option and instead kept my DSLR in video mode at all times.
Then, I took that shot of the Ice Climber minifigure taped to the open door of my freezer. The moment I did, photography – and my need to pursue it – finally "clicked" for me.
Looking at it now, "Cliffhanger" stands out as a shining example of everything I try to avoid in my art. The minifigure isn't quite in focus, the exposure is too low, you can see a corner of the scotch tape I used to stick his ice pick to my freezer door, the background is too ambiguous, and the digital snow is distracting.
But, I remember how proud of it I was it at the time. How different it is compared to my current work only proves how far I've come as a photographer, which makes me even prouder to have taken it to begin with.
I look forward to the day when I look at my current Instagram feed with the same mixture of fond nostalgia and slight embarrassment.