The LEGO Batman Movie Minifigures Review
In the episodes following cliff-hangers in the 1960s TV series of Batman, narrator William Dozier would briefly recap the previous episode. Sadly, William is no longer with us, so you'll just have to read my previous post to catch up.
For those you who are up to speed, let's jump right into the heroes from the upcoming LEGO Batman Movie Minifigures series.
Dick Grayson
Dressed in a snazzy red sweater with a duck motif front and back over a white shirt and blue jeans, Bruce Wayne's ward, Dick Grayson is a the most comical of all these comic based Minifigures.
Dick's googly eyes are moulded into the hairpiece, similar to the series 14 Monster Scientist. Below this hair and goggles, the head has a cheeky grin and raised eyebrows over his un-goggled eyes.
In a nod the 1966 Batman movie, Dick comes equipped with a can of Shark Repellent. The printed 1×1 round brick is dark blue and has the words "Shark Repellent" on one side (do round bricks have sides?) and a shark inside a "no symbol" on the other.

Commissioner Gordon
Chasing the Joker and his goons takes its toll. Just look at what it's done to Commissioner Gordon.
His scowling, frustrated face sits below grey hair, with flecks of lighter grey on the temples. His shirt is ruffled with its sleeves rolled up (complete with arm printing to extenuate this). His loosened tie complete with tie clip is also a little dishevelled.
A superbly detailed grey waistcoat, complete with two cinches (buckles) on the back, has a shoulder holster strapped over it. The legs are printed with a brown belt with a leather badge holder hanging from it.
Commissioner Gordon comes with a radio, and a printed tile depicting a wanted poster for The Joker.
Barbara Gordon
Barbara Gordon is the long "charm" of the law.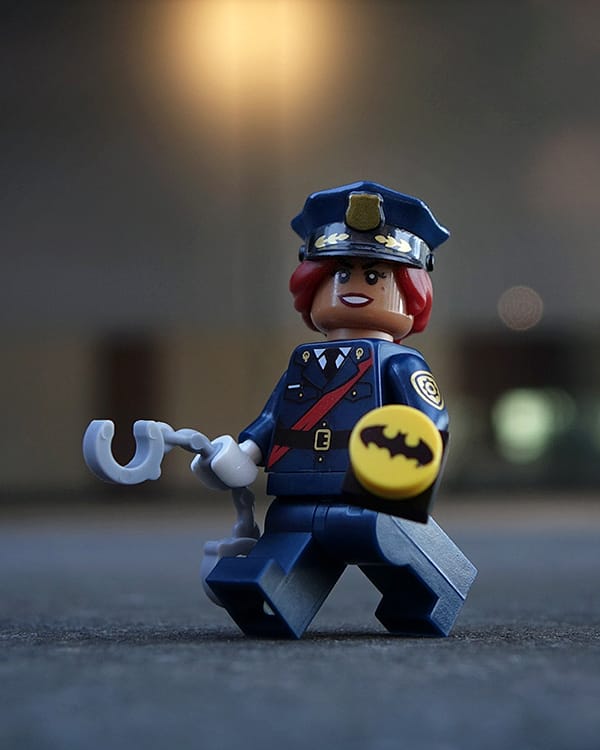 Barbara's dark red hair, tied dutifully back in a bun sits underneath her police cap with badge and gold leaf motifs. Barbara's red sash is held neatly in place by her belt. Each arm is printed with her police badge. Her legs are unprinted, which is a bit of a shame.
She carries a 1×1 plate with a "Bat Signal" printed round tile and a pair of handcuffs.
Pink Power Batgirl

Pink Power Batgirl only works in black pink. And sometimes very, very dark grey pink.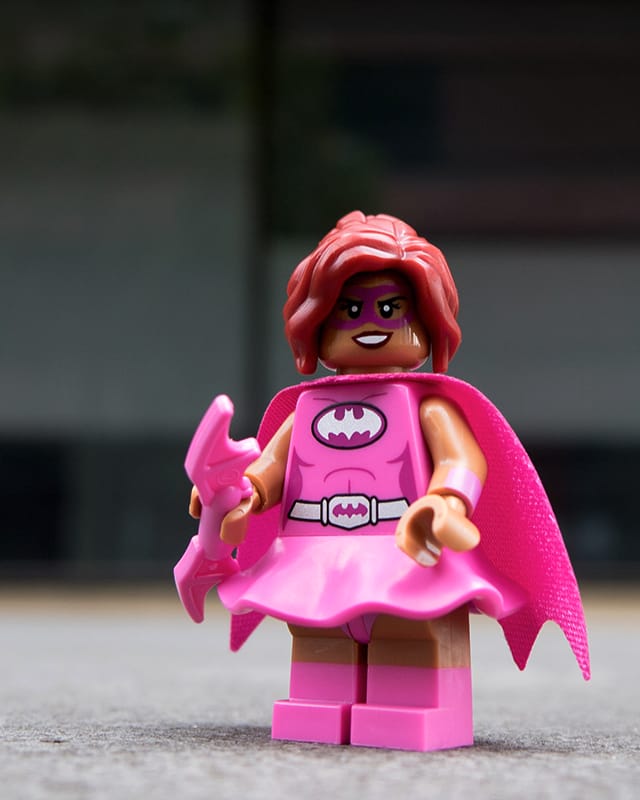 Barbara Gordon (Shhh!) takes her hair out of the bun and puts on this brilliant pink outfit to become Batgirl, Pink Power Batgirl.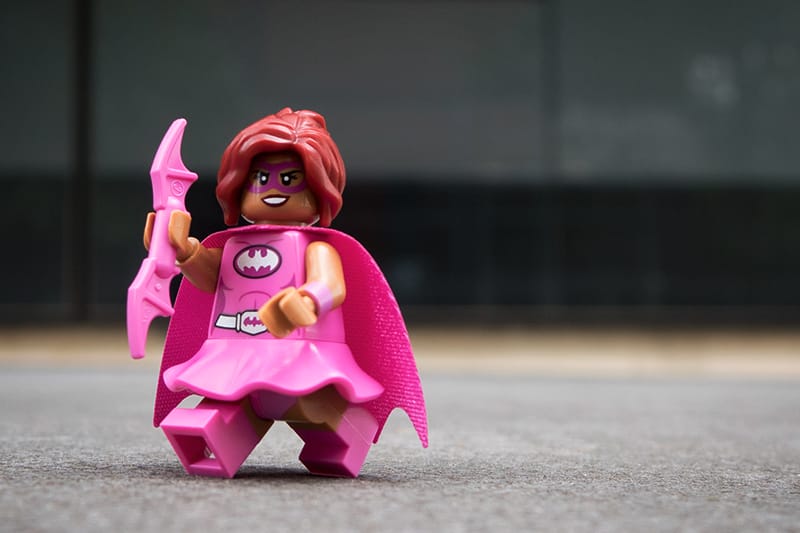 Her boots, skirt, torso, wristbands (printed arms) and even her Batarang are pink. The torso is printed on the front with a silver Bat symbol and a silver belt with a pink symbol on the buckle. A pink mask hides her true identity. Her dark red hair is tied back into a ponytail.

Lobster-Lovin' Batman

What does a billionaire, playboy, philanthropist, and owner of Wayne Enterprises do when gets the munchies in the night? He puts on his robe, pops down to the kitchen, and gets Alfred to cook him up a lobster. Probably.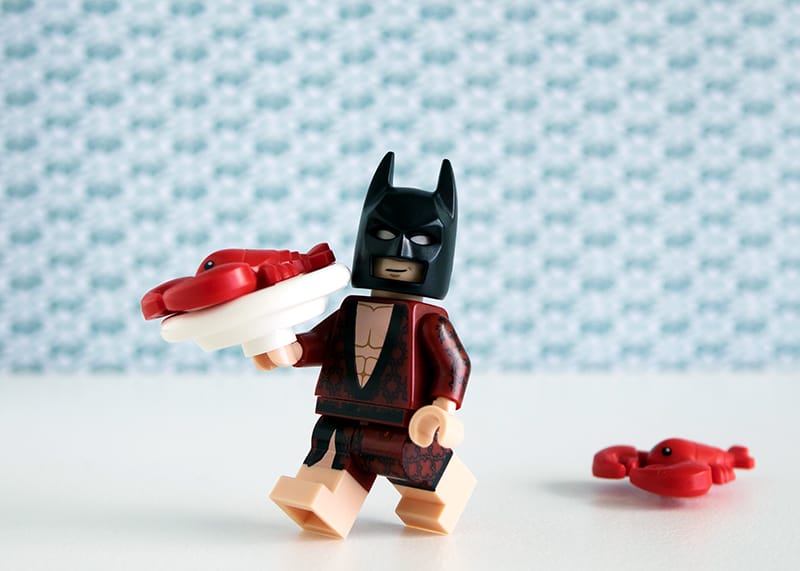 Batman's robe bears a likeness to the wallpaper in the 1966 Batcave set. Maybe it's for camouflage in the event of late night attacks? With pattern printing on the torso (front and back only), arms and legs (front and sides only), the robe is great.
And doesn't he wear in well? The robe is loosely tied, showing off his chest and stomach, and a cheeky little glimpse of thigh. Watch out for sudden gusts of wind Batman!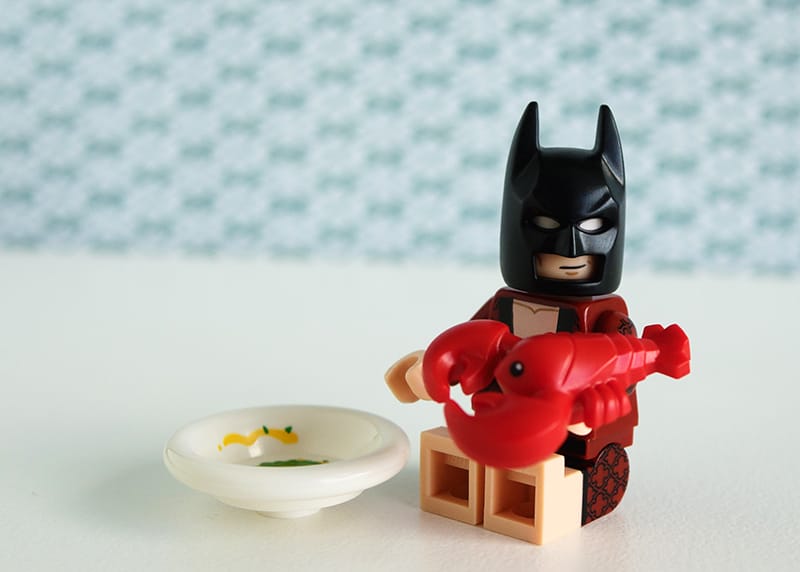 And then there's the lobster, a wonderfully accurate mold with printed eyes. And the plate, with what looks like a butter sauce (I had to ask one of my non-vegetarian friend what goes with lobster) and a printed lettuce leaf (for garnish I assume) .
Batman's smirking expression is unique to this figure too.

Clan of the Cave Batman
This Minifigure must be a reference to the LEGO Batman Movie, so I guess we'll find out more about him when it hits the screens. I can only assume that Clan of the Cave Batman comes from the Stone Age. Because he rocks!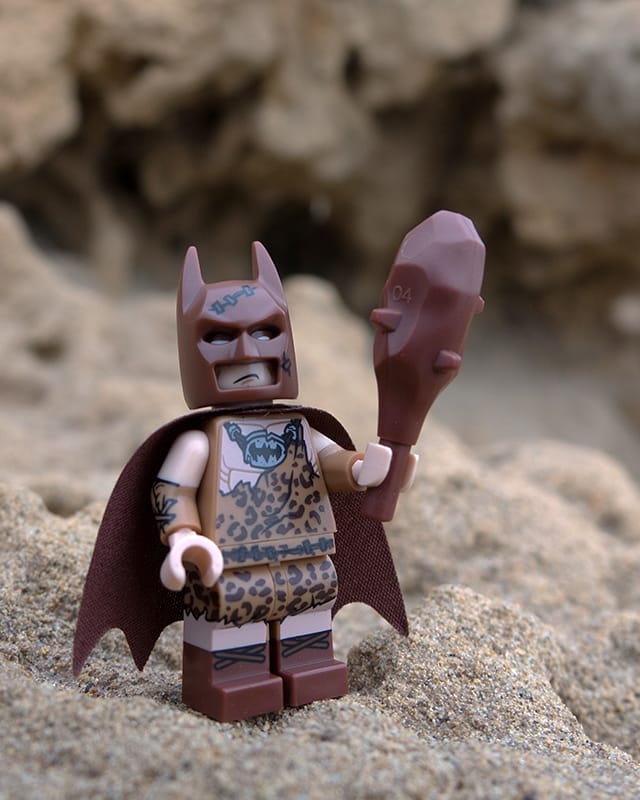 He is dressed in a wonderful leopard-print toga complete with some stitching and ragged edges (on the front of the torso and the front and sides of the legs), laced reddish brown boots, laced forearm guards, a brown Bat cape, and a necklace with a stone pendant showing off his stonemasonry skills with it's crudely carved Bat symbol.
His reddish brown helmet wears the reminders of battles past, with tears and rips being sewn up.
The Clan of the Cave Batman naturally comes armed with a reddish brown club, like the one from the series 1 Caveman and The Simpsons' Itchy Minifigures.
Vacation Batman
This Minifigure is so much fun.
Batman's mask comes with blue swimming goggles, a new piece. It took me ages to figure it out, but the arches over the eyebrows are the same as all the recent moulds, yet with the addition of the goggles, they almost appear to be exaggerated, just as ours are when we put on goggles. Although this is just a coincidence, it's a lovely one. And, with the addition of the goggles to the mask, the head doesn't require the white stripe (or pink) that we usual get with Batman Minifigures.
The Bat-bathing suit is amazing! Tiny yellow Bat Symbols adorn the torso, front and back, and upper arms. There is one Bat on the shorts, right where surf brands would place their logos. Genius!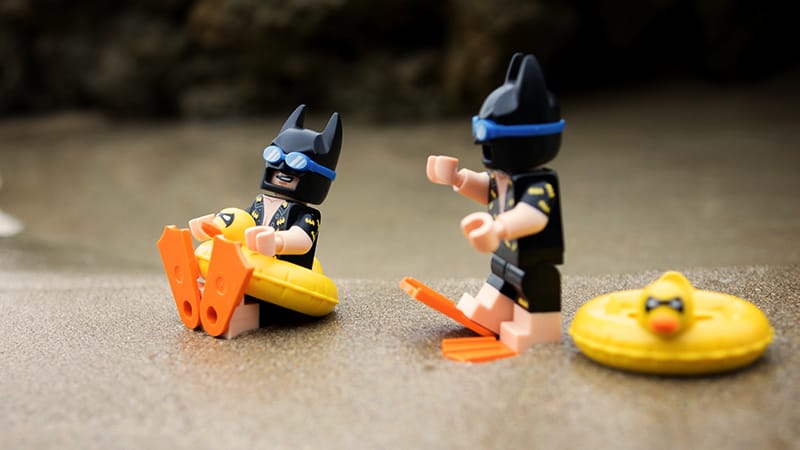 And of course there's the rubber duck. The design on this is wonderful. The seam and bulges around it's girth really give it the appearance of being inflated. I had to squeeze it to check it wasn't in fact full of air! The addition of the Bat-mask is the cherry on top of a delicious Bat-cake in the form of a rubber ducky!
Fairy Batman
Fairy Batman, you look fabulous. Do a twirl for me so I can describe your ensemble.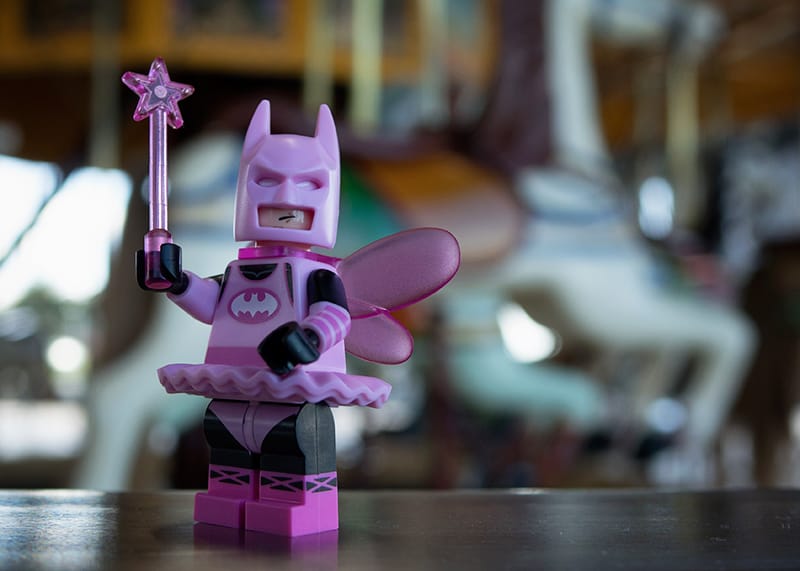 There's a pink leotard, with white Bat symbol on a dark pink background and a pink tutu over top of his black bat armour. Dark and light pink stripes are on his lower arms. Fairy Batman, did you put your legwarmers on the wrong appendages again? Dark pink ballet slippers with ribbon printing on the front and sides adorn his feet.
He has trans-pink wings and carries a trans-pink wand.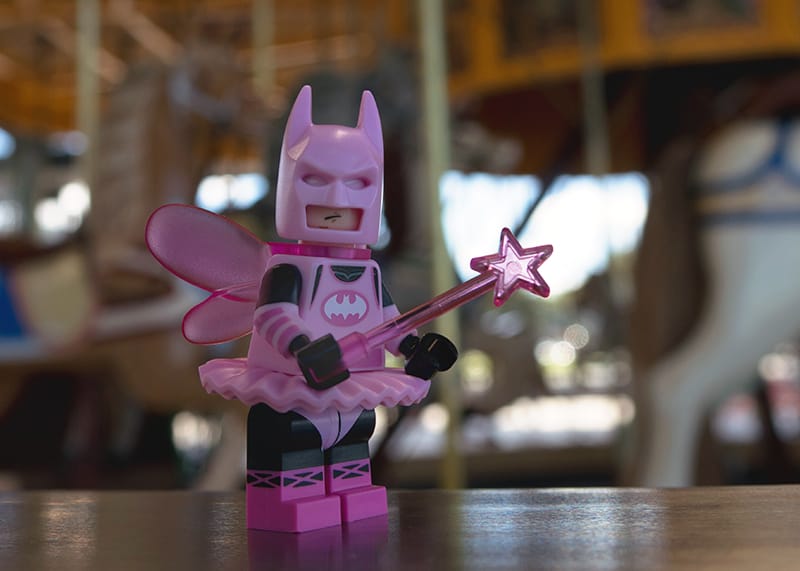 Under his pink mask, the expression on his face (mouth) could be either one of content or contempt, depending on whether you believe this costume choice was his, or it's a cruel prank.
Glam Metal Batman
Clan of the Cave Batman might rock. But this guy ROCKS!
Silver shoulder pads with four spikes sit over the plunging neckline of what I guess is a black spandex jumpsuit with silver printed torso, silver arms with black cuffs, black and grey legs with silver details (Bat Symbol knee embossing), and a standard black Bat cape. A studded belt complete with Bat symbol buckle completes the ensemble.
A Bat-guitar would've been a great addition, but the "Flying V' (which is an modification of the series 2 Punk Rocker's) with its silver printing and whammy bar, is still pretty cool. I bet it goes up to eleven too!
---
So there you have it, all 20 of the LEGO Batman Move Minifigures.
I'd like to thank our friends at LEGO for giving me the opportunity to share my review of this marvellous series of Collectible Minifigures before they hit the stores.
For those of you who can't wait to get your hands on them, tune in next week. Same Bat-Time, same Bat-Channel!
---
*Postscript: This is the first time LEGO have released a set of 20 Minifigures in a series. That means there are exactly 3 complete sets of the LEGO Batman Move Minifigures in a box of 60.