A LEGO Minecraft Christmas told in six photos.
As the holidays approached there was a festive spirit running through The  Overworld, The Nether and The End. All the inhabitants of the Minecraft World were looking forward to the upcoming feast.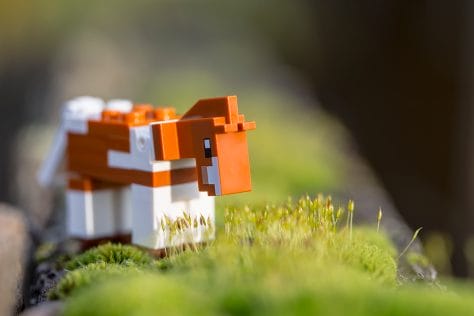 Steve's Horse enjoyed getting out of the barn from time to time. Even on this brisk day, the grass tasted good and the sun felt even better. Horse knew something was up because Steve and Alex were busy cleaning The Fortress in preparation for the upcoming feast.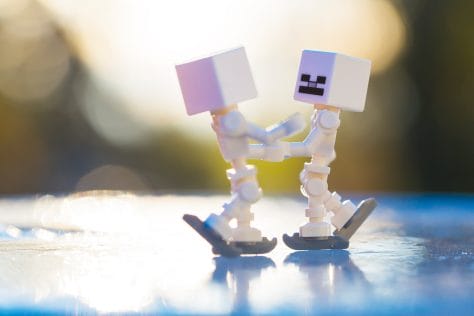 Even the Skeleton Mob was in a festive holiday mood. With the recent cold weather, the pond had frozen over giving them the chance to practice ice skating. It felt good to put aside the bows for some winter fun in The Overworld.
The Three Wise Endermen appreciated that Alex and Steve were willing to overlook their past encounters and had invited them to the upcoming holiday dinner. They were excited to be included and had brought special gifts all the way from The End.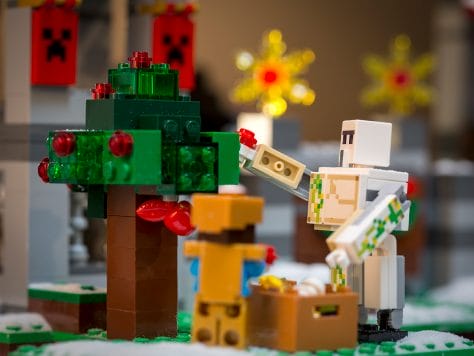 Steve loved the holidays! He loved decorating The Fortress and the surrounding trees with lights. With Golum's help, Steve was able to decorate even the highest reaches of the tree. With this last detail almost complete, he was ready for the arrival of his guest.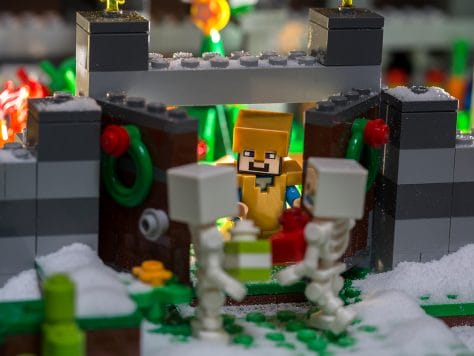 At the appointed hour, the chimes rang announcing the arrival of his special guests. Steve was pleased that the Skelton's had accepted his invitation to dinner and he was touched that they had thought to bring gifts to share.
Dinner was a grand success; Alex had cooked a fabulous meal that was enjoyed by all. As in years past, everyone enjoyed this annual Truce; it felt good to put old animosities aside, even for one day. After dinner they exchanged gifts and everyone agreed that this was a night to remember!
From all of us here at Stuck in Plastic, Happy Holidays, Merry Christmas, Eid Milad Majid, Frohe Weihnachten, Joyëux Noël, Glædelig Jul, Hyvää joule, Selma Natal, Buon Natale, Meri Kuri, Meri Kirihimete, God Jul, Maligayang Paso, C рождеством, Feliz Navidad, Mutlu Moeller and Mele Kalikimaka to you and your families. 
Shelly
The fine folks at The LEGO Group sent me Minecraft set #21127: The Fortress to review. I have to apologize that it sat in my office for several months before I could think of a proper way to showcase this fun set. If you would like to see a traditional review, please check out this review by The Brick Blogger. Please note hat not all the items featured in these photos actually come with the set, I took some liberties to tell my story.