I always wonder about what I have created the moment I export a photograph in Lightroom. I know that on the most practical level I have acknowledged that I am happy with my decisions. I have taken my RAW file, used a number of tools to make changes to the image to fit my style and preferences, and exported to create a jpeg so the image can be shared with the online world. However, reality tells me I am really only happy with this one particular moment, which is what a photograph is anyway, a moment in time. But, the photograph is a moment in time that I already captured. A photograph shows the past. Does it get to be a second moment in time? Does editing a photo in Lightroom count as a second life?
I have been thinking about this as I go back to some of my first photos I took with my DSLR. I did not know much about things like aperture or shutter speed or ISO or anything like that. As a result many of my photographs were dark, and at the time, I liked that. Those were my moments in time. They were dark. They were wonderful. I adored them.
The original version of the dragon's pre-flight system's check. It's soooooooooooo dark.
The original version of Hard Landing. Again, so very dark.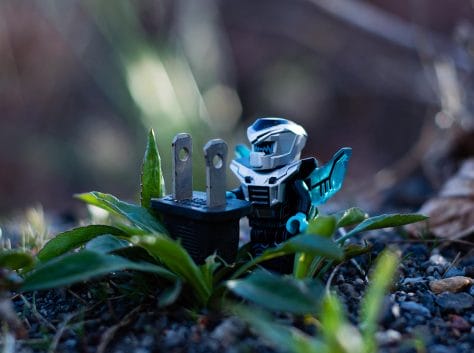 It's not always about a dark exposure either. I still like this version of this photo, but I ended up changing it too. A warmer tone has replaced the cool tones here and I prefer the new version.
I adored them, or I did not have much of a choice.
My moments in time one year ago are vastly different than my moments in time now. I have a better understanding of light and my camera and those things that are necessary to control my exposure. My moments in time are generally much brighter now. My preferences have changed, and I largely suspect it is because I am able to control the light in a different way. The addition of Lightroom to my tools is a big part of this. Even the dark photographs of my past can be brought into the light.
The magic of Lightroom allowed me to really give this an early morning feel.
I actually bought the Tardis figure because of that broken grate.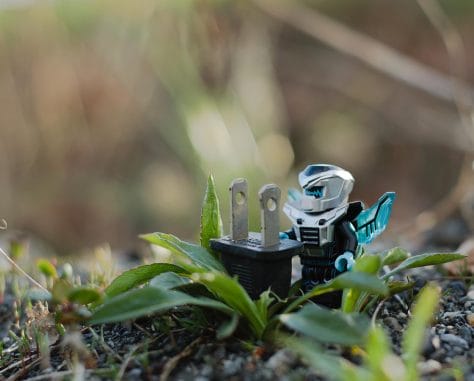 The new toned Lazer Mech. I feel like it has more of an electricity feel now.
When did you last look back to your very first creations?
I have been reading Shelly's "Back to Basics" series here on the blog and it has really given me pause in what I am currently creating and have previously created. Reading about sticky tack, leading lines, and interesting foreground, has brought me to look at my earlier work and see if these were present. (They were not.) Going back to my early creations though, I have had the opportunity to apply my newer skills to my favourite older photos.
And that is where Dr. Photostein's Monster has risen.
In this last week I have gone back and lightened/changed three of my favourite early photos. As I have hit export on my new creations, I cannot help but wonder what I am bringing back from the dead. Are these the same moments in time i previously captured? Are these new moments, a second life? What moment in time am I sharing with you, a moment, or a second moment I have digitally stitched together?
Do you ever go back and re-edit earlier work? I would love to see your originals and Photostein monsters!
Does it matter. Where you go?