Well, it seems President Business is at it again. Last week, 36 of my Brick Sailboat LEGO ninja pictures were removed from Redbubble by Redbubble at the request of LEGO A/S. They claimed ownership of these 36 pictures (but not my many other pics for sale on the site) and poof, they've been taken down.
Ninja vanish!
Redbubble, if you're unfamiliar, is one of many print-on-demand sites. They become the printing and shipping middleman for their users – I upload art or photos, choose what products I want to sell, decide how much I want to sell them for, and Redbubble takes care of the rest.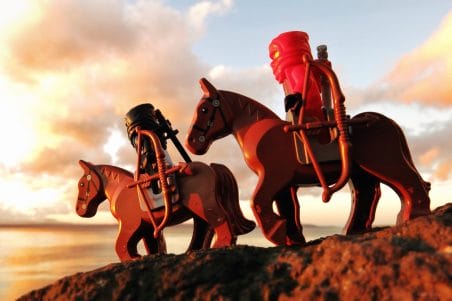 This actually isn't the first time LEGO has blocked Redbubble sales of my work. Last year, a pirate pool picture was removed. I was surprised. It wasn't a Star Wars or Marvel fig – I don't use licensed figures – it was a bunch of pirates floating on their backs in a swimming pool. Why the ninjas this time? Why can't I sell a picture of a toy? Can I sell a picture of anything?
Before I started Brick Sailboat I tried to answer these questions. I researched LEGO's fair play policy. Don't use the LEGO logo, got it. Don't use the word LEGO in my website name. No books – or at least, you need permission for books. Add this disclaimer to your pages – "And remember: LEGO®is a trademark of the LEGO Group of companies which does not sponsor, authorize or endorse this site". What about photography? It still seemed a little grey so I looked around online. As you can imagine, I found countless photographers selling work in real life galleries, on their own websites, and on a number of print-on-demand sites. This didn't necessarily make it right I thought, so I looked for artists that were not only selling online, but were so popular they had to be known by LEGO, but not working for them. I found some. That's all I needed. I decided to start my little Brick Sailboat project and eventually I opened a Redbubble page. Let's give it a try I thought – maybe I'll make a few bucks to pay for all of this LEGO I buy!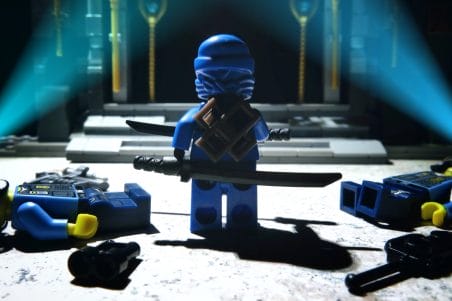 Well, it's been four years since I started Brick Sailboat and you'd think the situation would have become a little clearer. Questions remain. Did they remove the pirate pool picture last year because of a real pirate pool going in at their LEGOLAND hotel? Did they remove some of the ninja pictures this year because of the new Ninjago movie coming out in September (free plug for the movie – see how this works LEGO:)? Were both of those removed because LEGO doesn't actually operate/own their theme parks and movies? Did a robot search and destroy my Redbubble photos, and that's why only some of the ninja photos were removed?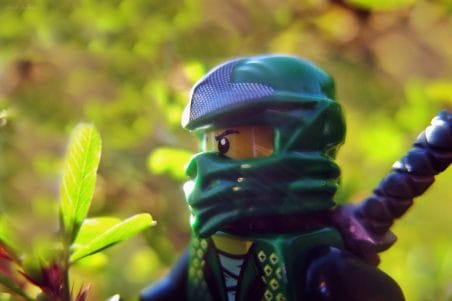 I say if LEGO toy photography is really a problem for LEGO then they should answer a few specific questions in their fair play policy (feel free to comment on this post LEGO!). Can photographers sell pictures of LEGO? Just bricks? Bricks and minifigs? Licensed minifigs? Are we OK if we don't use the word LEGO on our page? What about #LEGO?
Or, if it isn't a problem, let's talk about what it really is – tons of free advertising from photographers who not only sell a huge amount of product for LEGO, but also purchase a crapload of bricks and minifigs for themselves. LEGO should get specific or leave toy photographers alone…before we make like ninjas…and…vanish! 
~Paul (a.k.a. Mr. S…a.k.a. bricksailboat)